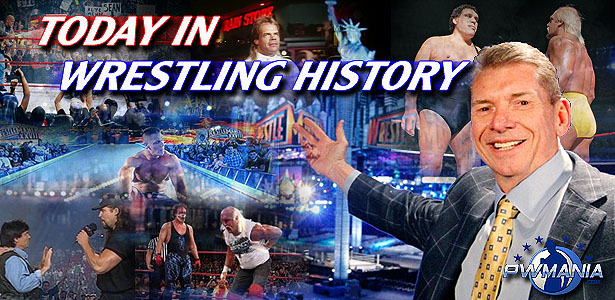 Trivia
1978 – WWWF World Champion Superstar Billy Graham defeated Bruno Sammartino in a steel cage match in Philadelphia, Pennsylvania
2008 – WWE announced Ric Flair would be inducted into the WWE Hall of Fame, becoming the 1st ever active wrestler to be inducted
Events
In 1985 – 1 of the most famous matches in WWF history, "The War To Settle The Score" between WWF World Champion Hulk Hogan and Rowdy Roddy Piper took place in Madison Square Garden.  The match, which saw pop star Cyndi Lauper in Hogan's corner, was aired live on MTV.  The referee was knocked out during the match and Paul Orndorff joined Piper in beating down Hogan.  Lauper got on the ring apron, and Piper and Orndorff were advancing on her when actor Mr. T, sitting in the crowd, came to Lauper's aid.  Hogan & T went at it with Piper & Orndorff until police officers separated them.  This is the match that would set up the main event of the 1st Wrestlemania:
– Rick McGraw vs. Moondog Spot ended in a draw.
– Johnny Rodz defeated Jose Luis Rivera.
– Hillbilly Jim defeated Rene Goulet.  After the match, Goulet mouthed off at Mr. T, who was at ringside.  T threatened to go after him and Goulet ran to the back.
– Lelani Kai defeated Wendi Richter to win the WWF Women's Title.
– David Sammartino defeated Moondog Rex.
– Nikolai Volkoff defeated Swede Hanson.
– Jimmy Snuka defeated Cowboy Bob Orton.  During this match, Orton suffered the arm injury that would result in him wearing his famous cast.
– Paul Orndorff defeated Tony Atlas.
– WWF World Tag Team Champions Barry Windham & Mike Rotundo defeated The Spoiler & The Assassin in less than one minute.
– Don Muraco defeated Salvatore Bellomo
In 1996, WWF In Your House 6: Rage In The Cage was held at the Louisville Gardens in Louisville, Kentucky:
Free For All:
– Jake Roberts defeated Tatanka (with Ted Dibiase)
PPV:
– Razor Ramon defeated The 123 Kid in a Crybaby Match
– Hunter Hearst Helmsley (with Elizabeth Hilden) defeated Duke "The Dumpster" Drose
– Yokozuna defeated The British Bulldog (with Jim Cornette) by DQ
– Shawn Michaels defeated Owen Hart (with Jim Cornette)
– Bret Hart defeated Diesel in a Cage Match to retain the WWF Title
Dark Matches:
– Ahmed Johnson defeated Dr. Isaac Yankem (Kane)
– The Godwinns (Henry & Phineas) defeated The Bodydonnas (Skip & Zip)
– The Undertaker defeated WWF Intercontinental Champion Goldust via count out. Goldust retains the IC Title
In 2001, WCW SuperBrawl Revenge was held in Nashville, Tennessee. This was the penultimate WCW PPV and, needless to say, the final SuperBrawl event
Dark Match:
– Chris Harris defeated Kid Romeo
PPV:
– Shane Helms defeated Shannon Moore, Yun Yang, Jamie Noble, Evan Karagias, & Kaz Hayashi in a 6-way Elimination Match
– Hugh Morrus defeated The Wall
– Sean O'Haire & Chuck Palumbo defeated Mark Jindrak & Shawn Stasiak to retain the WCW World Tag Team Titles
– Chavo Guerrero Jr defeated Rey Misterio Jr to retain the WCW Cruiserweight Title
– Rick Steiner defeated Dustin Rhodes to retain the WCW United States Title
– Totally Buff (Lex Luger & Buff Bagwell) defeated Brian Adams in a Handicap Match
– "The Cat" Ernest Miller defeated Lance Storm to become WCW Commissioner
– Kanyon defeated Diamond Dallas Page
– Diamond Dallas Page defeated Jeff Jarrett
– Scott Steiner (with Midajah & Ric Flair) defeated Kevin Nash in a Falls Count Anywhere 2-out-of-3 Falls Retirement Match to retain the WCW World Title and force Nash to retire from professional wrestling
In 2007, WWE No Way Out was held in Los Angeles, California . Despite it being a Smackdown PPV, the main event did feature Raw wrestlers
Dark Match:
– Rob Van Dam defeated Shelton Benjamin
PPV:
– Chris Benoit & The Hardy Boyz defeated MVP, & MNM (Johnny Nitro & Joey Mercury) (with Melina)
– Chavo Guerrero Jr. defeated WWE Cruiserweight Champion Gregory Helms, Scotty 2 Hotty, Daivari, Funaki, Jamie Noble, & Jimmy Wang Yang in an 8-Man Cruiserweight Open to win the WWE Cruiserweight Title
– Finlay & Hornswoggle defeated The Boogeyman & Little Boogeyman
– Kane defeated King Booker (with Queen Sharmell)
– Paul London & Brian Kendrick defeated Deuce 'n Domino (with Cherry) to retain the WWE Tag Team Titles
– Mr Kennedy defeated Bobby Lashley via DQ, Lashley retains the ECW Title
– John Cena & Shawn Michaels defeated Batista & The Undertaker
Also in 2007, New Japan Pro Wrestling held an untitled PPV in Tokyo, Japan
– Hiroyoshi Tenzan & Taru defeated Masahiro Chono & Milano Collection AT
– Minoru defeated Wataru Inoue to retain the IWGP Junior Heavyweight Title
– Kurt Angle & Yuji Nagata defeated Giant Bernard & Travis Tomko
– Hiroshi Tanahashi defeated Koji Kanemoto to retain the IWGP Heavyweight Title
Title Changes
1971 – Pepper Gomez defeated Johnny Valentine to win the Texas Heavyweight Title
1985 – Leilani Kai defeated Wendi Richter to win the WWF Women's Title
1994 – The Rock n Roll Express (Ricky Morton & Robert Gibson) defeated The Heavenly Bodies (Jimmy Del Ray & Tom Prichard) to win the SMW Tag Team Titles
1996 – Johnny B Badd defeated Lex Luger to win the WCW Television Title
2001 – The 24/7 Rule on the WWF Hardcore Title sees Steve Blackman defeated Raven for the title, but quickly lose it back again. Each counts as a separate reign
2010 – Ricky Marvin & Taiji Ishimori defeated Yoshinobu Kanemaru & Genba Hirayanagi in the final of a tournament to win the vacant GHC Junior Heavyweight Tag Team Titles
Birthdays
Happy birthday to former WWF wrestler and announcer Raymond Rougeau (59), TNA British Boot Camp contestants The Blossom Twins (26), former indy regular TJ Mack (28), & 1-time Mexican Heavyweight Champion Charly Manson (39)
In Memoriam
The wrestling world has lost five personalities on this date:
Firstly, in 1961,  Shortly after wrestling Bruno Sammartino, Chick Garibaldi at Sunnyside Gardens in New York, suffers chest pains & dies of a heart attack at the arena. Chick was the brother of Gino Garibaldi & uncle of Leo Garibaldi.
Secondly, in 1989, one-time NWA Women's Champion Mildred Burke died aged 73. Burke's entry into the wrestling business is an interesting story; she approached local promoter Billy Wolfe & asked to be trained. Wolfe didn't want to train her, so instructed one of his male wrestlers to bodyslam Burke, hoping to discourage her, however, Burke instead bodyslammed the man. Impressed, Wolfe agreed to train her. 2 years later, she had won the Women's World Title, defeating Clara Mortensen. However, her career soon started to decline. She had married her trainer Billy Wolfe, but upon their divorce, he managed to freeze her out of most NWA sanctioned events, thus halting her career. With the help of Jack Pfefer, the couple briefly reconciled, allowing Burke to form her own promoting company, but it was short-lived. Wolfe eventually moved into competition with Burke and his superior financial backing forced her company into bankruptcy. In a final twist of fate, Wolfe was appointed administrator of Burke's company. After this, Burke found herself more & more marginalized within wrestling & eventually retired in 1956. She later ran a training school in California, with Rhonda 'Bertha Faye' Sing as her most famous graduate. Burke died after suffering a stroke at her home in Northridge, California
Thirdly, in 1993, 1-time NWA World and WWF Intercontinental Champion Kerry von Erich died aged just 33. As part of the famous Von Erich wrestling family, Kerry found most of his success throughout his career in his father's Texas territory, amassing (if I've counted right!) 36 championship reigns throughout his tenure in the territory. Most notably, he won the NWA World Title from Ric Flair in 1984, a reign that was supposed to go to his brother David, who died before he was able to compete. As a result, Kerry's reign was a short one, and he dropped the title back to Flair shortly afterwards. He left World Class for good in 1989, having already moved to Missouri for a brief time in 1983, though would continue to compete sporadically for the USWA (which had acquired World Class) for the next year. In mid-1990, Kerry signed with the WWF, competing as The Texas Tornado. At Summer Slam 1990, he replaced the injured Brutus Beefcake, and defeated Mr Perfect to win his first and only Intercontinental Title, which he would hold for around three months. His WWF career declined from then on, and he was no more than a jobber by the time he left in 1992. Kerry committed suicide by shooting himself in the chest while driving his car off a steep cliff. Kerry was suffering from depression at the time of his death, as his wrestling career was seemingly stuck in a rut and he had recently been indicted on a drug charge. Several emotional tributes were paid to him following his passing, most notably by Chris Adams & Marc Lowrance. Kerry, along with the rest of the Von Erich family, was inducted into the WWE Hall of Fame in 2009.
Also, in 1995, one-time ECW Tag Team Champion Eddie Gilbert died, also at the age of 33. His first exposure came in the Tennessee based CWA promotion, where he won the AWA Southern Tag Titles. He then moved to the UWF, where his 'Hot Stuff' persona was born. Here, he split his time between wrestling and managing, forming the Hot Stuff International stable, with such wrestlers as Sting, Rick Steiner, Iceman Parsons & Dick Murdoch. It was here that he also made his name as a booker, a role which he would keep until the promotion was bought by Jim Crockett. A short spell in the CWF followed before he began working for JCP, which was renamed WCW during his tenure, though he was never happy with his position in the company and left in 1989. Gilbert then wrestled in & booked several independent promotions, including a notable angle in Jerry Lawler's Memphis Wrestling where he and brother Doug ran over Jerry Lawler with their car. The backlash was such that Lawler had to appear on television earlier than planned, to avoid the Gilberts being legitimately arrested for vehicular assault. His final notable run came in 1993, when he booked the Eastern Championship Wrestling promotion, also winning their Tag Team Titles, before giving the book to Paul Heyman. The rest, as they say, is history. Gilbert then had brief spells with USWA, SMW & WWC before succumbing to a heart attack. Chest injuries suffered in a 1983 car accident, as well as painkiller use have been cited as contributing factors
In 2003, one-time WWWF United States Tag Team Champion Tony Altomare died aged 74. Altomare spent his early years serving in the US Army before opting for a career in professional wrestling. He debuted in 1960 and would go on to spend almost his entire career in the northeast region, primarily with the WWWF and it's partner promotions. He soon formed 'The Sicilians' tag team alongside Lou Albano, competing under a stereotypical Italian gangster gimmick. The act was so convincing that they were once approached by a pair of legitimate gangsters who 'politely asked' the pair to tone down their styles. The duo became headline tag team acts in Chicago, New York and Pittsburgh, but secured few championship reigns. In 1969, Albano quit the team to become the legendary manager that we remember today & Altomare himself began to wind down his active career. He remained under employ with the WWF through until 1982 and was often utilized as an enhancement talent or even as an additional referee. In retirement, he worked as a lifeguard in Stamford before passing of heart failure at the city's Mediplex