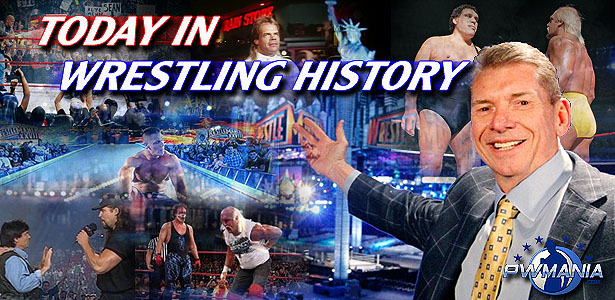 Trivia
2007 – The WWE announced that "Mr. Perfect" Curt Hennig would be part of the 2007 class of the WWE Hall of Fame
2010 – TNA signed Shannon Moore
2010 – Hulk & Nick Hogan settled the lawsuit that was filed against them on behalf of John Graziano, who was seriously injured in Nick's 2007 car crash
2012 – WWE developmental wrestler Taylor Rotunda (Bo Dallas), the son of WWE Producer Mike Rotunda, was arrested by Temple Terrace, FL police at 2:36am for drunk driving.  He was given 2 breathalyzer tests and blow a .166 & a .178. Both are more than double the legal limit In Florida
Events
In 1995, WCW SuperBrawl V was held in Baltimore, Maryland. Paul Roma was fired from WCW following this event, for no-selling all of opponent Alex Wright's moves & for attempting to kick out of the planned finish:
WCW Main Event:
– Paul Orndorff defeated Brad Armstrong
– Stars & Stripes (Marcus Bagwell & The Patriot) defeated Romeo Valentino & Dino Casanova
– Arn Anderson defeated Johnny B Badd in a Lumberjack Match to retain the WCW Television Title
PPV:
– Alex Wright defeated Paul Roma
– Jim Duggan defeated Bunkhouse Buck (with Col. Robert Parker & Meng)
– Kevin Sullivan (with The Butcher) defeated Dave Sullivan
– Harlem Heat (Booker T & Stevie Ray) (with Sister Sherri) defeated The Nasty Boys (Brian Knobbs & Jerry Sags) by DQ to retain the WCW World Tag Team Titles
– The Blacktop Bully (with Col. Robert Parker) defeated Dustin Rhodes
– Sting & Randy Savage defeated Avalanche & Big Bubba Rogers
– Hulk Hogan (with Jimmy Hart) defeated Vader by DQ to retain the WCW World Heavyweight Title, after Ric Flair attacked Hogan
In 2006, WWE No Way Out was a Smackdown-exclusive PPV, also held in Baltimore, Maryland:
Sunday Night Heat:
– The Boogeyman defeated Simon Dean
PPV:
– Gregory Helms defeated Brian Kendrick, Funaki, Kid Kash, Nunzio, Paul London, Psicosis, Scotty 2 Hotty & Super Crazy in a 9-Way Match to retain the WWE Cruiserweight Title
– John Bradshaw Layfield (with Jillian Hall) defeated Bobby Lashley
– Matt Hardy & Tatanka defeated MNM (Johnny Nitro & Joey Mercury) (with Melina)
– Chris Benoit defeated Booker T to win the WWE United States Title
– Randy Orton defeated Rey Mysterio
– Kurt Angle defeated The Undertaker to retain the WWE Title
Also in 2006, New Japan Pro Wrestling held an untitled PPV in Tokyo, Japan:
– El Samurai & Ryusuke Taguchi defeated Hirooki Goto & Minoru to win the IWGP Junior Heavyweight Tag Team Titles
– Tiger Mask IV defeated Black Tiger to win the IWGP Junior Heavyweight Title
– Brock Lesnar & Shinsuke Nakamura defeated Riki Choshu & Akebono
– Masa Chono & Hiroyoshi Tenzan defeated Manabu Nakanishi & Giant Bernard to retain the IWGP Tag Team Titles
In 2007, WWE held Monday Night Raw live here in Bakersfield, Ca. at the Rabobank Arena. (I was at the event live in person):
WWE.com Heat:
– Chris Masters defeated Eugene (I seriously had a kid sitting next to me ask, "Is Eugene really asleep? Why doesn't someone take him a pillow & teddy bear?" After Masters put Eugene out with the Master Lock)
– Super Crazy defeated Mike Wellington
– Cryme Tyme (JTG & Shad) defeated The World's Greatest Tag Team (Shelton Benjamin & Charlie Haas)
Monday Night Raw:
We start off with a barber shop set up in the ring. Vince McMahon makes his way out, & he talks about his Hair vs Hair match with Donald Trump at Wrestlemania. He showed photos of Brittney Spears bald, & photo shopped pictures of Trump bald. He then named Umaga with Armando Alejandro Estrada as his representatives for the match at WM 23 (I was also there at WM 23, but will go into that when the time comes). Vince then said Umaga would be a champion, & a champion tonight. He then introduces IC champ Jeff Hardy
– Umaga (with Armando Estrada) defeated WWE Intercontinental Champion Jeff Hardy to win the title
– Ric Flair & Carlito (with Torrie Wilson) defeated Lance Cade & Trevor Murdoch
– Edge defeated Rob Van Dam to qualify for the Money In the Bank Match at WM 23
– Melina defeated WWE Women's Champion Mickie James to win the title, after the match Todd Grisham tried to interview Mickie, but she slapped him, & walked away
–The Great Khali defeated The Highlanders (Rory & Robbie McAllister) in a handicap match
–They aired a video announcing "Mr. Perfect" Curt Hennig for the 2007 Class of the WWE Hall of Fame
– WWE Champion John Cena defeated Randy Orton in a non title match after Edge interfered
Dark Main Event Match:
– WWE Tag Team Champions John Cena & Shawn Michaels defeated Team Rated RKO (Randy Orton & Edge) to retain the titles
In 2011, NJPW/AJPW/NOAH All Together was held in Sendai, Japan. This event was a benefit show of sorts for victims of the Japanese earthquake & tsunami:
– The Great Sasuke, Tiger Mask, Ryusuke Taguchi & Taiji Ishimori defeated Gedo, Jado, Kenou & Taro Nohashi
– Hiroyoshi Tenzan, Satoshi Kojima & Kentaro Shiga defeated Captain New Japan (Hideo Saito), Captain All Japan (Ryota Hama) & Captain NOAH (Mohammed Yone)
– Yoshinobu Kanemaru, Kaz Hayashi, Shuji Kondo & Katsuhiko Nakajima defeated Jushin Liger, Kotaro Suzuki, Minoru Tanaka & KAI
– Takashi Sugiura & Yujiro Takahashi defeated Togi Makabe & Manabu Soya
– Kensuke Sasaki, Yuji Nagata, Akebono & Naomichi Marufuji defeated Minoru Suzuki, Yoshihiro Takayama, Taichi & Masayuki Kono
– Hirooki Goto, Akitoshi Saito & Jinsei Shinzaki defeated Shinsuke Nakamura, Toru Yano & Takashi Iizuka
– Keiji Muto & Kenta Kobashi defeated Jun Akiyama & Takao Omori
– Hiroshi Tanahashi, Suwama & Takeshi Morishima defeated Tetsuya Naito, Seiya Sanada & Go Shiozaki
In 2012, WWE Elimination Chamber was held in Milwaukee, Wisconsin:
– CM Punk defeated Chris Jericho, The Miz, R-Truth, Kofi Kingston & Dolph Ziggler in an Elimination Chamber Match to retain the WWE Title
– Beth Phoenix defeated Tamina Snuka to retain the WWE Diva's Title
– Daniel Bryan defeated The Big Show, The Great Khali, Wade Barrett, Cody Rhodes & Santino Marella to retain the World Heavyweight Title
– Jack Swagger defeated Justin Gabriel to retain the WWE United States Title
– John Cena defeated Kane in an Ambulance Match
Title Changes
1920 – Paul Bowser defeated Billy Schoeber to win the American Middleweight Titlein Newark, Ohio
1942 – Marshall Estep defeated Steve Brody to win the Midwest Wrestling Association World Junior HeavyweightTitle in St. Joseph, Missouri
1943 – Bill Longson defeated Bobby Managoff to win the National Wrestling Association World Heavyweight Title in Houston, Texas
1957 – Wilbur Snyder defeated Hans Schmidt to win the Chicago NWA United States Heavyweight Title in Chicago, Illinois
1958 – Mr. Moto defeated Sandor Szabo for the Alaska Heavyweight Title in Anchorage, Alaska
1963 – Hiro Matsuda defeated Eddie Graham to win the Florida NWA Southern Heavyweight Title in Tampa, Florida.
1966 – Bill Watts defeated Kinji Shibuya to win the San Francisco NWA United States Heavyweight Title in San Francisco, California
1969 – Gene Kiniski defeated Toru Tanaka to win the Hawaii NWA North American Heavyweight Title in Honolulu, Hawaii
1978 – Stan Frazier & Terry Sawyer defeat Dennis Condrey & Phil Hickerson to win the AWA Southern Tag Team Title in Memphis, Tennessee
1982 – Spike Huber & Wilbur Snyder defeated The Kelly Twins (Mike & Pat) to win the World Wrestling Association World Tag Team Title in Peoria, Illinois
1994 – The Heavenly Bodies (Jimmy Del Ray & Tom Prichard) defeated The Rock n Roll Express (Ricky Morton & Robert Gibson) to win the SMW Tag Team Titles
1994 – Vicky Carranza & Briosa defeated Pantera Surena & Martha Villalobos to win the Mexican National Women's Tag Team Title in Xochimilco, Mexico City, Mexico
1995 – Koji Kanemoto defeated Norio Honaga to win the IWGP Junior Heavyweight Title
2000 – Chris Candido defeated The Equalizer to win the vacant NWA Jersey Heavyweight Title in Barnegat, New Jersey
2002 – on Smackdown, Billy & Chuck defeated Spike Dudley & Tazz to win the WWF Tag Team Titles
2003 – Nick Dinsmore defeated OVW Heavyweight Champion The Damaja & Doug Basham to win the title in a triple threat match in Louisville, Kentucky
2005 – The Prophecy (BJ Whitmer & Dan Maff) defeated The Rottweilers (Ricky Reyes & Rocky Romero) to win the ROH Tag Team Titles
2007 – on Raw, Melina defeats Mickie James to win the WWE Women's Title and Umaga defeated Jeff Hardy to win the WWE Intercontinental Title
Birthdays
Happy birthday to former ECW wrestler Tommy Cairo (56), 1-time ECW Tag Team Champion Danny Doring (40), former WWE wrestler Shawn/Gavin Spears (33), & 'The Queen of Extreme' Francine (42)
Also, today would have been the birthday of WWE Hall of Famer Big John Studd (66)
In Memoriam
On this day in 1968, the wrestling world lost the first recognized World Heavyweight Champion Georg Hackenschmidt at the ripe old age of 90. Born in Estonia, Hackenschmidt excelled in athletic activities from an early age. In school, it is said that he took to the gym whenever possible, building his strength to such an extent that he was able to lift 276lbs over his head with one hand. After graduating from school, he took an active interest in wrestling, moving to St Petersburg for proper training, though a stint in the army (as was compulsory in Estonia) saw his professional debut pushed back. By 1903, he had won championships and tournaments in Russia, Austria & France & had begun a tour of England, where the catch-as-catch-can style was developing. Hackenschmidt became a darling of society. His wrestling ability, good looks and intellect won him many fans and he became a celebrity of sorts in the country. In 1904, the American Champion Tom Jenkins came to England to face Hackenschmidt, & whilst the contest was closer than most of Georg's bouts, he still won in two straight falls. Soon afterwards, Hackenschmidt left England to tour Australia & then America, where he won a rematch with Jenkins, giving him a legitimate claim to be the World Heavyweight Champion. A year later, he returned to England, but would be back in America by 1908 to take on a new challenger, Frank Gotch. Hackenschmidt was not a fan of American wrestling, and so did not put in his usual training hours. As a result, Gotch was able to quickly wear down Hackenschmidt, who conceded the fall at the two-hour mark and refused to return to the ring for the second, surrendering his World Title to Gotch. Following the match, Hackenschmidt gave conflicting statements. He 1st praised Gotch for being a great wrestler & more prepared than he was, but later claimed that he was fouled & criticized the American wrestling industry. A rematch was scheduled in Chicago in 1911, however, Hackenschmidt was injured in the build-up to the fight & though he opted to compete, lost two straight falls in under 20 minutes. This time Hackenschmidt was full of praise for Gotch, claiming that had the roles been reversed, he too would have taken advantage of the injury. Hackenschmidt had planned to continue his career, but re-injured his knee & chose to retire. From then on, Hackenschmidt led a relatively quiet life, dying peacefully at a hospital in the London suburb of Dulwich. His legacy includes the invention of the Bearhug hold &  the Hack Squat weightlifting technique, as well as the popularization of the Bench Press. He also penned several books on a variety of health-based subjects.
On this day in 1992, longtime Memphis wrestler and manager Tojo Yamamoto commits suicide with a handgun at age 65. Yamamoto had been suffering from kidney problems & diabetes, which had forced him out of wrestling several months earlier. Friends said Yamamoto had become extremely depressed about his failing health
On this day in 2007, the wrestling world lost former ECW World Champion, Mike Awesome at the age of 42 due to suicide. Real name Michael Alfonso, his last match had been WWE ECW "One Night Stand" 2005. Where he suffered a knee injury in a match against long time foe Masato Tanaka. He was working in real estate at the time of his death. He was the real life cousin of Horace Hogan.
In 2014, former WWF & TNA star Nelson "Big Daddy V/King Mabel/Viscera" Frazier Jr. passed away at the age of 43. After suffering a heart attack. Frazier, who was 6-foot-8 & well over 450 pounds during the 90s, was among the largest men in the pro wrestling industry in that period.  He had several tours with WWF & WWE under a variety of names. He debuted in the WWF as a member of Men On A Mission, would later go on to win the 1995 King of the Ring. In 1999 he joined the Undertaker's Ministry of Darkness. He would later appear on a few TNA PPVs, & return to the WWE on their version of ECW as Big Daddy V.