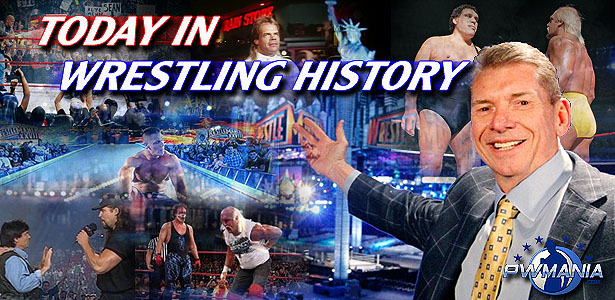 Trivia
2008 – WWE officially announced that Bobby Lashley was released from the company. Though he had already announced it on his official website before hand.
Events
In 1964, The WWWF held an event at Madison Square Garden in New York City, New York:
– Bobo Brazil defeated The Magnificent Maurice
– Dr. Jerry Graham defeated Miguel Perez
– Don McClarity defeated Frank Hickey
– Tony Marino defeated Jerry Miller
– Argentina Apollo & WWWF World Heavyweight Champion Bruno Sammartino defeated Klondike Bill & Gorilla Monsoon in a Best-of-Three Falls match, 2-0
In 1995, ECW held "Double Tables" at the ECW Arena in Philadelphia, Pennsylvania:
– Jason the Terrible & The Pitbulls (#1 & #2) defeated Hack Myers & The Young Dragons (#1 (Paul Lauria) & #2 (Mikey Whipwreck)
– Tommy Dreamer defeated Stevie Richards
– Mikey Whipwreck defeated Paul Lauria
– Ian Rotten defeated Axl Rotten
– Chris Benoit defeated Al Snow
– ECW World Heavyweight Champion Shane Douglas defeated Tully Blanchard to retain the title
– Cactus Jack defeated The Sandman in a Texas Death match
– Sabu & The Tazmaniac defeated ECW World Tag Team Champions The Public Enemy (Johnny Grunge & Rocco Rock) in a Double Tables match to win the title
In 2001, Women of Wrestling's only pay-per-view, "Unleashed" was held at the Great Western Forum in Inglewood, California. The show suffered technical difficulties & a low buyrate (0.03) & was the primary reason for the eventual collapse of the promotion:
– Randi Rah Rah defeated Jacklyn Hyde (with Nurse Bellum & Nurse Mercy)
– The Beach Patrol (Sandy & Summer) fought Farah & Paradise to a double-pin draw
– Tanja the Warrior Woman defeated Jane Blond
– Nicky Law (with Kristy Order) defeated Heather Steele
– Boom Boom & Caliente defeated The Asian Invasion (Jade & Lotus)
– Bronco Billie defeated The Disciplinarian
– Roxy Powers & Slam Dunk fought to a double-disqualification
– Riot defeated Wendi Wheels in a Hardcore match
– Jungle Grrrl defeated Beckie the Farmer's Daughter in a Splash match, where the winner was the first to hit a splash. Jungle Grrrl hit a splash off the top of a ladder set up outside the ring
– Caged Heat (Delta & Loca) defeated Harley's Angels (Charlie Davidson & Easy Ryder) to become the 1st WOW Tag Team Champions
– Terri Gold defeated WOW Champion Danger to win the title
Dark matches:
– Patti Pizzazz defeated Ice Cold & Poison in a Hair vs. Hair match
– Thug (Peggy Lee Leather) defeated Selina Majors in a Steel Cage match
Title Changes
1938 – Jack Ross defeated Raoul Lopez to win the Southern Lightweight Title in Augusta, Georgia
1950 – The Demon defeated Tom Marshall to win the Jack Pfeffer-promoted World Heavyweight Title in Akron, Ohio
1961 – Dr. X (Bill Miller) defeated Don Leo Jonathan to win the Omaha World Heavyweight Title in Omaha, Nebraska
1965 – Dr. Bill & Dan Miller defeated Gorilla Monsoon & Bill Watts to win the WWWF United States Tag Team Title in Washington, D.C.
1969 – Giant Baba & Antonio Inoki defeated Danny Hodge & Wilbur Snyder to win the NWA International Tag Team Title in Sapporo, Japan
1974 – Albert Wall defeated Horst Hoffman for the European Heavyweight Title
1977 – Chavo Guerrero defeated Dory Funk, Jr. to win the NWA Americas Heavyweight Title in Los Angeles, California
1977 – Ted Oates defeated Bob (Sgt.) Slaughter to win the NWA Central States Heavyweight Title in St. Joseph, Missouri
1985 – Rip Oliver defeated Buck Zumhofe to win the vacant World Class Television Title in Fort Worth, Texas. The title was vacated after Billy Jack Haynes left the area
1991 – Jeff Jarrett & Jerry Lawler defeat The Fabulous Ones (Steve Keirn & Stan Lane) to win the USWA Tag Team Title in Memphis, Tennessee
2000 – Johnny Devine & Greg Pawluk defeated Tiger Khan & Dick Raines in a tournament final to win the vacant Stampede International Tag Team Title in Calgery, Alberta
2005 – Gino Martino defeated champion Apocalypse & The Outpatient in a Triple Threat match to win the NWA New England Heavyweight Title in Sanford, Maine
2006 – Jaysin Strife defeated Matt Sydal to win the NWA Midwest X Division Title in Lawrence, Kansas
Birthdays
Former TNA World Champion Chris Sabin  (32), Wrestlemania 11 main eventer Lawrence Taylor (55), Stevie Knight (38), & Vin Gerard (28)
In Memoriam
On this day in 1990, the wrestling world lost Whipper Billy Watson at the age of 74, due to a heart attack in Orlando, Florida. Real name William Potts, Watson was born in East York, Canada in 1916. He was a well known humanitarian & 5-time world wrestling champion. He was probably the best known Canadian wrestler until Bret Hart. He spent more than 40 years of his life doing volunteer work for Ontario's disabled children, & was personally responsible for raising millions of dollars for various charities. He was forced to retire from the ring in 1971, because of an automobile accident. After stopping to help someone on an icy road. He was pinned against 1 of the cars after being struck by another car. & suffering a major knee injury.