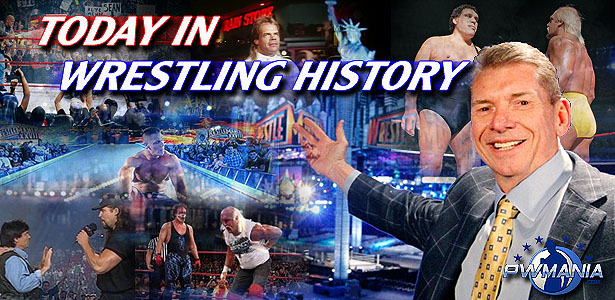 Trivia
2008 – WWE broadcasts Monday Night Raw in HD for the 1st time
Events
In 1990, WWF Royal Rumble was held in Orlando, Florida:
Dark Match:
– Paul Roma pinned The Brooklyn Brawler
PPV:
– The Bushwhackers (Luke & Butch) defeated The Fabulous Rougeaus (Jacques & Raymond)
– Brutus Beefcake vs. The Genius ended a double DQ
– Ronnie Garvin defeated Greg Valentine (with Jimmy Hart) in an Submission Match
– Jim Duggan defeated The Big Bossman (with Slick) via DQ
– Hulk Hogan wins the Royal Rumble, last eliminating Mr Perfect
In 1992, WCW Clash of the Champions XVIII was held at the Kansas Expo Center, in Topeka, Kansas and saw the WCW debut of Jesse Ventura:
– The Steiner Brothers (Rick & Scott) defeated Big Van Vader & Mr. Hughes
– Marcus Bagwell & Brian Pillman defeated Terry Taylor & Tracey Smothers
– Johnny B Badd defeated Richard Morton
– PN News defeated Diamond Dallas Page
– Cactus Jack defeated Van Hammer in a Falls Count Anywhere Match
– The Freebirds (Jimmy Garvin & Michael Hayes) defeated Big Josh & Brad Armstrong
– Vinnie Vegas defeated Thomas Rich
– Dustin Rhodes, Barry Windham & Ron Simmons defeated The Dangerous Alliance (Arn Anderson, Bobby Eaton & Larry Zbyszko) (with Paul E Dangerously)
– Sting & Ricky Steamboat defeated Steve Austin & Rick Rude
In 1996, WWF Royal Rumble was held in Fresno, California. Interestingly, this was the first Rumble match where entrance music was used
Free For All:
– Duke "The Dumpster" Drose defeated Hunter Hearst Helmsley via DQ
PPV:
– Ahmed Johnson defeated Jeff Jarrett via DQ
– The Smoking Gunns (Billy & Bart) defeated The Bodydonnas (Skip & Zip) (with Sunny) to retain the WWF Tag Team Titles
– Goldust (with Marlena) defeated Razor Ramon to win the WWF Intercontinental Title
– Shawn Michaels wins the Royal Rumble, last eliminating Diesel
– The Undertaker (with Paul Bearer) defeated Bret Hart by DQ (Hart retains the WWF Title)
In 1997, WCW Clash of the Champions XXXIV was held in Milwaukee, Wisconsin. This was the penultimate Clash event.
– Dean Malenko defeats Ultimo Dragon to win the WCW Cruiserweight Title
– Chris Jericho, Super Calo & Chavo Guerrero Jr defeat Konnan, La Parka & Mr JL in a Six-Man Lucha Rules Match
– Harlem Heat (Booker T & Stevie Ray) defeated The Renegade & Joe Gomez
– Chris Benoit defeats The Taskmaster in a Falls Count Anywhere Match
– Lex Luger defeats Scott Hall
In 2001, WWF Royal Rumble was held in New Orleans, Louisiana. This Rumble saw Steve Austin become the first (and to date, only) man to win 3 Rumble matches, whilst Kane set the as yet unbeaten record for most eliminations in a single match with 11. This was also the Rumble that featured Drew Carey, who chose to eliminate himself, rather than face Kane
Sunday Night Heat:
– Lo Down (D'Lo Brown & Chaz) (with Tiger Ali Singh) defeated Kaientai (Taka Michinoku & Funaki)
PPV:
– The Dudley Boyz (Bubba Ray & D-Von) defeated Edge & Christian to win the WWF Tag Team Titles
– Chris Jericho defeated Chris Benoit in a Ladder Match to win the WWF Intercontinental Title
– Ivory (with Stevie Richards) defeated Chyna to retain the WWF Women's Title
– Kurt Angle (with Trish Stratus) defeated Triple H (with Stephanie McMahon-Helmsley) to retain the WWF Title
– Steve Austin wins the Royal Rumble, last eliminating Kane
Title Changes
1958 – Johnny Valentine defeats Bill Melby for the NWA Texas Heavyweight Title in Dallas, Texas
1963 – The Medics (Tony Gonzales & Donald Lortie) defeat Eric Pomeroy (Stan Pulaski) & Ray Andrews to win the Mid-America NWA Southern Tag Team Title in Memphis, Tennessee
1963 – Bull Curry defeats Tony Borne to win the Texas Brass Knuckles Title
1967 – Ray Stevens & Pat Patterson defeat Ciclon Negro & The Mongolian Stomper to win the American Wrestling Alliance World Tag Team Title in San Francisco, California
1971 – The Texas Outlaws (Dick Murdoch & Dusty Rhodes) defeat Mark Lewin & Mario Milano to win the International Wrestling Alliance World Tag Team Title in Sydney, Australia
1983 – Terry Gordy defeats Kevin von Erich to win the WCCW American Heavyweight Title
1985 – The US Express (Barry Windham & Mike Rotunda) defeat Adrian Adonis & Dick Murdoch to win the WWF Tag Team Titles
1998 – The Rock n Roll Express (Ricky Morton & Robert Gibson) are awarded the vacant NWA Tag Team Titles
2005 – Chris Sabin defeats Alex Shelley to win the BCW Can-Am Television Title in Oldcastle, Ontario, Canada
2007 – Ricky Marvin & Kotaro Suzuki defeat The Briscoe Brothers (Mark & Jay) to win the GHC Junior Heavyweight Tag Team Titles
2008 – Johnny Devine defeats Jay Lethal to win the TNA X-Division Title
Birthdays
Happy birthday to 2-time AAA Cruiserweight Champion Alex Koslov (30), WWE Hall of Famer Ivan Putski (73), 2-time WWE Divas Champion Maryse Ouellet (31) and 2-time GHC Heavyweight Champion Go Shiozaki (32)
Also, today would have been the birthday of legendary promoter Sandy Barr (76), WWE Hall of Famer Arnold Skaaland (89), & former WCW referee Mark Curtis (52)
In Memoriam
On this day in 1985, the wrestling world lost WWE Hall of Famer Eddie Graham aged 55. Graham began his career competing as the kayfabe brother of Buddy Rogers in the southern territories, before joining the now-famed Graham 'family' alongside Dr Jerry and Crazy Luke. He and Jerry were very successful in Capitol Wrestling (the forerunner of today's WWE), winning tag team gold 4 times. Eddie left the 'family' in 1960, moving to Florida to pursue a singles career, though he suffered a severe injury during his time there (a 75-pound steel window fell on his head, causing both retinas to detach and requiring 300 stitches) which kept him out of action for well over a year. By 1971, he had taken over booking and promoting the Florida territory and had begun to wrestle fewer matches. He retired due to health problems in 1977, though returned for one match in 1979. He also served as President of the NWA from 1976-78, though was often absent from his position due to his health problems, and was eventually forced to step down. Even through his health issues, Graham continued promoting the Florida territory until he took his own life by gunshot after a long battle with alcoholism