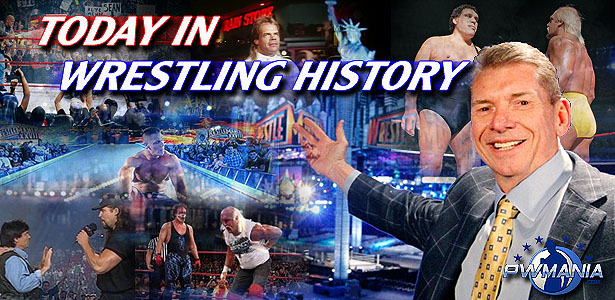 Trivia
1996 – The Monday Night War continue: WWF Monday Night RAW defeated WCW Monday Nitro: 2.9 to 2.7 in the rating
2007 – Ring of Honor announced plans to debut in Japan in the summer of 2007
2010 – Alyssa Flash (Melissa Anderson) departed TNA after failing to come to contractual terms with the company
2011 – Ring of Honor held the final ROH on HDNet tapings in Philadelphia, PA at the ECW Arena
Events
In 1968, The WWF held an event at the Boston Garden in Boston, Massachusetts:
– Ricky Sexton defeated Mario Froteroli
– Victor Rivera defeated Wes Hutchings
– Bull Ramos defeated Smasher Sloan
– Miguel Perez defeated Angelo Savoldi (subbing for Virgil the Kentucky Butcher)
– Earl Maynard defeated Guillotine Gordon
– Edouard Carpentier & Dominic DeNucci defeated Luke Graham & Baron Mikel Scicluna
– Antonio Pugliese defeated Prof. Tanaka via DQ
– Hans Mortier defeated WWWF World Heavyweight Champion Bruno Sammartino via DQ
In 1994, WWF Royal Rumble was held in Providence, Rhode Island
Dark Match:
– The Brooklyn Brawler defeated Jim Powers
PPV:
– Tatanka defeated Bam Bam Bigelow (subbing for Ludvig Borga, whom has suffered a severe ankle injury)
– The Quebecers (Jacques & Pierre) defeated Bret & Owen Hart to retain the WWF Tag Team Titles
– Razor Ramon defeated Irwin R Schyster to retain the WWF Intercontinental Title
– Yokozuna defeated The Undertaker in a Casket Match to retain the WWF Title
– Bret Hart & Lex Luger co-win the Royal Rumble after eliminating each other simultaneously
In 1995, WWF Royal Rumble was held in Tampa, Florida
Dark Match:
– Buck Quartermaine defeated The Brooklyn Brawler
PPV:
– Jeff Jarrett defeats Razor Ramon to win the WWF Intercontinental Title
– The Undertaker defeated IRS (after the match, King Kong Bundy attacked Undertaker, allowing IRS to run off with Paul Bearer's urn)
– Diesel fought Bret Hart to a draw due to excessive outside interference to retain the WWF Title
– Bob Holly & The 123 Kid defeat Tatanka & Bam Bam Bigelow in the final of a tournament to win the vacant WWF Tag Team Titles. After the match, Bigelow saw Lawrence Taylor sitting at ringside laughing at him. Bigelow shoved him to the floor. This, of course, planted the seeds for their match at WrestleMania XI.
– Shawn Michaels wins the Royal Rumble, last eliminating The British Bulldog. Michaels & Bulldog entered at 1 & 2 respectively
In 2003, TNA held its 28th weekly pay-per-view event at the TNA Asylum in Nashville, Tennessee:
In dark matches:
– The Amazing Red & The S.A.T. (Jose & Joel Maximo) defeated Shark Boy, Jimmy Yang & ???, when Red pinned Yang.
– Ashley Hudson defeated Jorge Estrada.
– A.J. Styles pinned Larry Zbyszko.
– David Flair & Mike Sanders defeated Ron Killings & Jerry Lynn, when Sanders pinned Lynn.
– Triple X (Low Ki & Elix Skipper) defeated NWA World Tag Team Champions America's Most Wanted (Chris Harris & James Storm), when Low Ki pinned Harris, to win the title. This ended AMW's second reign.
– TNA X Division Champion Sonny Siaki defeated Athena & Chris Vaughn in a three-way match, by pinning Vaughn, to retain the title.
– NWA World Heavyweight Champion Jeff Jarrett defeated B.G. James, Don Harris and Christopher Daniels in a Gauntlet match to retain the title
Title Changes
1941 – Ben Pilar defeats Tetsuo Higami to win the Hawaii Junior Heavyweight Title in Honolulu, Hawaii
1945 – Danny McShain defeated Dick Trout to win the World Light Heavyweight Title in Hollywood, California
1960 – Lee Henning defeats Bob Ellis  to win the NWA Central States Heavyweight Title in St. Joseph, Missouri
1962 – Gene Kiniski & Killer Kowalski defeat Roy McClarty & Whipper Billy Watson to win the Vancouver NWA Pacific Coast Tag Team Title in Vancouver, British Columbia
1975 – Dick Murdoch defeats Blackjack Mulligan to win the Amarillo NWA International Heavyweight Title in Lubbock, Texas
1981 – Bobby Eaton defeats Steve O to win the NWA National Television Title in Atlanta, Georgia
1983 – Don Muraco defeats Pedro Morales to win the WWF Intercontinental Title
1984 – Angelo Mosca defeats Sgt. Slaughter to win the Toronto NWA Canadian Heavyweight Title in Toronto, Ontario
1996 – on Nitro, Randy Savage defeats Ric Flair to win the WCW World Title. Also, Sting & Lex Luger defeat Harlem Heat to win the WCW Tag Team Titles
1999 – Toshiaki Kawada defeats Mitsuharu Misawa to win the AJPW Triple Crown Title. Kawada legitimately broke his arm in this match and so was forced to vacate the title shortly after
1999 – The New Moondogs (Chomps & Manson) defeat The Glamour Order of Discipline (Johnny Canuck & Michelle Starr) for the ECCW Tag Team Title in Nanaimo, British Columbia
2001 – on Raw, Test defeats William Regal to win the WWF European Title. Also, Al Snow defeats Raven to win the WWF Hardcore Title, but quickly loses it back to Raven
2005 – Buff Bagwell & Dusty Rhodes defeat Rikki Nelson & Terry Taylor to win the vacant NWA Mid-Atlantic Tag Team Title in Seoul, South Korea
2006 – Jun Akiyama defeats Akira Taue to win the GHC Heavyweight Title
2008 – Chavo Guerrero defeats CM Punk in a No-DQ Match to win the ECW World Title
2012 – Takeshi Morishima defeats Go Shiozaki to win the GHC Heavyweight Title. Also, Jun Akiyama & Akitoshi Saito defeat Bad Intentions (Giant Bernard & Karl Anderson) to win the GHC Tag Team Titles
Birthdays
Happy birthday to WWE Hall of Famer Tully Blanchard (60) & one-time IWGP Heavyweight Champion Manabu Nakanishi (47)
In Memoriam
The wrestling world has lost two personalities on this date.
Firstly, in 1995, one-time AWA Tag Team Champion Jerry Blackwell died aged just 45. Blackwell began his professional career in the early 1970′s and soon drew acclaim for his agility despite his large size (for those who never saw him, Blackwell shared a similar style to Bam Bam Bigelow). He competed for the WWWF in the later part of the decade, but never rose out of the midcard ranks. After taking a short time away from wrestling to compete in the 1979 World's Strongest Man contest, he settled in the AWA where he soon became a main event regular. His tag team success came as one-half of The Sheiks, alongside Ken Patera. In 1983, Blackwell's career peaked when Hulk Hogan left the AWA and he was chosen to be the new top face of the company. Sadly, it came just too late for him, as years of obesity and punishing ring work were taking their toll. In 1989, he made his final appearance with the company and retired altogether shortly afterwards. Blackwell largely stayed away from wrestling before dying of injuries suffered in a car accident. Interestingly, Blackwell was one of several wrestlers who had been asked to trial with the expanded WWF in 1984. Policy at the time stated that the wrestler had to cut an on-camera promo as part of their evaluation, however, the line to do so was so long that Blackwell simply walked away.
Secondly, in 2000, NWA Tag Team star Al Costello died at the age of 80. Costello was actually born in Italy, but moved with his family to Australia when he was young. He made his professional wrestling debut in 1938, having rebuffed his father's wish for him to become an opera singer! His early career success was limited to a few Asian and African titles, including wins in South Africa, Malaysia and home in Australia. In 1952, he finally made the move to America, soon forming The Fabulous Kangaroos tag team with Roy Heffernan. The pair found success in both the US and Canada, but Heffernan became homesick, and moved back to Australia in 1965. Costello remained in the States, forming several other tag teams, before reforming the Kangaroos with Ray St Clair and Don Kent, finding success once more. Costello himself was forced to retire from wrestling in the 70′s, having suffered a serious hip injury at the hands of an enraged fan, though he returned in a manager role in 1975. Amazingly, he recovered well enough to return to the ring full-time later that year at the age of 56 and continued to wrestle well into the 1980′s, reforming the Kangaroos in several territories. He finally retired for good in 1983 (aged 64!) becoming first a security guard, then a wrestling trainer. He also made infrequent managerial appearances with 'The New Fabulous Kangaroos', who included a young Al Snow. Costello made his last appearance in this role in 1994, leaving the business for good. He died 6 years later of pneumonia and age-related heart problems.