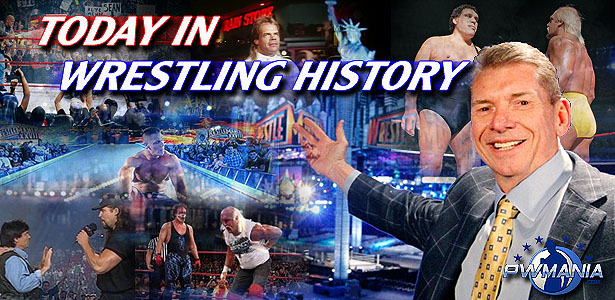 Trivia
1984– Roddy Piper, who had been managing & doing Piper's Pits, wrestled his first televised match for the WWF, teaming with David Schultz to defeat John Callahan & Frankie Williams
2000 – The Monday Night War continues: WWF Raw defeated WCW Monday Nitro: 6.7 to 3.1 in the ratings
2005 – Oklahoma governor Brad Henry declared it "Jim Ross Day", as WWE Raw was being held in Oklahoma City that night at the Ford Center
Events
In 1988, the first WWF Royal Rumble, held at Copps Coliseum, in Hamilton, Canada, was broadcast as a TV special on the USA Network:
– Ricky Steamboat defeated Rick Rude via DQ
– The Jumping Bomb Angels (Noriyo Tateno & Itsuki Yamakazi) defeated The Glamour Girls (Judy Martin & Leilani Kai) to win the WWF Women's Tag Team Titles
– Jim Duggan wins the Royal Rumble, last eliminating One Man Gang. This Rumble only featured 20 wrestlers, rather than the 30 which would become the norm
– The Islanders (Haku & Tama) defeated The Young Stallions (Paul Roma & Jim Powers) in a 2-out-of-3 Falls Match
In 1988, the final NWA Bunkhouse Stampede was held in Uniondale, New York. The event was promoted by JCP & despite being the final Bunkhouse Stampede, was the 1st to be aired on PPV:
– Nikita Koloff fought Bobby Eaton to a time-limit draw to retain the NWA Television Title
– Larry Zbyszko defeated Barry Windham to win the UWF Western States Title
– Road Warrior Hawk defeated Ric Flair via DQ (Flair retains the NWA World Title)
– Dusty Rhodes defeated Arn Anderson, The Barbarian, Tully Blanchard, Ivan Koloff, Road Warrior Animal & The Warlord in a Steel Cage Bunkhouse Stampede Match
In 1993, WWF Royal Rumble was held at ARCO Arena, in Sacramento, California & saw the debut of Giant Gonzalez:
Dark Match:
– Doink The Clown defeated Jim Powers
PPV:
– The Steiner Brothers (Rick & Scott) defeated The Beverly Brothers (Blake & Beau)
– Shawn Michaels defeated Marty Jannetty to retain the WWF Intercontinental Title
– Bam Bam Bigelow defeated The Big Bossman
– Bret Hart defeated Razor Ramon to retain the WWF Title
– Yokozuna wins the Royal Rumble, last eliminating Randy Savage
In 1994, The WWF held an event at the Spectrum in Philadelphia, Pennsylvania:
– Owen Hart defeated Jim Powers
– Sparky Plugg defeated Bastion Booger
– Jeff Jarrett & Marty Jannetty fought to a draw
– WWF Intercontinental Champion Razor Ramon defeated Shawn Michaels in a ladder match to retain the title
– The Headshrinkers (Samu & Fatu) defeated Men on a Mission (Mo & Mabel)
– Crush defeated Randy Savage via countout
– Lex Luger and Tatanka defeated Kwang & WWF Champion Yokozuna
In 1998, WCW Souled Out was held at Hara Arena, in Dayton, Ohio:
– Juventud Guerrera, Super Calo, Lizmark, Jr. & Chavo Guerrero, Jr. defeated La Parka, Psicosis, Silver King & El Dandy
– Chris Benoit defeated Raven in a Raven's Rules Match
– Chris Jericho defeated Rey Misterio Jr to win the WCW Cruiserweight Title
– Booker T defeated Rick Martel to retain the WCW Television Title
– Larry Zbyszko (with Dusty Rhodes) defeated Scott Hall via DQ when Louie Spicolli interfered. After the match Rhodes turned on Zbyszko to join the NWO
– Ray Traylor & The Steiner Brothers (with Ted Dibiase) defeated The NWO (Scott Norton, Buff Bagwell, & Konnan) (with Vincent)
– Kevin Nash (with Hollywood Hogan & Eric Bischoff) defeated The Giant
– Bret Hart defeated Ric Flair
– Lex Luger defeated Randy Savage (with Miss Elizabeth)
In 1999, WWF Royal Rumble was held at Arrowhead Pond, in Anaheim, California:
Sunday Night Heat:
– Christian defeated Jeff Hardy
– Bob Holly & Scorpio defeated Too Much (Brian Christopher & Scott Taylor)
– Mankind defeated Mable
PPV:
– Big Bossman defeated Road Dogg
– Ken Shamrock defeated Billy Gunn to retain the WWF Intercontinental Title
– X-Pac defeated Gangrel to retain the WWF European Title
– Sable defeated Luna Vachon in a Strap Match to retain the WWF Women's Title
– The Rock defeated Mankind in an I Quit Match to win the WWF Title
– Vince McMahon wins the Royal Rumble, last eliminating Steve Austin. Austin & McMahon were entrants 1 & 2 respectively
Title Changes

1956 – Buddy Rogers defeated Karl Von Albers to win the Eastern Heavyweight Title in Baltimore, Maryland

1963 – Lou Thesz defeated Buddy Rogers to win the NWA World Title. Toots Mondt & Vince McMahon Sr leave the NWA in protest, forming the WWWF, which would go on to become the WWE of today
1968 – Danny Hodge defeated Lou Thesz to win the International Pro Wrestling TWWF World Heavyweight Title in Tokyo, Japan
1973 – Jacques Rougeau, Sr. defeated Waldo Von Erich in a tournament final for the vacant National Wrestling Federation Heavyweight Title in Buffalo, New York. The title had been stripped from Johnny Valentine
1988 – Larry Zbyszko defeated Barry Windham to win the UWF Western States Heritage Title. This would be the final reign, as the title was retired when Zbyszko left UWF the following year
1996 – Gary Albright & Stan Hansen defeated The Holy Demon Army (Akira Taue & Toshiaki Kawada) to win the AJPW Unified World Tag Team Titles
2000 – on Nitro, Sid Vicious defeated Kevin Nash to win the vacant WCW World Title
Birthdays
Happy birthday to current ROH Tag Team Champion Jay Briscoe (30), 2-time IWGP Tag Team Champion Akira Maeda (55) & former WCW World Champion (sigh…) Vince Russo (53)
Also, today would have been the birthday of 2-time ECW World Champion Mike Awesome (49) & famed manager Gary Hart (72)
In Memoriam
The wrestling world has lost four personalities on this date:
Firstly, in 1981, former NWA World Champion Orville Brown died aged 72. Brown made his name in the St Louis area, impressing many in matches against former World Champions Jim Londos and Ed 'Strangler' Lewis. He later made the Kansas-based MWA promotion his home, winning their Heavyweight Title 11 times in his career. He was recognized as the first NWA World Champion in 1948, holding the title until suffering career-ending injuries in a car accident in November 1949. Brown would recover from his injuries, but not sufficiently to step back in the ring. He instead turned to promoting, running his MWA promotion until it was taken over by Bob Geigel in 1958. He never actively participated in the wrestling business after this, but kept an interest, and was a long-standing fan of Lou Thesz. He lived out a quiet retirement in Lee's Summit, Missouri, eventually passing away of natural causes in a nursing home in nearby Maryville.
Secondly, in 1997, one-time WWWF United States Tag Team Champion Dr Jerry Graham died aged 75. Graham began his wrestling career aged 14 in Phoenix, Arizona, but it was founding the legendary Graham wrestling family which made his name. 'Crazy' Luke, 'Superstar' Billy, Eddie & Mike found major success in many territories alongside Jerry, primarily in the tag team divisions. Jerry and Eddie, wrestling as The Golden Grahams, sold out Madison Square Garden on multiple occasions throughout the 50s and 60s, with Jerry also selling out the arena as a singles competitor several times, most notably when an event featuring Graham against Bruno Sammartino required 10,000 fans to be turned away. During this time, Jerry was involved in one of the most infamous matches in history; he was competing in a tag team match with Dick The Bruiser against Argentina Rocca and Edouard Carpentier, when the actions of all four wrestlers incited a riot amongst the fans, during which 8 police officers were injured by flying chairs. Graham died of a stroke, having long since retired from the wrestling business after a series of legal problems
Thirdly, in 2000, former WCW wrestler Bobby Duncum Jr died at the age of 34. Duncum began wrestling in his native Texas, though failed to find a great deal of success, leaving the business in 1993. He returned in 1995, competing in Japan before returning to Texas. He also spent time in ECW in 1997-98, though again failed to find any success. He finally found success upon joining WCW in 1998, defeating Chris Jericho in his debut match, though he failed to win Jericho's Television Title, as he won by countout. After the feud with Jericho ended, Duncum joined the West Texas Rednecks stable, which won the WCW Tag Team Titles twice, though Duncum wasn't involved in either match. Duncum took time off from WCW in 2000 in order to recover from shoulder surgery, however, he would not return to the ring, as he died of an accidental overdose of prescription painkillers
Lastly, in 2004  Jack Tunney, the figurehead WWF President during the 1980's wrestling boom and into the 1990's, passed away at the age of 68