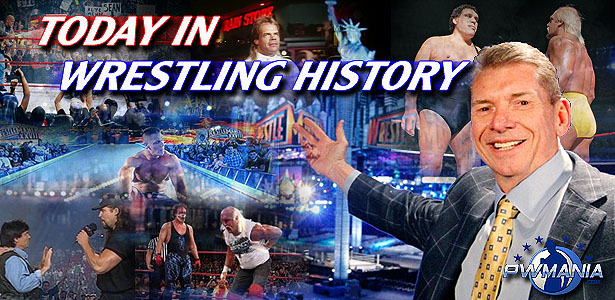 Trivia
1999 – The Monday Night War continues:  WWF Raw defeated WCW Monday Nitro: 5.5 to 5.0 in the ratings
2009 – Mickey Rourke was interviewed about the support of the professional wrestling industry when it comes to "The Wrestler".  Rourke said the wrestling industry has been very supportive, specifically naming Ric Flair & Roddy Piper.  Rourke then said "It looks like I'm going to Houston for Wrestlemania.  Y2J better look out, I'm going to kick his a-s-s". Rourke had come to terms to make an appearance but let the cat out of the bat.   Critical reaction to Rourke led to the angle being scrapped and some felt also cost him his Academy Award for the role that year.  Rourke did appear at Wrestlemania 25 in a reduced role, punching out Jericho
2011 – Ric Flair missed a TNA house show event in Berlin, Germany after sources within the company claimed that, "Flair was refusing to get on the plane to Germany."
Events
In 1978,  Championship Wrestling from Florida hosted the "Superbowl of Wrestling" at the Orange Bowl in Miami, Florida, with 12,000 fans attending. It was headlined by a world title unification match between WWWF Champion Superstar Billy Graham & NWA Champion Harley Race:
– Rocky Johnson defeated Killer Karl Kox via DQ
– Ivan Putski defeated Ox Baker
– Joyce Grable won an 8 woman battle royal that also included: Suzette Ferriera, Leilani Kai, Pepper LaBianca, Winona Littleheart, Tandy Rich, Terry Shane, & Vicki Williams
– Chavo Guerrero defeated Tank Patton
– Bobby Duncum defeated Don Serrano
– Keith Franks defeated John Ruffin
– Mike Graham & Steve Keirn defeated The Valiant Brothers (Jimmy & Johnny) to win the NWA Florida United States Tag Team Championship
– Pedro Morals defeated Lars Anderson
– Jack & Jerry Brisco defeated Ivan Koloff & Mr. Saito
– Dusty Rhodes defeated Ken Patera
WWWF World Champion Superstar Billy Graham vs. NWA World Heavyweight Champion Harley Race ended in a 60 minute time limit draw. Gorilla Monsoon & Don Curtis were the special referees
In 1995, WCW Clash of the Champions XXX was held at Caesar's Palace, in Las Vegas, Nevada:
– Arn Anderson defeated Johnny B Badd to retain the WCW Television Title
– Alex Wright defeated Bobby Eaton
– Harlem Heat (Booker T & Stevie Ray) defeated Stars n Stripes (The Patriot & Marcus Alexander Bagwell) to retain the WCW World Tag Team Titles
– Sting defeated Avalanche with The Guardian Angel as special guest referee
– Hulk Hogan & Randy Savage (with Jimmy Hart) defeated Kevin Sullivan & The Butcher
In 1997, the first WCW Souled Out, held at the Five Seasons Center, in Cedar Rapids, Iowa, was branded as an nWo event. All matches were nWo vs WCW with nWo referee Nick Patrick officiating every match:
– Masahiro Chono (NWO) defeated Chris Jericho (WCW)
– Big Bubba Rogers (NWO) defeated Hugh Morrus (with Jimmy Hart) (WCW) in a Mexican Death Match
– Jeff Jarrett (WCW) defeated Mr. Wallstreet (Mike Rotunda) (NWO)
– Buff Bagwell (NWO) defeated Scotty Riggs (WCW)
– Scott Norton (NWO) defeated Diamond Dallas Page (WCW) via count out
– The Steiner Brothers (Rick & Scott) (WCW) defeated The Outsiders (Kevin Nash & Scott Hall) (WCW) to win the WCW Tag Team Titles. The titles would be returned to The Outsiders 2 days later as an unofficial referee made the count
– Eddy Guerrero (WCW) defeated Syxx (NWO)  in a Ladder Match to retain the WCW United States Title
– Hollywood Hogan (NWO) fought The Giant (WCW) to a no-contest due to excessive outside interference
In 2004, WWE Royal Rumble was held at the Wachovia Center, in Philadelphia, Pennsylvania:
Sunday Night Heat:
– Victoria (with Stevie Richards) defeated Molly Holly
PPV:
– Evolution (Ric Flair & Batista) defeated The Dudley Boyz (Bubba Ray & D-Von) in a Tables Match to retain the World Tag Team Titles
– Rey Mysterio defeated Jamie Noble (Nidia) to retain the WWE Cruiserweight Title
– Eddie Guerrero defeated Chavo Guerrero Jr. (with Chavo Guerrero Sr.)
– Brock Lesnar defeated Hardcore Holly to retain the WWE Title
– Triple H fought Shawn Michaels to a draw in a Last Man Standing Match when neither man could answer the 10-count (Triple H retains the World Heavyweight Title)
– Chris Benoit wins the Royal Rumble, last eliminating The Big Show. Benoit broke Bob Backlund's record of the longest time in a Rumble match
In 2009, WWE Royal Rumble was held at Joe Louis Arena, in Detroit, Michigan:
Dark Match:
– Jimmy Wang Yang defeated Paul Burchill
PPV:
– Jack Swagger defeated Matt Hardy to retain the ECW Title
– Melina defeated Beth Phoenix (with Santino Marella) to win the WWE Women's Title
– John Cena defeated JBL (with Shawn Michaels) to retain the World Heavyweight Title
– Edge (with Chavo Guerrero Jr.) defeated Jeff Hardy in a No-DQ Match to win the WWE Title after Matt Hardy turned on his brother, & attacked him with a chair
– Randy Orton wins the Royal Rumble, last eliminating Triple H
Title Changes
1914 – Walter Miller defeated Eugene Tremblay to win the World Lightweight Title in Fort William, Ontario
1951 – Tarzan Kowalski defeated Bill Longson to win the NWA Heart of America (later the Central States) Heavyweight Title in Kansas City, Kansas
1961 – Sam Steamboat defeated Dick Hutton to win the NWA Hawaii Heavyweight Title in Honolulu, Hawaii
1963 – Buddy Rogers makes his 1st defense of the WWWF World Heavyweight Title, defeating Bobo Brazil in New Haven, Connecticut
1972 – Fritz von Erich & Dean Ho defeated Thunderbolt Patterson & Johnny Valentine to win the WCCW American Tag Team Titles
1974 – The Wrestling Pro defeated Dick Dunn to win the NWA Alabama Heavyweight Title in Dothan, Alabama
1975 – Bobo Brazil defeated The Sheik to win the Detroit NWA United States Heavyweight Title in Detroit, Michigan
1979 – The Assassin & The Angel 1st defeated Dusty Rhodes & The Spoiler to win the TSW United States Tag Team Titles
1983 – Kwick-Kick Lee (Akira Maeda) defeated Wayne Bridges to win the European Heavyweight Title in London, England
1984 – Angelo Mosca, Jr. defeated Ivan Koloff to win the NWA Mid-Atlantic Heavyweight Title in Shelby, North Carolina
1989 – Mighty Inoue defeated Joe Malenko to win the AJPW Junior Heavyweight Title
1990- Bill Dundee defeated Gary Young to win the vacant USWA Texas Heavyweight Title in Dallas, Texas
1993 – Ron & Don Harris defeated Jeff Jarrett and Jerry Lawler in a tournament final to win USWA Tag Team Title in Memphis, Tennessee
1998 – The Holy Demon Army (Toshiaki Kawada & Akira Taue) defeated Johnny Ace & Kenta Kobashi to win the AJPW Unified World Tag Team Titles
1999 – on Raw, Jeff Jarrett & Owen Hart defeated The Big Boss Man & Ken Shamrock to win the WWF Tag Team Titles
2000 – on Thunder, Kevin Nash awards himself the vacant WCW World Title, but loses it later in the show to Sid Vicious
2003 – Alexis Laree (Mickie James) defeated April Hunter & Serena in a 3-way match in Flemington, New Jersey to become the first CyberSpace Wrestling Federation (later NWA Cyberspace & NWA Shockwave) Women's Champion
Birthdays
Happy birthday to the longest reigning WWF Intercontinental Champion The Honky Tonk Man (61), former WWE developmental talent Ace Steel (41), 4-time ROH Tag Team Champion BJ Whitmer (36), former WCW & ECW valet Stephanie "Gorgeous George" Bellars (38), 2-time WWE Divas and Women's Champion Michelle McCool (34), & former Chikara Young Lions Cup winner Player Dos (25)
In Memoriam
2010 – One of the nicest people ever associated with pro wrestling, longtime Wrestling Chatterbox editor Georgiann Makropoulos passed away at the age of 67.
Georgie, as she was known to her friends, was one of the kindest people to ever become involved in any aspect of professional wrestling.  She was a long-time friend and fan of many of those who came through the WWWF as she grew up in New York, including Bruno Sammartino, Buddy Rogers and Bill Watts, among others who she maintained fan clubs as a young fan and later befriended.  She actually maintained the same ringside seats at Madison Square Garden in NYC for decades, until the building ended their long-standing subscription service for fans.