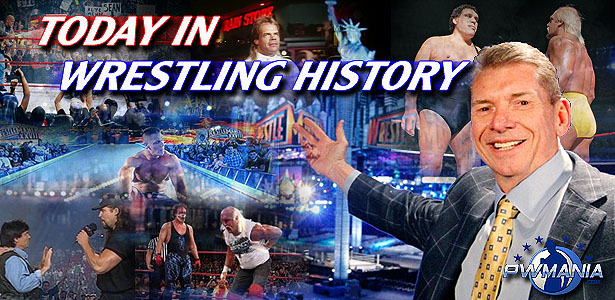 Trivia
1997 – The Monday Night War continued:  WCW Monday Nitro defeated WWF Monday Night Raw: 3.6 rating to 2.2 rating.
Events
In 1990, The WWF's 25th edition of Saturday Night's Main Event airs on NBC, earning an 11.1 rating. The show was taped January 3 in Chattanooga, Tennessee at the UTC Arena. The results:
– Randy Savage (with Sensational Sherri) defeated Jim Duggan
– WWF Champion Hulk Hogan & WWF Intercontinental Champion The Ultimate Warrior defeated The Genius & Mr. Perfect
– Jake Roberts defeated Greg Valentine via DQ after Ted DiBiase interfered
– Dusty Rhodes (with Sapphire) & Rick Rude (Bobby Heenan) fought to a double-countout. Both managers had been ejected from ringside during the match, with Sapphire returning to a ringside seat after buying a ticket.
– Dino Bravo (with Earthquake) defeated Ronnie Garvin
In 1994, WCW Clash of the Champions XXVI was held in Baton Rouge, Louisiana. The event saw the WCW debut of Bobby Heenan:
– Marcus Bagwell & Too Cold Scorpio defeated Paul Roma & Paul Orndorff
– Ron Simmons defeated Ice Train
– Brian Pillman defeats Col. Robert Parker in a Loser Wears a Chicken Suit Match
– Maxx Payne & Cactus Jack defeated The Nasty Boys
– Steven Regal fought Dustin Rhodes to a time-limit draw to retain the WCW Television Title
– Sting & Ric Flair defeat Vader & Rick Rude in an Elimination Tag Team Match
In 2008, WWE Royal Rumble, held at Madison Square Garden, in New York City, was the 1st WWE PPV to be broadcast in HD:
Dark Match:
– Shannon Moore & Jimmy Wang Yang defeated Deuce 'N Domino
PPV:
– Ric Flair defeated MVP. Had Flair lost, he would have been forced to retire
– John Bradshaw Layfield (JBL) defeated Chris Jericho via DQ
– Edge (with Vickie Guerrero, Curt Hawkins, & Zack Ryder) defeated Rey Mysterio to retain the World Heavyweight Title
– Randy Orton defeated Jeff Hardy to retain the WWE Title
– John Cena wins the Royal Rumble, last eliminating Triple H.
In 2013, WWE Royal Rumble, was held in at the US Airways Center in Phoenix, Arizona:
Pre-show:
– Antonio Cesaro defeated The Miz to retain the WWE United States title
PPV:
– Alberto Del Rio (with Ricardo Rodriguez) defeated The Big Show in a Last Man Standing Match, to retain the World Heavyweight Championship
– Team Hell No (Daniel Bryan & Kane) defeated Team Rhodes Scholars (Damien Sandow & Cody Rhodes) to retain the WWE Tag Team Titles
– John Cena wins the Royal Rumble last eliminating Ryback
– CM Punk (with Paul Heyman) defeated The Rock to retain the WWE Title
– The Rock defeated CM Punk to win the WWE Championship, the match was restarted after The Shield interfered
Title Changes
1904 – Frank Gotch defeated Tom Jenkins to win the American Heavyweight Title in Bellingham, Washington
1965 – Fred Blassie & Tarzan Tyler defeated Eddie Graham & Sam Steamboat to win the Florida NWA World Tag Team Title in Jacksonville, Florida
1972 – Boris Malenko defeated Bobby Duncum to win the NWA Florida Brass Knuckles Title in Tampa, Florida
1973 – The Sheik defeated Bobo Brazil to win the Detroit NWA United States Heavyweight Title in Detroit, Michigan
1981 – Roddy Piper defeated Ric Flair to win the NWA United States Title
1987 – The Midnight Rockers (Marty Jannetty & Shawn Michaels) defeated Buddy Rose & Doug Somers to win the AWA World Tag Team Title in St. Paul, Minnesota
1990 – Eddie Watts defeated Super Medico I for the WWC World Junior Heavyweight Title in Guaynabo, Puerto Rico
1996 – Raven defeated The Sandman to win the ECW World Title
2007 – MsChif defeated Christie Ricci to win the NWA World Women's Title in Lebanon, Tennessee
2008 – Minoru & Prince Devitt defeated Dick Togo & Taka Michinoku to win the IWGP Junior Heavyweight Tag Team Titles
2010 – Rob Terry defeated Eric Young to win the TNA Global Title
Birthdays
Today would have been the birthday of one-time AWA Tag Team Champion Red Bastien (83), & former southern regular Ken Timbs (63)
In Memoriam
Firstly, in 1993, WWE Hall of Famer Andre The Giant died aged 46. Born in France, Andre quickly lived up to his future Giant mantra, reaching 6'3, 240lbs by age 12. He began his association with professional wrestling at the age of 18, having met a local promoter in Paris, who offered to train him. He quickly became renowned for his immense size, & worked for promotions across Europe, Africa and Asia. In 1970, he began working in Japan, quickly making a name for himself there as well, though it was here that he was first officially diagnosed with acromegaly, the condition that would eventually lead to all sorts of health problems in his later life. In 1972, he worked several times for the AWA, where he caught the eye of Vince McMahon Sr; the rest, as they say, is history. Andre would go on to become one of the most famous wrestlers of the 1980′s, winning the WWF World Title once & competing in several Wrestlemania matches, including the famous 'Body Slam Heard Around The World' at Wrestlemania III. Andre's health was failing in the late 80′s, his sheer size taking it's toll on his body & he began wearing braces underneath his wrestling singlet in an attempt to minimize further damage. However, it was far too late, by 1990, he was in constant pain & could no longer compete on a regular basis, making only sporadic appearances with the WWF & AJPW until his final match in December 1992. Andre died of congestive heart failure whilst in Paris to attend the funeral of his father. Had Andre's condition been diagnosed earlier, it is possible that his condition could have been treated, much like The Big Show (who also suffered from acromegaly) has had
Secondly, in 2004, 3-time AWA Tag Team Champion Hard Boiled Haggerty died aged 79. Haggerty began his sporting life as a defensive tackle, playing 3 seasons in the NFL with the Detroit Lions and Green Bay Packers. Like many footballers, he turned to wrestling, debuting under his real name, Don Stansauk, with Minneapolis promoter Wally Karbo creating the Haggerty character some time later. His first championship win in 1950 (the San Francisco version of the NWA World Tag Team Titles) began a successful decade-long run in several NWA territories, bringing him numerous titles, including those in Ohio, Hawaii, Los Angeles, Texas and Canada. In the 60′s, he began working for the AWA, where he was a 4-time champion across the singles and tag team divisions, though by 1964 he had left the promotion to return to the NWA territories. After retiring from the ring in 1972, he became a respected character actor, appearing in such films and TV shows as Paint Your Wagon, The Muppet Movie, Starsky & Hutch, Happy Days and The Incredible Hulk. He suffered severe injuries in a car accident in 2003 and was never the same afterwards, passing away of natural causes around six months later