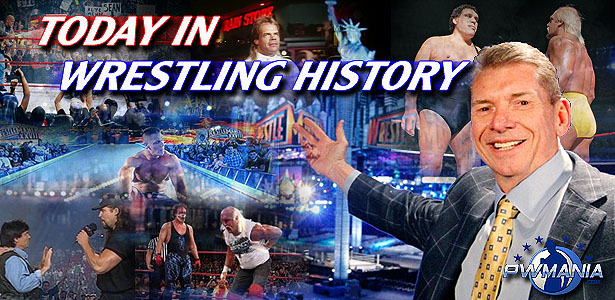 Trivia
1980 – Antonio Inoki won the NJPW MSG League, defeating Stan Hansen in the final
1997 – El Samurai won the NJPW Best of the Super Juniors Tournament, defeating Koji Kanemoto in the final
2002 – Koji Kanemoto won the NJPW Best of the Super Juniors Tournament, defeating Minoru Tanaka in the final
2007 – Scott Steiner underwent successful surgery on his trachea in Puerto Rico following an injury suffered while wrestling there.  He was transported back to the United States by boat as he was unable to fly for several weeks
2008 – WWE announced that D'Lo Brown had been signed to a contract to return to the company.  He would make very few televised appearances and was released in January 2009.  Brown migrated to TNA where he became one of their top agents & oversees the Gutcheck process.
2009 – World Wrestling Entertainment has released Jon Cutler, who wrestled as "Prime Cut" Jon Cutler in developmental. A Winnipeg native, Cutler had been under contract since 2008
2009 – WWE developmental talent Kafu (real name Victor Ceron) was released. He was originally trained by All Pro Wrestling in California and was signed in January 2008 (A huge mistake on their part in my opinion. I've followed Kafu's career since the start. As APW is a local indy fed for me). They completely dropped the ball on this 1.
Events
In 2007, ECW was broadcast live from the Orlando, Amway Center, in Orlando, Florida:
– Bobby Lashley defeated ECW Originals (The Sandman, Tommy Dreamer, & Balls Mahoney) in a a 3 on 1 Extreme Rules Handicap Match
– Kevin Thorn defeated Stevie Richards
– Marcus Cor Von & Elijah Burke defeated The Major Brothers (Brian (Curt Hawkins) & Brett (Zack Ryder)
– CM Punk defeated Matt Striker
Title Changes
1958 – Dory Funk Sr. defeated Angelo Savoldi to win the NWA Junior Heavyweight Title
1975 – Dick Murdoch defeated Danny Miller to win the TSW North American Title
1989 – Genichiro Tenryu defeated Jumbo Tsuruta to win the AJPW Triple Crown Title. Also, Doug Furnas & Dan Kroffat defeated Footloose (Samson Fuyuki & Toshiaki Kawada) to win the AJPW All Asia Tag Team Titles
1990 – Terry Gordy defeated Jumbo Tsuruta to win the AJPW Triple Crown Title. Also, Shinichi Nakano & Akira Taue defeated Johnny & Davey Boy Smith to win the vacant AJPW All Asia Tag Team Titles
1998 – Cho-Ten (Masahiro Chono & Hiroyoshi Tenzan) defeated Genichiro Tenryu & Shiro Koshinaka to win the vacant IWGP Tag Team Titles
2000 – on Nitro, Eric Bischoff defeated Terry Funk to win the WCW Hardcore Title
2001 – on Smackdown, Jeff Hardy defeated Jerry Lynn to win the WWF Light Heavyweight Title
2004 – Gedo & Jado defeated American Dragon & Curry Man to win the IWGP Junior Heavyweight Tag Team Titles
2004 – Kazuyuji Fujita defeated Hiroshi Tanahashi to win the vacant IWGP Heavyweight Title
2005 – Yoshinobu Kanemaru & Takashi Sugiura defeated Kenta & Naomichi Marufuji to win the GHC Junior Heavyweight Tag Team Titles
Birthdays
Happy birthday to former ECW and WWE star Mike 'Nova' Bucci (42), & former ECW Television Champion Glen Osbourne (43)
Also, today would have been the birthday of one-time AWA World Champion Dr. Bill Miller (87)