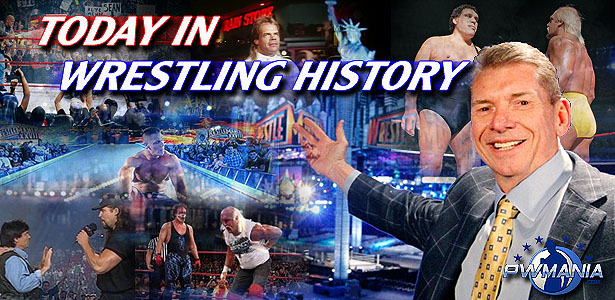 Trivia
1994 – In an unfortunate incident that would make both men famous, Mick Foley lost his ear while wrestling Big Van Vader on a WCW event in Dresden, Germany. The stage was set for the incident when the ring crew, who were not WCW's normal crew, were asked to tighten the ropes by a wrestler earlier in the night when they were loose. The ropes, actually elevator cable wrapped in rubber, were tightened to the maximum possible. During the bout, Foley did a spot where he trapped his neck in the ropes, only he was legitimately trapped. He pulled himself free, tearing his ear in the process. The match continued, with neither man realizing the severity of the damage, and Foley's eat fell off after absorbing a Vader blow. The ear was rushed backstage and put on ice. The cartilage was surgically inserted under Foley's other ear so he could eventually have reconstructive surgery and get it fixed. Foley opted not to have the surgery and returned to the ring. He eventually filed suit against WCW for the incident (and an internal memo mocking it shortly after) but under Georgia law, could not sue the company. The entire incident would go on to serve as the opening chapter for "Have A Nice Day", Foley's first autobiography, which was a massive hit
1995 – Bryan "Crush" Adams was arrested after narcotics officers found anabolic steroids, unregistered semi-automatic weapons, a stun gun, & marijuana inside his home. As a result of the arrest, Adams was fired from the WWF
2008 – WWE announced Jeff Hardy had failed the WWE Wellness Policy for the 2nd time, suspending him for 60 days. Hardy, who was slated to win Money in the Bank at Wrestlemania 24, was pulled from the show
2010 – Chessman wins the AAA Rey de Reyes Tournament, defeating Hernandez & Marco Corleone
Events
In 1992, WCW ran Camp LeJune, NC with the following results:
– Mr. Hughes defeated PN News
– Vinnie Vegas defeated Big Josh
– Abdullah the Butcher defeated Cactus Jack to a double disqualification
– Rick & Scott Steiner defeated WCW TV Champion Steve Austin  & WCW Tag Team Champion Bobby Eaton
– Johnny B. Badd defeated Terrence Taylor
– Sting & Ron Simmons (sub. for El Gigante) defeated WCW US Champion Rick Rude & Larry Zbyszko
In 2000, the third & final ECW Living Dangerously was held at the O'Neill Center in Danbury, Connecticut:
Dark Match:
– Mikey Whipwreck defeated Pitbull #1
PPV:
– Dusty Rhodes defeated Steve Corino (with Jack Victory) in a Bull Rope match
– The New Dangerous Alliance (C.W. Anderson & Bill Wiles) (with Lou E. Dangerously) defeated Danny Doring & Amish Roadkill (with Elektra) after Elektra turned on Doring & Roadkill
– Mike Awesome (with Judge Jeff Jones) defeated Kid Kash to retain the ECW World Title
– Super Nova & Chris Chetti defeated Gedo & Jado
– Rhino defeated The Sandman via forfeit (Sandman was at the hospital, after Rhino had gored Sandman's wife earlier) in a semi final of the ECW Television Title Tournament
– Super Crazy defeated Little Guido (with Sal E. Graziano) in the other semi final match of the ECW TV Title Tournament
– Balls Mahoney defeated Kintaro Kanemura
– New Jack fought Vic Grimes to a no contest after both men were legitimately knocked out after falling from a scaffold
– The Impact Players (Lance Storm & Justin Credible) (with Dawn Marie & Jason Knight) defeated Raven & Mike Awesome (with Francine), and Tommy Dreamer & Masato Tanaka in a 3-Way Dance to win the ECW Tag Team Titles
– Super Crazy defeated Rhino (with Steve Corino & Jack Victory) in the final of a tournament to win the vacant ECW Television Title
In 2006, TNA Destination X was held at the TNA Impact Zone in Orlando, Florida:
Pre-Show:
– Shannon Moore defeated Cassidy Riley
– The Diamonds In The Rough (David Young & Elix Skipper) (with Simon Diamond) defeated Shark Boy & Norman Smiley
PPV:
– Alex Shelley defeated Jay Lethal
– Lance Hoyt defeated Matt Bentley (with Traci Brooks)
– Team Canada (Bobby Roode & Eric Young) (with Coach D'Amore & A-1) defeated The Naturals (Andy Douglas & Chase Stevens)
– The James Gang (BG & Kip James) & Bob Armstrong defeated The Latin American Exchange (Hernandez, Homicide & Machete) (with Konnan)
– Chris Sabin defeated Petey Williams, Sonjay Dutt & Puma in a Four Way Match
– Jeff Jarrett, Abyss, Chris Harris & James Storm (with James Mitchell & Gail Kim) defeated Rhino, Ron Killings, Brother Ray & Brother Devon in an 8-Man War
– Christopher Daniels defeated Samoa Joe & AJ Styles in an Ultimate X Match to win the TNA X Division Title
– Christian Cage defeated Monty Brown to retain the NWA World Title
Title Changes
1962 – Jack Dalton 1st defeated Bull Curry to win the Texas Brass Knuckles Title
1979 – Mike Sharpe Jr defeated Ron Bass to win the TSW Brass Knucks Title
1983 – Ricky Steamboat & Jay Youngblood defeated Sgt. Slaughter & Don Kernodle in a steel cage to win the NWA World Tag Team Championship in Greensboro, North Carolina
1983 – Tiger Conway Jr & Mr Wrestling II defeated The Rat Pack (Ted DiBiase & Matt Borne) to win the MSW Tag Team Titles
1984 – Mr Wrestling II defeated Junkyard Dog to win the MSW North American Title
1989 – Jeff Jarrett & Kerry von Erich defeated The Stud Stable (Robert Fuller & Jimmy Golden) to win the WCCW World Tag Team Titles
1990 – Jerry Lawler defeated Jimmy Valiant to win the USWA Unified World Heavyweight Title. Incidentally, this makes Lawler a 5-time champion in the just over 2-year history of the title
1993 – Jimmy "Superfly" Snuka defeated Glenn Osbourne in a tournament final in Radnor, Pennsylvania to win the ECW Television Champion
2002 – on Smackdown, Maven defeated Al Snow to win the WWF Hardcore Title
2004 – American Dragon (Daniel Bryan) & Curry Man defeated Gedo & Jado to win the IWGP Junior Heavyweight Tag Team Titles. Also, Kensuke Sasaki defeated Hiroyoshi Tenzan to win the IWGP Heavyweight Title
2010 – Electroshock defeated El Mesias & Mr Anderson in a 3-Way Dance to win the AAA Heavyweight Title
Birthdays
Happy birthday to 3-time NWA Tag Team Champion Vito DeNucci (43), 2-time WWE Cruiserweight & ECW Tag Team Champion James 'Little Guido/Nunzio' Maritato (42), 2-time FIP Heavyweight Champion Erick Stevens (32), Tough Enough 1 winner Nidia Guenard (35), 1-time TNA Tag Team Champion Anarquia (40), & former GHC Heavyweight Champion KENTA (33)
Also today would have been the birthday of WWE Hall of Famer Mae Young (91)
In Memoriam
The wrestling world has lost two personalities on this date.
Firstly, in 1978, multi-time World Heavyweight Champion John Pesek died aged 84. Pesek's original career plan would have taken him inside a boxing ring, but he warmed to wrestling after seeing it at several touring carnivals in his native Nebraska. He wrestled his first major match in 1914, defeating Wladek Zbyszko. Pesek went the first 6 years of his career unbeaten before a loss to Joe Stecher. In 1921, Pesek became a so-called policeman for Ed Lewis' promotion. 'Policemen' were employed by promoters for their legitimate wrestling skills, so that the promoters would have a weapon against any wrestler who may try to go off-book. Pesek was banned for life from wrestling in New York following a match against one of these so-called 'trustbusters'; Pesek delivered such a brutal beating to Marin Plestina that several in the crowd are said to have called the police. Despite this, Pesek himself became a trustbuster later in his career. In a match against then-World Champion Joe Stecher in 1926, Pesek diverted from the planned finish, applying a wristlock to the champion. Stecher was on the verge of tapping out before the referee called time on the match, citing a chokehold by Pesek. In the 1930′s, Pesek held two different versions of the World Heavyweight Championship, but was stripped on each occasion for refusing to defend the titles against chosen competitors. By the mid-30′s, Pesek had become disillusioned with wrestling and had begun to focus more on his secondary career as a greyhound trainer. He wrestled his final match in the 1950′s, by which time he had trained two future hall of fame dogs. Pesek died at his home in Ravenna, Nebraska after a short illness. A statue of him with two of his dogs was unveiled in the town shortly after his passing. As far as I am aware, it is still standing
Secondly, in 2012, famed referee Dick Woehrle died at the age of 81. Woerlhe was a boxer in his youth, but soon became a referee & trainer, having not made the grade as a fighter. His first exposure to wrestling came from Vince McMahon Sr; McMahon was short of a referee for 1 of his shows in New York City, so asked the local commission to provide 1. Despite his total lack of experience (it is said that Woehrle had never even seen a wrestling match, never mind officiated one) Woehrle impressed McMahon & was a regular in his promotion from then on. Woehrle also popularized (among many others) the ref bump. Due to his self-confessed poor selling skills, Woehrle would tell the wrestlers to legitimately hit him if they wanted him to take a dive. Woehrle ended up gaining so much experience in the wrestling business that he would go on to become a trainer & promoter, counting indy regular Reckless Youth as his most famous graduate that I am aware of. In his later years, Woehrle's health was in obvious decline, but he retained his usual high spirits. He was a regular on the fan fest circuit even after being diagnosed with the colon cancer which would ultimately cause his death. Woehrle declined chemotherapy treatment, stating that he had lived a full & happy life and wanted to see it out naturally. He eventually succumbed at his home in New Jersey