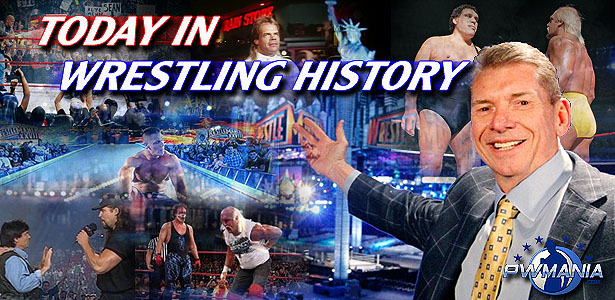 Trivia
2011 – WWE announced Drew Carey would be inducted in to the 2011 class of the  WWE Hall of Fame
2011 – Former WWE Diva Maria Kanellis joined the HDNet MMA broadcast team
Events
In 2004, the WWE Hall Of Fame Ceremony was held at The Hilton Hotel in New York City. The Class of 2004 are:
– Pete Rose (celebrity wing) (inducted by Kane)
– Don Muraco (inducted by Mick Foley)
– Big John Studd (posthumously) (inducted by Big Show)
– Harley Race (inducted by Ric Flair)
– Jesse Ventura (inducted by his sin Tyrell Janos)
– The Junkyard Dog (posthumously) (inducted by Ernie Ladd)
– Sgt Slaughter (inducted by Pat Patterson)
– 'Superstar' Billy Graham (inducted by Triple H)
– Tito Santana (inducted by Shawn Michaels)
– Bobby Heenan (inducted by Blackjack Lanza)
– Greg "The Hammer Valentine (inducted by Jimmy Hart)
In 2005, TNA Destination X was held at the TNA Impact Zone in Orlando, Florida:
Pre-Show:
– Chris Candido & Andy Douglas defeated Lex Lovett & Buck Quartermain
– Kid Kash & Lance Hoyt defeated Cassidy Riley & Jerrelle Clark
PPV:
– Team Canada (Petey Williams, Bobby Roode, Eric Young, & A-1) (with Coach D'Amore & Johnny Devine) defeated 3Live Kru (BG James & Konnan) and America's Most Wanted (James Storm & Chris Harris) in a 8-man tag team match
– Chris Sabin defeated Chase Stevens (with Andy Douglas & Chris Candido)
– Dustin Rhodes defeated Raven in a Bull Rope Match
– The Disciples of Destruction (Ron & Don Harris) (with Traci Brooks) defeated Phi Delta Slam (Bruno Sassi & Big Tilly) (with Trinity). Per the pre-match stipulation, Traci Brooks became the personal assistant to Director of Authority Dusty Rhodes
– Monty Brown defeated Trytan
– Jeff Hardy defeated Abyss in a Falls Count Anywhere Match
– The Outlaw (Billy Gunn) defeated Kevin Nash in a First Blood Match
– Christopher Daniels defeated AJ Styles, Ron Killings & Elix Skipper in an Ultimate X Challenge Match to win the TNA X-Division Title
– Jeff Jarrett defeated Diamond Dallas Page in a Ringside Revenge Match to retain the NWA World Title
In 2011, TNA Victory Road was held in Orlando, Florida
–Tommy Dreamer defeated Bully Ray in a Falls Count Anywhere Match
– Rosita & Sarita defeat Angelina Love & Winter to win the TNA Knockouts Tag Team Titles
– Hernandez defeated Matt Morgan in a 1st Blood Match
– Kazarian defeats Jeremy Buck, Max Buck & Robbie E (with Cookie) in an Ultimate X Match to retain the TNA X-Division Title
– Beer Money Inc (Robert Roode & James Storm) defeat Ink Inc (Jesse Neal & Shannon Moore) to retain the TNA Tag Team Titles
– AJ Styles defeated Matt Hardy (with Ric Flair)
– Rob Van Dam fought Mr Anderson to a double countout
– Sting defeats Jeff Hardy to retain the TNA World Title. The match lasted a full 88 seconds as Jeff was in no condition to wrestle. He was sent home from the following Impact tapings
Title Changes
1976 – Blackjack Mulligan defeated Paul Jones to win the NWA Mid-Atlantic United States Title
1983 – The Midnight Express (Dennis Condrey & Bobby Eaton) defeated Magnum TA & Mr Wrestling II in a Loser Receives 10 Lashes Match to win the MSW Tag Team Titles after Mr Wrestling walked out on his partner
1985 – Terry Taylor defeated Ted DiBiase to win the MSW North American Title. As a result, the MSW Television Title is vacated (Taylor was the incumbent champion) in Shreveport, Louisiana
2000 – on Raw, Dean Malenko defeats Essa Rios to win the WWF Light Heavyweight Title and Pete Gas pins Crash Holly at Newark Airport to win the WWF Hardcore Title, though Crash would regain the title before the end of the show
2001 – on Heat, Crash Holly defeats Dean Malenko to win the WWF Light Heavyweight Title
2002 – Christopher Daniels defeated Samoa Joe & Frankie Kazarian in a 3 Way match to win the UPW Heavyweight Title in Santa, Ana California
Birthdays
Happy birthday to 2-time PWG Tag Team Champion Matt Jackson (28) and one-time IWGP Junior Heavyweight Champion Akira Nogami (45)
In Memoriam
The wrestling world has lost three personalities on this date:
In 2007, WWE Hall of Famer Arnold Skaaland died at the age of 82. Skaaland's 1st ambition was to become a professional boxer, however, he failed to make the grade & turned to wrestling instead, making his debut in 1946. He fought all over the USA, but achieved his only championship in New York's WWWF promotion, holding their US Tag Team Titles with Spiros Arion, though he was given the title rather than winning it. In the 60s, Skaaland bought into Capitol Wrestling Corporation, the WWWF's parent company, & after stepping back from the ring, became a producer for the company. By the mid-70′s, Skaaland had all-but-retired from active in-ring duties, but remained on WWWF shows in a management role, guiding Bruno Sammartino & Bob Backlund to World Title reigns. He stepped away from the ring in the 80s, though he continued to make one-off appearances, including a Hall of Fame induction in 1994. Skaaland died peacefully at his home in White Plains, New York with his family by his side.
In 2009, one-time WWF Intercontinental Champion Andrew 'Test' Martin died aged just 33. After training from Bret Hart, Leo Burke & Dory Funk Jr, Martin began competing on the Canadian indies in 1994 under a multitude of aliases. He joined the WWF in 1998, making his 1st appearance as a bodyguard for the band Motley Crue, & going on to align with The Corporation. He found perhaps his greatest success upon leaving The Corporation, entering a storyline relationship with Stephanie McMahon, culminating in the formation of the McMahon-Helmsley stable. After this, he primarily competed in the tag team division, alongside (at different points) Albert, Booker T, Lance Storm, Christian, William Regal & Scott Steiner, though would continue to find moderate singles success. In 2004, he underwent spinal fusion surgery & was released from his WWE contract shortly afterwards. After a stint on the indies, he made a surprising return to WWE, competing on it's ECW brand. The highlight of this 2nd run was competing in the Extreme Elimination Chamber match at the infamous December to Dismember PPV & a series of ECW Title matches against champion Bobby Lashley. Shortly after the 2007 Royal Rumble, Martin inexplicably disappeared from WWE programming, though it was later confirmed that he had violated the Wellness Policy. Less than a week after that announcement, Martin was either released, or asked to be released (depending on who you believe) from his WWE contract. He moved to TNA, but didn't last long there either, partly due to concerns over his physical size in the wake of the steroid scandal. After a farewell tour of Europe, Martin announced his retirement in early 2008. Police were called to Martin's home after a concerned neighbor reported seeing him motionless for several hours. His death was ruled an accidental overdose of oxycodone
Thirdly in 2010, John S. Hill, who wrestled professionally as Gentleman Jerry Valiant of the Valiant Brothers tag team in the WWWF, passed away this past at the age of 68 following a battle with alzheimers.  Jerry & Johnny Valiant held the WWWF tag team championships for a little over 6 months in 1979 after Jerry came in to replace Jimmy Valiant, who was forced out of the team temporarily due to health issues