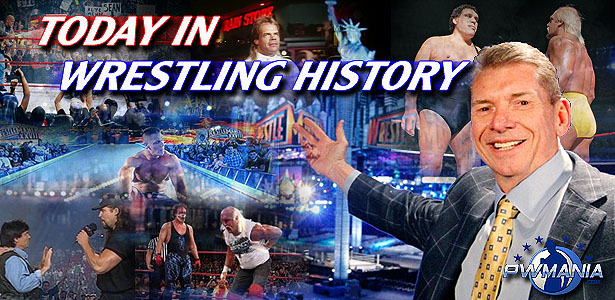 Trivia
2003 – La Parka Jr defeated Abismo Negro to win the AAA Rey de Reyes Tournament
2007 – Mick Foley's 3rd memoir "The Hardcore Diaries" debuted at number 12 on the non-fiction side of the Wall Street Journal Best Seller list.  It came in at number 46 on the USA Today Best Seller listing (which covers all books)
2008 – El Zorro wins the AAA Rey de Reyes Tournament, defeating Abismo Negro, Mr Niebla & Alan Stone
Events

In 1972, the WWWF ran in Waterville, Maine:
– Debbie Johnson defeated Dottie Downs
– Donna Christianello fought Lily Thomas to a draw
– Susan Green defeated Paula Kaye
– Sandy White defeated White Venus
– The Fabulous Moolah defeated Jan Sheridan
– Victor Rivera defeated Rugged Russian #1
– WWWF World Champion Pedro Morales defeated Rugged Russian #2
In 1997 – WCW held their "Uncensored" Pay-per-view at the North Charleston Coliseum, in Charleston, South Carolina:
Dark Match:
– Ice Train defeated Maxx Muscle
PPV:
– Dean Malenko defeated WCW United States Champion Eddie Guerrero to win the title
– Ultimo Dragon (with Sonny Onoo) defeated Psychosis
– Glacier defeated Mortis (with James Vanderberg)
– Buff Bagwell defeated Scotty Riggs in a Strap Match
– Harlem Heat (Booker T & Stevie Ray) defeated The Public Enemy (Rocco Rock & Johnny Grunge) in a Texas Tornado Match
– WCW World Television Champion Prince Iaukea defeated Rey Misterio Jr. to retain the title
– Team NWO (Kevin Nash, Hollywood Hogan, Scott Hall, & Randy Savage) (with Dennis Rodman) defeated Team Piper (Roddy Piper, Chris Benoit, Jeff Jarrett, & Steve McMichael), and Team WCW (Scott Steiner, Lex Luger, & The Giant) in a triangle elimination match
In 2008, ROH Take No Prisoners was held at the Pennsylvania National Guard Armory, in Philadelphia, Pennsylvania:
Dark Matches:
– Davey Richards defeated Dingo
– The Vulture Squad (Ruckus & Jigsaw) defeated The Hangmen 3 (Adam Pearce & BJ Whitmer)
– Bushwhacker Luke defeated Shane Hagadorn
PPV:
– Sara Del Rey defeated Kylie Pierce
– Tyler Black defeated Go Shiozaki, Delirious & Claudio Castagnoli in a Four Corner Survival Match
– Kevin Steen defeated Roderick Strong
– The Briscoe Brothers (Jay & Mark) defeated The Age Of The Fall (Joey Matthews & Necro Butcher) in a Tag Team War
– Brent Albright (with Larry Sweeney, Adam Pearce, BJ Whitmer, & Shane Hagadorn) defeated Erick Stevens
– No Remorse Corps (Davey Richards & Rocky Romero) defeated The Vulture Squad (Ruckus & Jigsaw) to retain the ROH Tag Team Titles
– Bryan Danielson defeated Austin Aries
– Nigel McGuinness defeated Tyler Black to retain the ROH World Title
In 2012, WWE ran in Montreal:
– US Champion Santino Marella defeated Jack Swagger to retain the title
– R-Truth defeated The Miz
– Diva's Champion Beth Phoenix & Natayla defeated  Eve Torres & Tamina Snuka
– Chris Jericho defeated Kofi Kingston
– World Heavyweight Champion Daniel Bryan defeated Randy Orton & The Big Show to retain the title
– WWE Tag Team Champions Primo & Epico (with Rosa Mendes) defeated Mason Ryan & Zack Ryder to retain the titles
– John Cena defeated Kane in a Last Man Standing Match
– WWE Champion CM Punk defeated Dolph Ziggler to retain the title with Chris Jericho as the special enforcer
Title Changes
1948 – Billy Goelz defeated Marshall Esteppe to win the NWA Junior Heavyweight Title
1960 – Joe McCarthy defeated Mario Galento to win the NWA Gulf Coast Heavyweight Title in Mobile, Alabama
1970 – Karl Kox & The Great Malenko defeated Wahoo McDaniel & Antonio Pugliese to win the Texas Tag Team Titles
1973 – Gene Kiniski defeated Terry Funk to win the NWA Missouri Heavyweight Title in St. Louis, Missouri
1977 – Bob Sweetan & Tony Rocco defeated Skandar Akbar & Choi Sun to win the TSW United States Tag Team Titles
1985 – Dusty Rhodes defeated Tully Blanchard to win the NWA Television Title
1986 – The Sheepherders (Luke Williams & Butch Miller) defeated Ted DiBiase & Steve Williams to win the UWF Tag Team Titles. Also, Buzz Sawyer was awarded the newly-created UWF Television Title by the last Mid-South Television Champion Dick Slater
1986 – Jim Duggan defeated Buzz Sawyer (subbing for Dick Slater) to win the MSW North American Title
1989 – Hiroshi Hase defeated Shiro Koshinaka to win the IWGP Junior Heavyweight Title
1992 – Kamala defeated Koko B Ware to win the USWA Unified World Heavyweight Title, also on the same show Jimmy Valiant defeated Dr. Death (not Steve Williams) to win the USWA Southern Heavyweight Title
1994 – Hiroshi Hase defeated Rick Rude to win the WCW International World Title
1996 – D'Lo Brown defeated Bobby Blaze to win the Heartland Wrestling Association Heavyweight Title in Lima, Ohio,
1998 – on Raw, Triple H defeated Owen Hart to win the WWF European Title
2003 – Justin Credible defeated Steve Corino to win the Premier Wrestling Federation Heavyweight Title in Queens, New York
2008 – Cibernetico defeated El Mesias to win the AAA Heavyweight Title
Birthdays
Happy birthday to 2-time WWF Tag Team Champion Henry Godwinn (50), one-time WCW US Tag Team Champion Steve Armstrong (49), one-time World Tag Team Champion Ken Doane (28), & former WWE developmental talent Brett DiBiase (26)
In Memoriam
On this day in 2008, the wrestling world lost famed manager 'Playboy' Gary Hart aged 66. Hart started his career in 1963, working as a wrestler in Wisconsin and Illinois, but soon gave it up in favor of a less active role. By the 70s, he was working for WCCW (then known as Big Time Wrestling) and rose to the position of booker in 1979. Hart is credited with ushering in the 'golden years' of WCCW, creating the legendary Von Erichs-Freebirds feud as well as introducing talent such as The Great Muta, One Man Gang and King Kong Bundy to the territory. He also continued his manager role, guiding Chris Adams, Abdullah The Butcher and Gino Hernandez amongst others. He also had stints in the Georgia and Mid-Atlantic territories. Throughout his career, Hart became renowned for looking out for the well being of all wrestlers, not just his own. When Chris Adams (managed by Hart) hit Kevin Von Erich with a wooden chair, Hart ushered Adams from the ring and called for medical attention for Von Erich. As World Class began to falter in the late 80′s, Hart began appearing in JCP, managing the J-Tex Corporation, and continued this role for a brief time after Ted Turner's buyout. Following his WCW departure, he formed a new promotion in Texas, showcasing several of the former World Class talents, but it was unsuccessful. He also worked for the short-lived GWF promotion, as well as an ill-fated attempt to revive World Class. He retired in 1999, but made a surprise return to wrestling in January 2004, appearing on Major League Wrestling's Reloaded tour, on which his son Chad debuted. However, MLW would fold only a month later, and Hart would retire for good. He lived out his retirement in Euless, Texas, continuing to make appearances at conventions, until his death of a heart attack. On April 5, a tribute show aired, which was attended by many top stars of the past and present, including Bill Watts, Jack Brisco, Michael Hayes & Jim Ross.