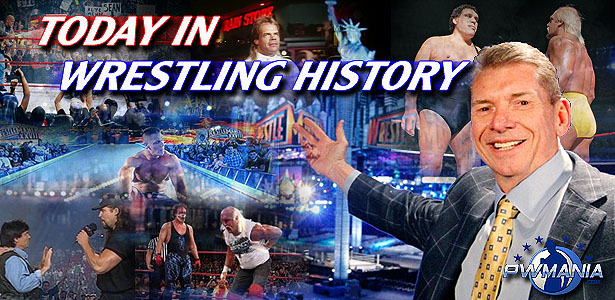 Trivia
1981 – At a WWF house show in Altoona, Pennsylvania, Andre The Giant defeated Hulk Hogan
2008 – Former TNA performer Konnan served the company with a lawsuit pertaining to his departure from the company & their treatment of him as he was dealing with several health issues, including a hip replacement
2008 – World Wrestling Entertainment announced that Afa Anoai Jr., the son of Afa the Wild Samoan, currently considered 1 of the top performers in Florida Championship Wrestling has been suspended for 30 days due to a Wellness Policy violation
2011 – Yuji Nagata wins the New Japan Cup, defeating Shinsuke Nakamura in the tournament final
2012 -WWE announced they would induct Yokozuna into the WWE Hall of Fame during a Smackdown taping in East Rutherford, NJ
Events
In 1994, WWF Wrestlemania X was held at Madison Square Garden, in New York City:
Dark Match:
– The Heavenly Bodies (Dr. Tom Prichard & Jimmy Del Ray) (with Jim Cornette) defeated The Bushwhackers
PPV: 
– Owen Hart defeated Bret Hart
– Bam Bam Bigelow & Luna Vachon defeated Doink The Clown & Dink in a Mixed Tag Team Match
– Randy Savage defeated Crush (with Mr. Fuji) in a Falls Count Anywhere Match
– Alundra Blayze defeated Leilani Kai to retain the WWF Women's Title
– Men On A Mission (Mabel & Mo) (with Oscar) defeated The Quebecers (Jacques & Pierre) (with Johnny Polo) via countout (The Quebecers retain the WWF Tag Team Titles)
– Yokozuna (with Mr. Fuji & Jim Cornette) defeated Lex Luger by DQ with Mr Perfect as special guest referee to retain the WWF Title
– Earthquake defeated Adam Bomb (with Harvey Whippleman)
– Razor Ramon defeated Shawn Michaels in a Ladder Match to retain the WWF Intercontinental Title
– Bret Hart defeated Yokozuna (with Mr. Fuji & Jim Cornette) with Roddy Piper as special guest referee to win the WWF Title
In 1998, CMLL Homenaje a Salvador Lutteroth was held in Mexico City. This years event featured a one-night, 8-man tournament alongside other matches:
– Cien Caras, Gran Markus Jr & Mascara Ano 2000 defeat Brazo de Plata, Rayo de Jalisco Jr & Tigre Blanco
– Black Warrior defeats Ultimo Dragon to advance to the final of the Torneo Salvador Lutteroth
– Mr Niebla defeats Atlantis to advance to the final of the Torneo Salvador Lutteroth
– Mr Niebla defeats Black Warrior to win the Torneo Salvador Lutteroth
– Emilio Charles Jr defeats El Satanico in a Hair vs Hair Match
In 2009, CMLL Homenaje a Dos Leyendas was held in Mexico City & paid tribute to Salvador Lutteroth & Cavernario Galindo:
– Los Hijos del Averno (Averno, Ephesto & Mephisto) defeated Blue Panther, El Sagrado & Toscano
– Sangre Azteca, Dragon Rojo Jr & Misterioso II defeated El Hijo del Fantasma, Hector Garza & La Mascara
– Dos Caras Jr, Shocker & Volador Jr defeated Atlantis, Mr Niebla & Rey Bucanero
– Negro Casas defeated Mistico to win the CMLL Welterweight Title
– Ultimo Guerrero defeated Villano V in a Mask vs Mask Match
In 2012, AJPW Pro Wrestling Love in Ryogoku Vol. 14 was held in Tokyo, Japan
– Daisuke Sekimoto & Yuji Okabayashi defeated Takumi Soya & Suwama to retain the AJPW All Asia Tag Team Titles
– Kenny Omega defeated Shuji Kondo to retain the AJPW Junior Heavyweight Title
– Yuji Nagata defeated Masayuki Kono in a Cage Death Match
– Satoshi Kojima defeated Seiya Sanada
– Get Wild (Manabu Soya & Takao Omori) defeated The Dark Carnival (Dark Cuervo & Dark Ozz) to win the AJPW Tag Team Titles
– Jun Akiyama defeated Keiji Mutoh to retain the AJPW Triple Crown Title
Title Changes
1962 – Bull Curry defeated Jack Dalton 1st to win the Texas Brass Knuckles Title
1970 – The Spoiler defeated Danny Hodge to win the TSW North American Title
1972 – Danny Hodge defeated Dr X to win the NWA Junior Heavyweight Title
1987 – Keiji Mutoh & Shiro Koshinaka defeated Akira Maeda & Nobuhiko Takada in the final of a tournament to win the vacant IWGP Tag Team Titles
1988 – Steve & Shaun Simpson defeated John Tatum & Jack Victory to win the WCCW Texas Tag Team Titles
1996 – Shinjiro Otani defeated Wild Pegasus in the final of a tournament to win the vacant WCW Cruiserweight Title. The title had been vacant for well over 3 years prior to the match
2008 – Taiji Ishimori & KENTA defeated BxB Hulk & Shingo Takagi to win the GHC Junior Heavyweight Tag Team Titles
Birthdays
Happy birthday to former WWE wrestler KC James (32), former TNA Tag & X-Division Champion Homicide (37), the first TNA Hall of Famer Sting (55), &  former WCW and WWF wrestler Scott 'Sick Boy' Vick (41)
In Memoriam
The wrestling world has lost four personalities on this date:
Firstly, in 1995, WWE Hall of Famer Big John Studd died aged 47. Studd was trained by Killer Kowalski, and won the WWWF Tag Team Titles alongside him in 1976, wrestling as The Executioners. Studd left the WWWF in 1978 and went on to compete all across North America, earning several shots at the NWA World Championship in the process. He returned to the now-WWF in 1982, becoming a monster heel, who would bring a stretcher to the ring and beat his opponents so badly, that they would be carried out on it. Studd was elevated to the main event through a feud with Andre The Giant. Studd claimed that no wrestler could bodyslam him, Andre answered the challenge, failing to slam Studd only when Andre was attacked by Studd's manager Freddie Blassie. Studd took this as a victory, and the pair's feud raged throughout 1983 and 1984, right the way to WrestleMania, where Studd challenged Andre to a '$15,000 Bodyslam Challenge'. If Andre failed to slam Studd within the time limit, he would be forced to retire from wrestling. Despite Studd's protestations, Andre won the match, though the feud continued, as Studd teamed up with King Kong Bundy to attack him. The feud continued into 1986, by which time Andre was wrestling under a mask as Giant Machine. Studd claimed that Andre The Giant and Giant Machine were one and the same, and devoted himself to unmasking Machine. By the time he left the WWF again in November, he remained unsuccessful. After taking time off from wrestling, Studd returned to the WWF for a brief run in 1989, winning the Royal Rumble in the process. He left the WWF again in June of that year, which would become his last WWF appearance. He suffered from liver cancer & Hodgkin's Disease later in life, eventually losing his battle. He was posthumously inducted into both the WCW (1995) & WWE (2004) Halls of Fame.
Secondly, in 2003 – Sailor Art Thomas, who achieved most of his career success on the East Coast, & helped to break down the color barrier in wrestling, died of cancer at age 79
Thirdly, in 2010, fellow WWE Hall of Famer 'Baron' Mikel Scicluna died at the age of 80. Scicluna began wrestling in the 50′s, primarily in Canada, using the ring name 'Mike Valentino'. He moved to the WWWF in 1965, adopting the 'Baron' persona for which he is best remembered. His entrance saw him come to the ring wearing a robe, supposedly the colors of the Maltese Royal Family. He also became renowned for his regular use of 'foreign objects', often using a roll of coins to knock out opponents. During his WWWF run, Scicluna won both the WWWF World and United States Tag Team Titles once each. He also found himself embroiled in a confrontation between Gorilla Monsoon and Muhammad Ali. Scicluna took a countout loss in a match against Monsoon, when Ali stormed the ring from behind. He tried to jab at Monsoon, but was dropped with an Airplane Spin. All of this served as build for the now-infamous boxer vs wrestler match between Ali and Antonio Inoki. Scicluna retired from active competition in 1983, and lived out his retirement in Pittsburgh, working part-time as a driver for the New York Times. Scicluna eventually succumbed to cancer after a long battle
In 2011, One of the all time great managers, Sir Oliver Humperdink passed away at the age of 62, due to cancer following a long battle.