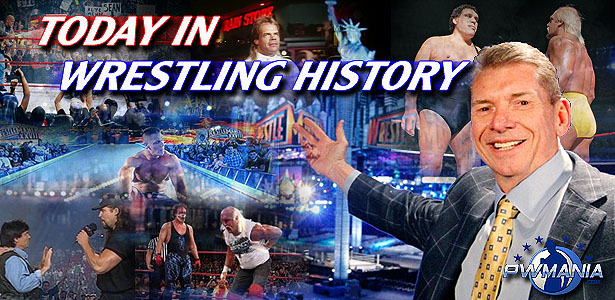 Trivia
1974 – Jumbo Tsuruta makes his wrestling debut
1992 – Triple H makes his professional wrestling debut
1997 – The Monday Night War continued: WCW Monday Nitro defeated WWF Monday Night Raw: 3.0 to 2.5 in the ratings
2003 – Former WCW World Heavyweight Champion Bill Goldberg officially signed with WWE, & would debut the following week
Events
In 1991, WWF Wrestlemania VII was held in Los Angeles, California. The event changed venues from the Memorial Coliseum to the Memorial Sports Arena. WWF stated that this was due to threats against the company over Sgt Slaughter's Iraqi sympathizer gimmick, though the generally accepted reason is lower-than-expected ticket sales:
Dark Match:
– Koko B. Ware defeated The Brooklyn Brawler
PPV:
– The Rockers (Marty Jannetty & Shawn Michaels) defeated Haku & The Barbarian (with Bobby Heenan) 
– The Texas Tornado defeated Dino Bravo (with Jimmy Hart)
– The British Bulldog defeated The Warlord (with Slick)
– The Nasty Boys (Brian Knobbs & Jerry Sags) (with Jimmy Hart) defeated The Hart Foundation (Bret Hart & Jim Neidhart) to win the WWF Tag Team Titles
– Jake Roberts defeated Rick Martel in a Blindfold Match
– The Undertaker (with Paul Bearer) makes his 1st Wrestlemania appearance, defeating Jimmy Snuka
– The Ultimate Warrior defeated Randy Savage (with Queen Sherri), forcing Savage to retire from pro wrestling
– Genichiro Tenryu & Koji Kitao defeated Demolition (Crush & Smash) (with Mr. Fuji)
– The Big Boss Man defeated Mr Perfect (with Bobby Heenan) via DQ (Perfect retained the WWF Intercontinental Title)
– Earthquake (with Jimmy Hart) defeated Greg Valentine
– The Legion of Doom (Hawk & Animal) defeated Power & Glory (Hercules & Paul Roma) (with Slick)
– Virgil (with Roddy Piper) defeated Ted DiBiase via countout
– The Mountie (with Jimmy Hart) defeated Tito Santana
– Hulk Hogan defeated Sgt Slaughter (with General Adnan) to win the WWF Title
In 1992, ECW held its 2nd-ever event, at the Original Sports Bar in Philadelphia, Pennsylvania:
– King Kaluha defeated Max Thrasher
– C.N. Redd defeated Rick Perez
– Cry Baby Waldo defeated Mr. Anthony
– D.C. Drake & J.T. Smith defeated Johnny Hotbody & Larry Winters
– Glenn Osbourne defeated Jimmy Jannetty
– Derrick Domino and Stevie Richards defeated The Super Destroyers via forfeit
– Ivan Koloff defeated Tony Stetson in a Russian Chain match
In 1996, WCW Uncensored was held in Tupelo, Mississippi
WCW Main Event:
– Mr. J.L. (Jerry Lynn) defeated Dean Malenko in a 1st round match in the tournament for the WCW Cruiserweight Championship
– Jim Duggan defeated Big Bubba Rogers
– Dick Slater (with Col. Robert Parker) defeated Alex Wright
–The Steiner Brothers fought The Nasty Boys to a no contest
PPV:
– Konnan defeated Eddy Guerrero to retain the WCW United States Title
– The Belfast Bruiser (Finlay) defeated Lord Steven Regal via DQ, when Earl Robert Eaton & Squire David Taylor attacked the Bruiser
– Col. Robert Parker defeated Madusa
– The Booty Man defeated Diamond Dallas Page, forcing Page to leave WCW
– The Giant (with Jimmy Hart) defeated Loch Ness. Earning a WCW World Title match the following night on Nitro
– Sting & Booker T defeated The Road Warriors (Hawk & Animal) in a Chicago Street Fight
– The Mega Powers (Hulk Hogan & Randy Savage) defeated The Alliance To End Hulkamania (Ric Flair, Arn Anderson, Meng, The Barbarian, Lex Luger, Z-Gangsta, Kevin Sullivan & The Ultimate Solution) (with Miss Elizabeth, Woman, & Jimmy Hart) in a Doomsday Cage Match
Title Changes
1884 – Duncan C. Ross defeated James McLaughlin to win the American Collar-And-Elbow Title in a best-of-three falls, three-style match in Cleveland, Ohio
1932 – Blacksmith Pedigo defeated Bill Romanoff to win the World Junior Middleweight Title in Fairfield, Alabama
1947 – Ray Steele defeated Marshall Esteppe to win the NWA Junior Heavyweight Title
1954 – Buddy Knox defeated Carl Engstrom to win the NWA Pacific Coast Heavyweight Title in Vancouver, British Columbia
1964 – George & Sandy Scott defeated Doc & Mike Gallagher to win the American Wrestling Alliance World Tag Team Title
1973 – Harley Race defeated Dory Funk to win the NWA World Title
1976 – Invader I & Don Muraco defeated Pedro Morales & Pat Patterson to the San Francisco NWA World Tag Team Title in Sacramento, California
1977 – Solitario defeated Rey Mendoza to win the UWA World Light Heavyweight Title in Juarez, Mexico
1978 – Dale Valentine defeated Al Madril to win the Texas Heavyweight Title
1980 – The Dynamite Kid defeated Keith Hart in a tournament final to win the vacant Stampede British Commonwealth Mid-Heavyweight Title in Red Deer, Alberta
1981 – Mike Graham & Barry Windham defeated The Assassins to become the 1st Florida NWA North American Tag Team Champions in Tampa, Florida.
1986 – Lance von Erich defeats Buddy Roberts to win the WCCW Television Title
1989 – Davey Boy Smith defeated Don Muraco to win the Stampede North American Heavyweight Title in Calgary, Alberta
1989 – The Nasty Boys (Brian Knobbs & Jerry Sags) defeated Johnny Ace & The Terminator to win the NWA Florida Tag Team Title in St. Petersburg, Florida
1990 – Abdullah the Butcher defeated TNT (Savio Vega) to win the WWC Universal Heavyweight Title in San Juan, Puerto Rico
1992 – Ron Harris defeated Steve Doll to win the NWA Pacific Northwest Heavyweight Title in Vancouver, Washington
1994 – Rick Rude defeats Hiroshi Hase to win the WCW International World Title
2000 – Cody Hawk defeated Shark Boy to win the Pro Wrestling eXpress Television Title in North Versailles, Pennsylvania
2001 – Flash Flanagan defeated Randy Orton to win the OVW Hardcore Title in Jeffersonville, Indiana
2001 – Miracle Man wins an 11-man battle royal to become the 1st Osaka Pro Wrestling Battle Royal Champion in Osaka, Japan
2002 – Cho-Ten defeated Manabu Nakanishi & Yuji Nagata in the final of a tournament to win the vacant IWGP Tag Team Titles
2003 – on Raw, Chief Morley awards the vacant World Tag Team Titles to himself & Lance Storm
2007 – MsChif defeats Josie to win the NWA Midwest Women's Title in Streamwood, Illinois
Birthdays
Happy birthday to 4-time TNA X-Division Champion Christopher Daniels (43), famed WWF jobber Barry Horowitz (54), former WWE Tag Team Champion Orlando 'Epico' Colon (32), former World Heavyweight Champion Jack Swagger (32), & WWE legend The Undertaker (49)
Also, today would have been the birthday of WWE Hall of Famer Gorgeous George (99)
In Memoriam
On this day in 1997, the wrestling world lost one-time AWA World Champion Dr. Bill Miller aged 69. Miller began his professional wrestling career in Columbus and would move through Minneapolis, Detroit, New York and abroad through his career. His greatest exposure came in the WWWF, where he regularly challenged Bruno Sammartino for the WWWF World Title in the 1960′s. He later established himself in the tag team division, competing along side his brother Dan to win the WWWF United States Tag Team Titles. Miller retired to his home in Ohio in the 1970′s, passing away around a quarter-century later of a heart attack, suffered on his way out of the gym. Interestingly, Miller is 1 of the few 'Doctors' in wrestling who have a legitimate claim to the title, as he is a qualified veterinarian. Indeed, he operated a practice in Ohio following his wrestling retirement