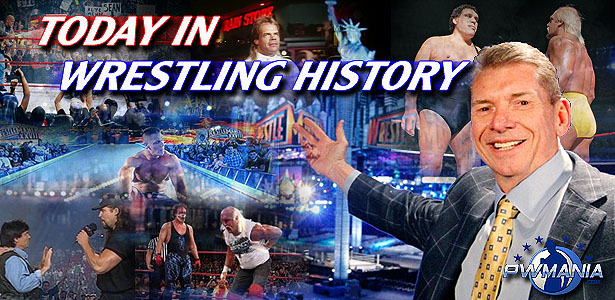 Trivia
2011 – ROH champion Roderick Strong and El Generico signed deals with Ring of Honor.
2011 – WWE filed a trademark on the term Sheriff Austin
Events
In 2002, the 6th Annual Super 8 Tournament was held at the St. Matthew's Parish Hall in Wilmington, Delaware:
First Round:
– Donovan Morgan defeated Pepper Parks
– Jamie Noble defeated Matt Stryker
– Red defeated Bobby Rude
– AJ Styles defeated Xavier
Semifinals:
– Donovan Morgan defeated Jamie Noble
– AJ Styles defeated Red
Finals:
– Donovan Morgan defeated AJ Styles to win the Super 8 Tournament
In 2012, CMLL Homenaje a Dos Leyendas was held in Mexico City & paid tribute to Salvador Lutteroth & Bobby Bonales:
– Averno, Mr Aguila & Olimpico defeat Angel de Oro, Brazo de Plata & El Valiente
– Marco Corleone, Diamante Azul & La Mascara defeat Rey Bucanero, Ultimo Guerrero & Volador Jr
– Atlantis & Mr Niebla defeat El Terrible & Rush to win the 2012 Parejas Incredibles Tournament
– Negro Casas fought Blue Panther to a double-pinfall draw in a Hair vs Hair Match, so neither were forced to shave their head
Title Changes
1936 – Dick Shikat defeated Danno O'Mahoney to win the World Heavyweight Title
1939 – Marv Westenberg defeated Steve Casey to win the AWA World Heavyweight Title
1976 – Danny Hodge defeated Hiro Matsuda to win the NWA Junior Heavyweight Title
1990 – Doug Furnas & Dan Kroffat defeated Footloose (Samson Fuyuki & Toshiaki Kawada) to win the AJPW All Asia Tag Team Titles
1992 – Miss Texas defeated Dirty White Girl in the final of a tournament to become the first USWA Women's Champion
1993 – Paul Orndorff defeated Erik Watts in the final of a tournament to win the vacant WCW Television Title. Also, The Hollywood Blonds (Steve Austin & Brian Pillman) defeated Ricky Steamboat & Shane Douglas to win the NWA & WCW Tag Team Titles
1994 – Atlantis defeated Dr Wagner Jr to win the CMLL World Light Heavyweight Title
2008 – Takeshi Morishima defeated Mitsuharu Misawa to win the GHC Heavyweight Title
2008 – Takeshi Morishima defeated Mitsubaru Misawa to win the Pro WrestlingNOAH Global Honored Crown in Tokyo, Japan
Birthdays
Happy birthday to former WWF Women's Champion Debra (54), & joshi legend Manami Toyota (43)
Also, today would have been the birthday of 3-time World Tag Team Champion Lance Cade (33), & WWE Hall of Famer Mike Von Erich (49)
In Memoriam
Two years ago today, the wrestling world lost 5-time AJPW All Asia Tag Team Champion Doug Furnas aged 52. Furnas began his sporting life in American football, even making the Denver Broncos training camp, but was cut before the season began. He moved into powerlifting, where he made a name for himself, becoming the first man to total 2,400 pounds at two separate meets. At last check, he still held several national collegiate records for his weight class. He made his pro wrestling debut in 1986, appearing as a guest at a CWC show, protecting promoter Bob Polk from an attack by Kevin Sullivan. He remained an active member of the CWC roster until it folded in 1989, after which he made regular appearances for WCW and All Japan. In Japan, he began teaming with Phil LaFon (then wrestling as Dan Kroffat) as The Can-Am Express. The duo went on to win the All Asia Tag Team Titles 5 times before 1993 and would also go on to win the UWA Tag Team Titles and the ECW Tag Team Titles before the decade was out. They also had a short stint with WWF, but failed to make an impact with the promotion. Furnas retired in 2000, going on to open a child shelter as well as working the family farm. In his later years, Furnas battled Parkinson's Disease, which would eventually cause his death by heart failure.