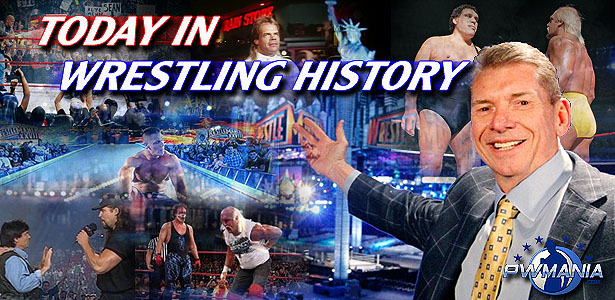 Trivia
2011 – WWE NXT Redemption (Season 5) starts airing on WWE.com. This series featured losing rookies from previous series rather than all new competitors
2011 – Shelton Benjamin worked a dark match for WWE.  Benjamin, who had been working for ROH at the time, did not return to WWE &  would sign a ROH deal several months later
Events
In 1996, ECW held the first night of their "Big Ass Extreme Bash" weekend, at the Lost Battalion Hall in Queens, New York. The second show would be the next night in Philadelphia. This would be Mick Foley's last weekend in ECW as Cactus Jack before going to the WWF as Mankind:
– Kendo Nagasaki & Chris Michaels defeated Damien Stone & Joel Hartgood. After the match, the Sandman ran in & caned all the participants
– Shane Douglas came out for an interview, & was goaded into a brawl by Brian Pillman, who was sitting in the front row. Bill Alfonso then came out & got into a confrontation with ECW Commissioner Tod Gordon, ending with Taz & Alfonso laying out Gordon until Bam Bam Bigelow made the save
– JT Smith defeated Hack Myers
– Chris Jericho defeated Cactus Jack  This would be their first meeting in the ring & the only Jericho vs. Cactus bout ever.  They would lock up again when Foley was working as Mankind in the WWF
– Taz defeated Mikey Whipwreck via submission. Taz would not release the hold until Bam Bam Bigelow came in. Bam Bam went after Alfonso, & Taz clipped his knee & put Bigelow in the Tazmission
– ECW Tag Team Champions The Eliminators defeated The Pitbulls
– Juventud Guerrera defeated Rey Mysterio, Jr. in a two out of three falls match
– Big Titan defeated Judge Dredd
– ECW Television Champion 2 Cold Scorpio vs. Sabu ended in a twenty minute draw
– Buh Buh Ray Dudley & Dances with Dudley defeated The Headhunters
– ECW World Champion Raven defeated The Sandman
Title Changes
1971 – Red Bastien defeated Jose Lothario to win the Texas Heavyweight Title
1982 – Kerry von Erich defeated Bugsy McGraw to win the WCCW American Heavyweight Title
1983 – The Wild Samoans (Afa & Sika) defeated Jules & Chief Jay Strongbow to win the WWF Tag Team Titles
1987 – Eddie Gilbert defeated Savannah Jack to win the UWF Television Title
1989 – Masanobu Fuchi defeated Mighty Inoue to win the AJPW Junior Heavyweight Title
1991 – El Grande Pistolero defeated Danny Davis to win the USWA Junior Heavyweight Title
2010 – The Beautiful People (Madison Rayne & Velvet Sky) defeated Angelina Love & Tara and Taylor Wilde & Sarita in a 3-Way Tag Team Match to win the vacant TNA Knockout's Tag Team Titles. Lacey von Erich is also recognized as champion under the Freebird Rule
Birthdays
Happy Birthday to former NWA-TNA wrestler Derek Wylde (37)
In Memoriam
On this day in 1985, the wrestling world lost Texan legend Bull Curry at the age of 71. Curry's first true exposure to wrestling came at the age of 16, when he became a circus strongman in order to help support his family. His record supposedly stood at 65 straight wins, with no challenger lasting beyond one 5-minute round. He briefly became a policeman in his hometown of Hartford, Connecticut, before Detroit promoter Adam Weissmuller approached him. Curry developed a never-seen-before hardcore style of wrestling which would become his trademark throughout his career. Curry became so famed that he was pitted against boxer Jack Dempsey in an exhibition match, though would be stopped by Dempsey in the second round. Curry relocated to Texas in the 50′s and it was here that he would solidify his legacy. Despite his obvious popularity, Curry's style was such that promoters were reluctant to give him their main title. The Texas territory solved this problem by creating the Brass Knuckles Championship, which Curry would go on to hold 20 times alongside single reigns as Texas Tag Champion, International Tag Champion and Texas Heavyweight Champion. Curry would continue wrestling well into his 60′s, eventually calling it a day in the mid-1970s. Curry remained semi-active in the business, overseeing the career of his son Fred. He eventually died of natural causes. Curry is credited as being the innovator of hardcore wrestling, and while this accolade can be disputed, there can be no doubt that he was instrumental in popularizing the style.