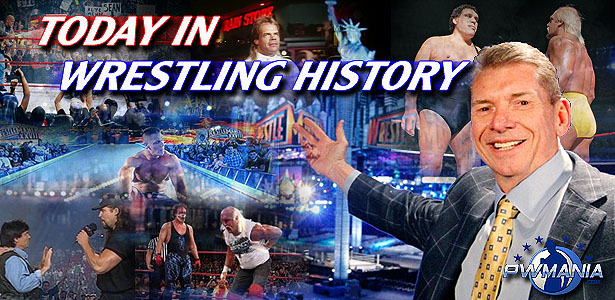 Trivia
1985 – Oprah Winfrey, yeah that Oprah, made an appearance at a WWF event in Chicago, IL.  The three top matches aired on "AM Chicago" on 5/27/85 with Winfrey doing commentary, & also interviewing Hulk Hogan, & Don Muraco
1991 – The Diamond Studd (Scott Hall) made his debut on WCW Television, defeating Tommy Angel
2001 – Triple H underwent surgery with Dr. James Andrews to repair his torn quadriceps, which was injured in a tag team match with Steve Austin against Chris Benoit & Chris Jericho three days earlier. The surgery would be successful, and after a long period of rehab, Triple H returned to the ring ten months later.  He would suffer a similar injury again in 2006
2007 – Vince McMahon was awarded an honorary doctorate by Sacred Heart University today at this link.  McMahon told The Greenwich Post, "It is a privilege to receive this recognition from such a distinguished institution and, like most people who receive honorary degrees, I certainly don't feel worthy.  Nonetheless, it was a once in a lifetime opportunity to speak to a graduating class, entertain them with some of my life experiences and leave them with one message: don't be afraid of failure."
2011 – Brock Lesnar's autobiography "Death Clutch", co-written by Paul Heyman, was released.
Events
In 1999, WWF presented 'Raw is Owen' (a play on the then-named Raw is War TV show) a tribute show for Owen Hart, at the Scottrade Center, in St. Lois, Missouri. Notable moments include an emotional poem written & read by Mark Henry. The broadcast also featured Paul Bearer, Triple H, Chyna, Shane McMahon, Earl Hebner, Gerald Brisco, Goldust, the Road Dogg, Bradshaw, Mick Foley, Jeff Jarrett, Debra, & Test giving their memories of Hart. & ended with & Steve Austin leaving 1 beer in the ring 'for Owen':
– Jeff Jarrett (with Debra) defeated Test
– WWF Tag Team Champions Kane & X-Pac defeated Gangrel & Edge (with Christian)
– The Hardy Boyz (Matt & Jeff) (with Michael Hayes) defeated Kaientai (Funaki & Taka Michinoku)
– Ken Shamrock defeated Hardcore Holly
– Mankind defeated Billy Gunn via countout
– Mark Henry & D'Lo Brown (with Ivory) defeated The Acolytes (Farooq & Bradshaw)
– Road Dogg vs. The Godfather never got started. After The Godfather offered to take Road Dogg to the back with the Ho's, & share Owen Hart stories instead
– Triple H (with Chyna) defeated Al Snow
– The Big Show defeated Goldust
– The Rock defeated Val Venis
In 2009, TNA Sacrifice was held at the Impact Zone, in Orlando, Florida. With an attendance of 1,100:
Pre-show:
– Amazing Red defeated Kiyoshi
PPV:
– Eric Young, & Lethal Consequences (Jay Lethal & Consequences Creed) defeated Sheik Abdul Bashir, The Motor City Machine Guns (Alex Shelley & Chris Sabin) in a 6-man tag team match
– Taylor Wilde defeated Daffney (with Abyss) in a Monster's Ball Match
– TNA X Division Champion Suicide vs. Christopher Daniels ended in a draw. Suicide retains the title
– Angelina Love defeated Awesome Kong (with Raisha Saeed) to retain the TNA Knockout's Title
– Samoa Joe defeated Kevin Nash
– Beer Money Inc. (Robert Roode & James Storm) defeated The British Invasion (Brutus Magnus & Douglas Williams) (with Rob Terry) in the finals of the Team 3D Invitational Tag Team Tournament
– AJ Styles defeated Booker T in an I Quit Match to retain the TNA Legends Title
– Sting defeated Mick Foley, Kurt Angle, & Jeff Jarrett in a Four Way Ultimate Sacrifice Match. Each man wagered an important aspect of their career on the match; Angle's leadership of the Main Event Mafia, Sting's career, Jarrett's stake in TNA, & Foley's TNA World Title. Sting defeated Angle to gain control of the Main Event Mafia, & as a result, Foley retains the TNA World Title
Title Changes
1973 – Harley Race defeated Dory Funk, Jr. to win the NWA World Heavyweight Title in Kansas City, Missouri. This was Race's 1st World title
1976 – Ric Flair defeated Wahoo McDaniel to win the Mid-Atlantic Heavyweight Title in Charlotte, North Carolina. If Flair had lost, he would have had his head shaved
1984 – Ric Flair defeated Kerry Von Erich to win the NWA World Title
1996 – Akira Taue defeated Mitsuharu Misawa to win the AJPW Triple Crown Title
2010 – on Raw, R-Truth defeated The Miz to win the vacant WWE United States Title
Birthdays
Happy birthday to former WWE and TNA wrestler Elijah 'D'Angelo Dinero' Burke (36)
Also, today would have been the birthday of the 1st recognized American Heavyweight Champion Evan Lewis (154)
In Memoriam
On this day in 1984, the wrestling world lost WWWF (now WWE) founder Vince McMahon Sr. at the age of 69. McMahon took over his father's CWC promotion in 1954 and under his leadership, it became the dominant NWA territory of the 50′s and 60′s, reputedly controlling up to 70% of NWA bookings at the time. McMahon was also one of the first to promote regularly televised wrestling shows, beginning in 1955. In 1963, in protest against 'their man' Buddy Roberts losing the NWA World Title, McMahon and business partner Toots Mondt seceded from the NWA, renaming their promotion the World Wide Wrestling Federation (WWWF). After several years of success within his territory and with his health failing, McMahon sold the renamed WWF to his son Vince Jr and the rest, as they say, is history. McMahon Sr would not live to see the national expansion of his former company, as he died of pancreatic cancer mere months after Hulk Hogan's victory over The Iron Sheik, which would usher in the 80′s wrestling boom period. Interestingly, The Fabulous Moolah claimed that McMahon was one of the first promoters to split their gate proceeds with the wrestlers.