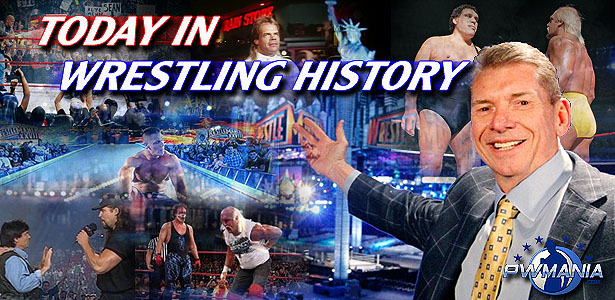 Trivia
2002 – WWE Confidential airs for the 1st time on Spike TV. This was a fairly radical show for WWE, as it did not feature wrestling, rather it showcased WWE behind the scenes. The program occasionally broke kayfabe, something almost unheard of at that time
2010 – Mattel released their 1st WWE Legends action figures, featuring Ricky Steamboat, Steve Austin, The Road Warriors., Dusty Rhodes, & Sgt. Slaughter
2011 – The Associated Press reported that the State of Connecticut ruled that WWE owed $7,316 in underpaid unemployment compensation for "certain WWE employees" following a two year investigation into the company.  WWE, while not agreeing with the audit, paid the amount "under protest" since it was cheaper to pay the amount then challenge the issue legally.  The issue was brought to light during Linda McMahon's failed bid to become a Senator for the Nutmeg State
Events
In 2000, HWA 3rd Annual Brian Pillman Memorial Show was held at Xavier University's Schmidt Field House, in Cincinnati, Ohio. As in previous years, this event featured talent from WWF, ECW, & WCW. Proceeds went to the future education of Pillman's children:
– Rory Fox & Logan Caine defeated Jeremy Lopez & Jet Jaguar
– BJ Payne defeated Rico Constantino
– Chuck Palumbo defeated Sean O'Haire
– Shark Boy defeated Jaime Noble to retain the HWA Cruiserweight Title
– Race Steele defeated Chip Fairway to win the HWA Heavyweight Title
– Tim Horner defeated Dr. Tom Pritchard
– Ron & Don Harris defeated Billy Kidman & Disco Inferno
– Vampiro defeated General Rection (Bill DeMott)
– WWF Intercontinental Champion Chris Benoit defeated Steven Regal to retain the title
– Diamond Dallas Page defeated Shane Douglas
– Justin Credible defeated Raven to retain the ECW World Heavyweight Title
– Eddie Guerrero & D'Lo Brown defeated Dean Malenko & Perry Saturn
In 2003, WWA The Reckoning was held at the North Shore Events Center, in Auckland, New Zealand. This was the final event for the promotion. With an attendance of 3,000. It aired on PPV in the United Stated on June 8th, 2003:
– Rick Steiner defeated Mark Mercedes
– Crowbar defeated Konnan
– TNA X-Division Champion Chris Sabin defeated WWA International Cruiserweight Champion Jerry Lynn, Frankie Kazarian, & Johnny Swinger in a 4-Way Match to unify the WWA International Cruiserweight Title & the TNA X-Division Title
– Sabu defeated Joe E. Legend
– Jeff Jarrett defeated Sting to unify the NWA World Title & the WWA Heavyweight Title
In 2009, WWE Monday Night Raw was held at the Staples Center, in Los Angeles, Ca. This show was of note, for a few things. It was originally scheduled to be held in Denver, Colorado, but b/c the Denver Nuggets had a scheduled NBA playoff game, the WWE was forced out of the venue a week in advance of Raw. This would also be Mr. Kennedy (Ken Anderson)'s final appearance with the company. As he reportedly injured Randy Orton in the main event:
– Kelly Kelly defeated WWE Diva's Champion Maryse via DQ. As a result Maryse retained the title
– Kofi Kingston defeated William Regal, & Matt Hardy in a Triple Threat Match
– Santino Marella & Mickie James defeated Chavo Guerrero Jr. & Beth Phoenix
– Hornswoggle & Goldust defeated The Brian Kendrick & Festus
– Mr. Kennedy, John Cena, Batista, Jerry Lawler, & MVP defeated The Miz, Ted Dibiase Jr., Cody Rhodes, Randy Orton, & The Big Show in a 10-man tag team match. The good guys were Lakers jerseys, & the heels wore Denver Nuggets jerseys
In 2012, Pro Wrestling Guerrilla Death To All But Metal was held at the American Legion Post #308, in Reseda, Ca.:
– B-Boy defeated Famous B
– T.J. Perkins defeated Ryan Taylor
– Kevin Steen defeated Brian Cage to retain the PWG Title
– Stupified & Player Uno defeated The Young Bucks (Matt & Nick Buck) in a No DQ Match to win the PWG Tag Team Titles
– Candice LeRae, Johnny Yuma, & Johnny Goodtime defeated Ray Rosas, Peter Avalon, & Joey Ryan in a 6-person tag team match
– Willie Mack defeated Michael Elgin
– El Generico defeated Ricochet in a Grudge Match
Title Changes
1957 – Verne Gagne & Edouard Carpentier defeated Nikolai & Boris Volkoff to win the Chicago version of the NWA World Tag Team Titles  in Milwaukee, Wisconsin
1976 – Bob Orton, Jr. defeated Jack Brisco to win the Florida Heavyweight Title
1980 – Mark Lewin defeated Gino Hernandez to win the WCCW Texas Heavyweight Title in Dallas, Texas
1980 – Perro Aguayo defeated Gran Hamada to win the UWA World Light Heavyweight Title in Naucalpan, Mexico
1982 – Steve Grey defeated Jim Breaks to win the British Welterweight Title in Croydon, England
1982 – Tiger Mask defeated Les Thornton to win the NWA Junior Heavyweight Title
1986 – Terry Taylor defeated Buzz Sawyer to win the UWF Television Title
1987 – Soldat Ustinov & Boris Zukhov defeated The Midnight Rockers (Marty Jannetty & Shawn Michaels) to win the AWA World Tag Team Title in Lake Tahoe, Nevada.
1989 – Jushin Liger defeated Hiroshi Hase to win the IWGP Junior Heavyweight Title
1989 – Salman Hashimikov defeated Big Van Vader to win the IWGP Heavyweight Title
1990 – Matt Borne defeated Kerry Von Erich to win the WCWA Texas Heavyweight Title in Dallas, Texas
1992 – Tsuyoshi Kikuchi & Kenta Kobashi defeated Doug Furnas & Dan Kroffat to win the AJPW All Asia Tag Team Titles
1997 – on Raw, Steve Austin & Shawn Michaels defeated The British Bulldog & Owen Hart to win the WWF Tag Team Titles
1999 – at a WWF Raw taping, The Acolytes (Bradshaw & Faarooq) defeated Kane & X-Pac to win the WWF Tag Team Titles. Also on this taping, Jeff Jarrett (with Debra) defeated The Godfather to win the WWF Intercontinental Title
2002 – the WWE Hardcore Title is passed from Steven Richards to Tommy Dreamer, to Raven and back to Richards
Birthdays
Happy birthday to 4-time AAA World Champion Ricky 'El Mesias' Banderas (39), former WWF personality Frenchy Martin (64), current WWE Tag Team Champion Roman Reigns (29), current NXT Champion Bo Dallas (24), & 3-time WWE/World Champion Alberto Del Rio (37)
Also, today would have been the birthday of former NWA & AWA Women's Champion June Byers (92), & widely believed to be the 1st major star in American pro wrestling William Muldoon (161)