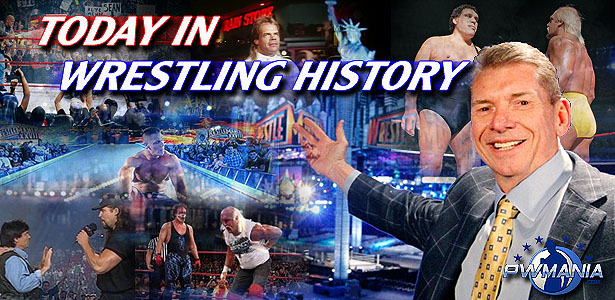 Trivia
2002 – WWE announced that Scott Hall had been released following the company's infamous "plane ride from Hell."  It would be the last time Hall would be employed by the company as a wrestler
2003 – Ultimo Dragon held a press conference in Japan to discuss signing with WWE, a longtime goal for him
2007 – Team 3D announced plans to open a wrestling academy in Florida
2008 – While touring his home country of India, The Great Khali defended WWE matches as legitimate competition, in an interview with ZeeNews.com, commenting, "Everything whatever you see out there is real. Sometimes wrestlers receive serious injuries, & even die on the ring. There is no way of manipulation by media."
2008 – Kurt Angle was hired to host a SpikeTV reality series pilot "Caught in the Action." The pilot never sees air
2009 – WWE signed Fred Sampson, a New Jersey-based independent talent, to a developmental deal. Sampson would debut on WWE television as Darren Young in the 1st season of NXT, & would be 1 of the founding members of The Nexus
2012 – Taiyo Kea wins the AJPW Champion's Carnival, defeating Suwama in the final
Events
In 1989, NWA WrestleWar: Music City Showdown was a WCW event promoted under the NWA banner and held in at the Nashville Municipal Auditorium, in Nashville,Tennessee. With an attendance of 5,200:
– The Great Muta (with Gary Hart) defeated Doug Gilbert (with Eddie Gilbert)
– Butch Reed defeated Ranger Ross
– Dick Murdoch defeated Bob Orton Jr. (with Gary Hart) in a Bullrope Match
– The Dynamic Dudes (Shane Douglas & Johnny Ace) defeated The Samoan Swat Team (Fatu & Samu) (with Paul E. Dangerously)
– Michael Hayes defeated Lex Luger to win the NWA United States Title
– Sting defeated The Iron Sheik (with Rip Morgan) to retain the NWA Television Title
– Ric Flair defeated Ricky Steamboat with Terry Funk, Pat O'Connor & Lou Thesz as guest judges to win the NWA World Title
– The Road Warriors (Hawk & Animal) (with Paul Ellering) defeated The Varsity Club (Mike Rotunda & Steve Williams) (with Kevin Sullivan) via DQ with Nikita Koloff as special guest referee. The NWA World Tag Team Titles are vacated as a result
– Eddie Gilbert & Rick Steiner (with Missy Hyatt) defeated The Varsity Club (Kevin Sullivan & Dan Spivey) to retain the NWA United States Tag Team Titles
In 2000, the final WCW Slamboree was held at Kemper Arena, in Kansas City, Missouri. With an attendance of 7,165:
– Chris Candido (with Tammy Lynn Sytch) defeated The Artist (Prince Iaukea) (with Paisley) to retain the WCW Cruiserweight Title
– Terry Funk defeated Norman Smiley & Ralphus in a Hardcore Handicap Match to retain the WCW Hardcore Title
– Shawn Stasiak defeated Curt Hennig
– Scott Steiner (with Midajah & Shakira) defeated Captain Rection to retain the WCW United States Title
– Mike Awesome fought Chris Kanyon to a no contest. After Sting, Ric Flair, Kevin Nash, Vampiro, Billy Kidman, Shane Douglas, & Chris Candido all interfered
– The Total Package (Lex Luger) defeated Buff Bagwell
– Shane Douglas defeated Ric Flair
– Sting defeated Vampiro
– Hulk Hogan (with Horace Hogan) defeated Billy Kidman (with Torrie Wilson) with Eric Bischoff as special guest referee
– Jeff Jarrett defeated David Arquette & Diamond Dallas Page in a Ready to Rumble Cage Match to win the WCW World Title
Title Changes
1955 – Lord James Blears & Gene Kiniski defeated Ben & Mike Sharpe to win the San Francisco NWA World Tag Team Title
1956 – Larry Chene & Herb Freeman defeated Jack O'Reilly & Kurt Von Poppenheim to win the NWA Pacific Northwest Tag Team Title
1965 – The WWWF held an event headlined by WWWF champion Bruno Sammartino & Haystacks Calhoun battling Gorilla Monsoon & Bill Watts to a draw West Hempstead, NY
1967 – Vento Castella defeated Karloff Lagarde to win the NWA World Welterweight Title in Mexico City, Mexico
1970 – Terry Funk defeated Ricky Romero to win the NWA Western States Heavyweight Title in Amarillo, Texas
1970 – Jerry Christy defeated Abdullah the Butcher to win the Stampede North American Heavyweight Title in Calgary, Alberta
1975 – George Gulas & Jerry Jarrett defeated Don & Ron Wright to win the NWA Tennessee Tag Team Title. At the same event, Luke Graham defeated Don Kent to win the NWA Mid-America Heavyweight Title in Nashville, Tennessee
1975 – Giant Baba & Samson Kutsuwada defeated WWWF World Champion Bruno Sammartino & Mike George in Enu, Japan
1979 – Blackjack Mulligan defeated Dory Funk Jr. to win the Amarillo NWA International Heavyweight Title in Odessa, Texas
1984 – Killer Khan (subbing for Kelly Kiniski) defeated Johnny Mantell to retain the WCCW Television Title. Khan is awarded the title after the match
1985 – Jerry Oske defeated Randy Savage to win the AWA Southern Heavyweight Title in Louisville, Kentucky
1993 – Madusa Miceli defeated Jamie West to win the International World Class Championship Wrestling Women's Title in Southampton, New York
1999 – Nick Dinsmore defeated Rob Conway to win the OVW Heavyweight Title in New Albany, Indiana
2005 – Samoa Joe defeated Jay Lethal to win the ROH Pure Title
Birthdays
Happy birthday to one-time ROH Tag Team Champion Kevin Steen (30), & current WWE wrestler Camacho (31)
Also, today would have been the birthday of one-time IWGP Tag Team Champion and former WWF wrestler Hercules Hernandez(58), & former WWF Intercontinental, Tag Team and European Champion Owen Hart (49)
In Memoriam
In 2007, former NWA World Heavyweight Champion Harold "Sonny" Myers passes away in St. Joseph, Missouri at age 83, after a long illness.