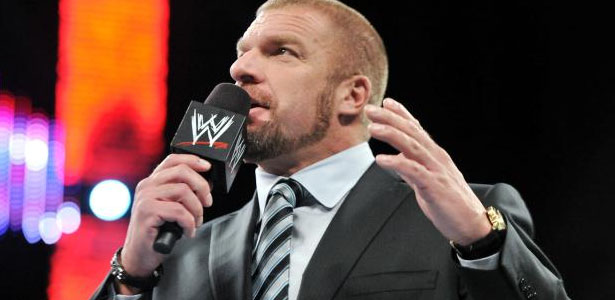 Check out Michael Cole's latest sitdown interview with Triple H. Below are some highlights:
* Regarding John Cena getting his rematch against Brock Lesnar at Night of Champions, Triple H gave him props for the whole "never give up" thing because he's never seen anyone take a beating like Cena did at SummerSlam.
* Triple H said Brock very well might be the most dominant champion in history. He said since Brock got his "WWE legs" back he's been unstoppable.
* He doesn't think it's wise for Cena to face Lesnar at Night of Champions. Triple H says he's afraid for Cena and this could be where Cena is forced by Lesnar to give up.
* He's proud of Stephanie McMahon for defeating Brie Bella and played off the conspiracy that The Authority paid Nikki Bella off. He said maybe Nikki has just had enough of Brie's crap. Maybe Nikki just smartened up.
* Regarding Seth Rollins admitting that he and Kane were responsible for the cinder blocks that put Dean Ambrose out of action on RAW, Triple H said he told everyone beforehand that the blood would be on the hands of the fans because they picked the stipulation. He says anybody that voted on the App chose Ambrose's fate.
* Cole asked about Ambrose refusing medical treatment and going MIA. Triple H said Ambrose is out there but he's smart enough to know when he's lost and he tucked his tail and ran away like a coward. Triple H predicts we'll never see or hear from Ambrose again.