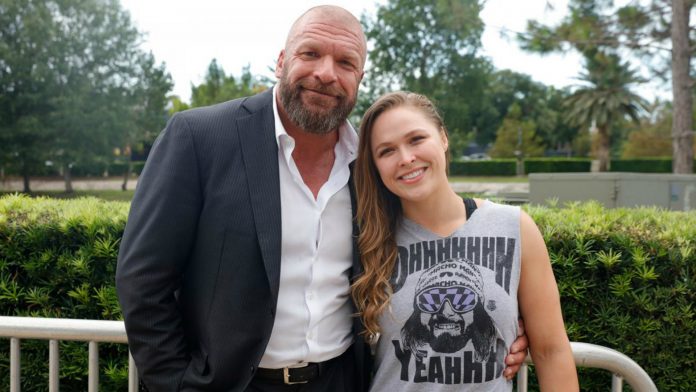 Ronda Rousey has never been shy to voice her love for the WWE, so many believe that she'll eventually make her way into the squared circle. In an interview with Sky Sports, Triple H made it clear that the interest is mutual.
The former UFC Women's Bantamweight Champion hasn't fought since December when she lost to Amanda Nunes by first-round knockout. She has remained out of the spotlight for the most part, but she recently made appearances at the Mae Young Classic to support her friend and fellow "Four Horsewomen" member Shayna Baszler.
Rousey, whose "Rowdy" nickname is a tribute to Roddy Piper, appeared at WrestleMania 31 in 2015 in a segment that involved The Rock, Triple H, and Stephanie McMahon. She has said that she doesn't yet know what's next for her, but Triple H said the door is wide open for her to join WWE.
"Ronda has made no secret her whole career that she has been a huge fan of WWE growing up," Triple H told Sky Sports. "She has been on record saying WWE is probably some of the most fun that she has ever had in her entire career. I have been out there publicly saying that if she wants the opportunity I am happy to give it to her. She is looking for the opportunity so it seems like a perfect match-up. I am excited to have the conversation with her and see where it goes."
When Rousey appeared at the Mae Young Classic, she and her friends were confronted by WWE's Four Horsewomen. Footage of their encounter was posted on WWE.com and YouTube — not television.
According to a report, the angle was scrapped by Vince McMahon last month at the Mae Young Classic Finale.
McMahon wasn't present for the original tease of a match, which took place in July at the Mae Young Classic tapings. With McMahon overseeing things at the Mae Young Classic Finale, he scrapped any more hints of a match that there weren't any concrete plans for. It was also noted that WWE isn't in negotiations with Rousey.