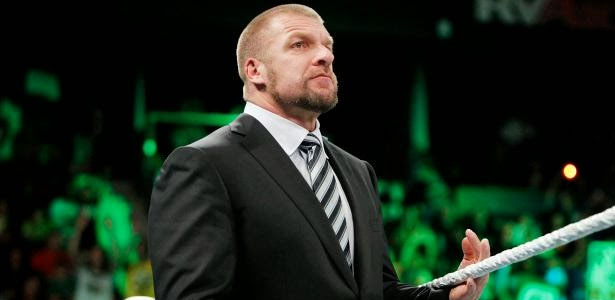 – Triple H is back for another sitdown interview with Michael Cole, as seen below. Below are some highlights from the interview that was filmed in London this year:
* Triple H talked about how in true WWE fashion, they've returned to the UK and taken over. Triple H talks about going on a private tour of the Vatican and the Coliseum in Rome.
* Cole brings up WWE World Heavyweight Champion Daniel Bryan not being on the tour. Triple H said it's odd not having the supposed face of WWE on this tour. Triple H mocked Bryan for traveling around the "country" for his indie career.
* Cole mentioned Stephanie McMahon wanting Daniel Bryan to surrender the title on RAW. Triple H says if they strip him, he becomes a martyr and his "little internet dweebs" will get upset. Triple H says if Bryan is a man, he will do what's right and surrender the title. If he doesn't, then The Authority will deal with it.
* Triple H says he's grown tired of The Shield situation. He says Evolution is going to put an end to The Shield and eliminate them one by one at Payback. When Payback is over, Triple H guarantees The Shield will be no more.
* Triple H talks about Bo Dallas returning to SmackDown. He calls Bo the longest reigning NXT Champion in history and says he's had an accomplished career but is finally getting a shot at the main roster. They're ignoring Bo's previous run on the main roster. He also talks about Hulk Hogan appearing on SmackDown and says Hogan's bringing a special WWE Network message with him.