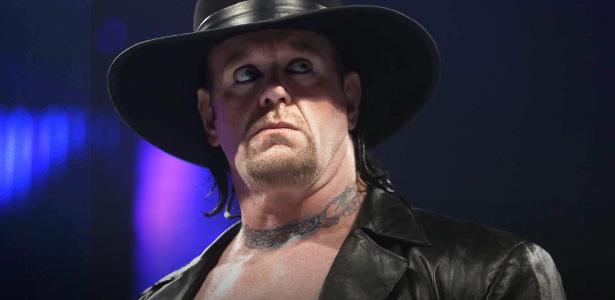 Credit: Wrestling Phobia via Twitter.
Although many promoters would have you believe otherwise, the worlds of pro wrestling and mixed martial arts have been inexorably linked ever since the birth of the latter as a modern sport. Evolving from a combination of vale tudo and shoot wrestling – which itself broke off from pro wrestling in the 1970s – MMA as the combat sport we know it as today can trace its roots back to legendary Japanese pro wrestler and promoter Antonio Inoki, who infamously fought boxing icon Muhammad Ali to a 15-round mixed-rules stalemate in 1976.
In the early days, the line between pro wrestling and MMA was particularly blurred. Seminal Japanese promotion Pancrase put on a variety of both worked and shoot fights, while the presentation of companies such as the pre-luffa UFC and Strikeforce borrowed heavily from the "pyro and ballyhoo" of late 90s pro wrestling.
Even to this day, the UFC continues to base its fight promotions on the drama-riddled storylines of pro wrestling; leading man Conor McGregor's brash on-camera persona and jet-setting lifestyle owe a lot to the likes of "The Nature Boy" Ric Flair, while he openly admits his famous in-cage "strut" was borrowed from WWE boss Vince McMahon.
With such an obvious link between the two industries, therefore, it's inevitable that a large number of pro wrestlers have tried their hand at MMA over the past few decades – and vice versa. Some have been more successful than others, of course, with Brock Lesnar and CM Punk standing at opposite ends of the spectrum in terms of Octagon success.
But what about those for whom the mainstream popularity of MMA in North America came just a little too late? Professional wrestling has played host to an array of "real life" tough men over the years; today, we're taking a look at two legendary pro wrestlers who, in different circumstances or times, could have surely made an impact in the world of MMA.
Kurt Angle
Instead of headlining the 2017 WWE Hall of Fame, Olympic gold medallist Kurt Angle could well have, with a different career move, found himself in the UFC's equivalent instead. Following his 1996 Atlanta triumph – with a "broken freaking neck", no less – Angle was courted by ECW before ultimately signing an eight-year contract with the then-WWF in late 1998, beginning his illustrious pro wrestling career.
With amateur wrestling being such a fundamental aspect of MMA training – particular in the 1990s and 2000s – Angle represented the ideal candidate to take up the sport; had the money been better back then, he has admitted, he may well have given the sport a go straight after Atlanta. The speed at which the Pittsburgh native took to pro wrestling suggests he could surely have adapted to the world of the UFC; perhaps even at a meteoric speed akin to the likes of fellow WWE wrestler Brock Lesnar.
Later in his career, Angle came close to appearing on the UFC's The Ultimate Fighter reality show as a contestant, but medical issues stemming from his numerous neck injuries and subsequent painkiller addiction ultimately put an end to such plans. It's a true shame, as with all things being equal, we'd fancy his chances against current UFC heavyweight champion Stipe Miocic, who is 13/25 with 888sport to defend his crown against Junior dos Santos next month.
The Undertaker
Having retired earlier this month as one of the most beloved and enduring WWE personalities of all time, it's hard to imagine the legendary Undertaker as anything but a pro wrestling superstar. But the Deadman has expressed his admiration for MMA throughout his career; he was a regular fixture at the fights of fellow WWE star Lesnar and even had the above on-camera confrontation with the Minnesotan following his UFC title defeat in a mauling to Cain Velasquez.
With a billed weight of 309lb, the 6'10" Phenom would have to cut some considerable mass to reach the heavyweight upper limit of 265lb, but the man born as Mark Calaway was never known for his lean physique in his WWE prime; had he had to focus on cutting weight, it wouldn't be outside the realm of possibilities.
The Undertaker was renowned for possessing exactly the sort of size and raw strength required of a UFC fighter; had he been as dedicated to MMA as he was to pro wrestling, there's little question he could have made it in the UFC. In recent years, the Deadman has even utilized a number of Brazilian jiu-jitsu holds as part of his WWE repertoire; the Hell's Gate is effectively a version of the gogoplata, as popularized in MMA by Ryusuke "Jack" Uemura.
Of course, there are countless other pro wrestling veterans who could have surely pursued a successful career in MMA had it been as popular as it is today when they were in their prime. Danny Hodge, Stan Hansen and Jack Brisco are three names constantly brought up in such hypothetical scenarios – while current superstars Samoa Joe and Cesaro would also surely have a decent shot at making it in MMA.