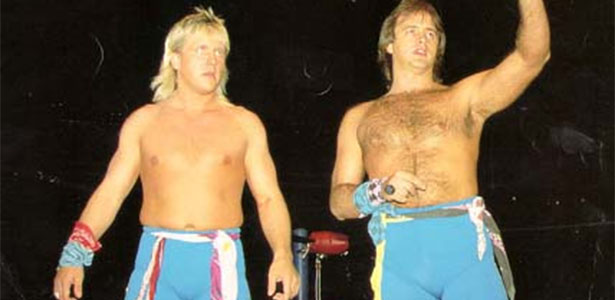 From Rock n Roll Express:
The definitive documentary about the longest tag team in wrestling history the RNR Express.
This project is being produced to enshrine one of the greatest wrestling tag teams of all time forever. The Rock-N-Roll Express has entertained us and put their bodies on the line for over 30 years and are continuing to perform on a regular basis. We plan to travel the country interviewing not only the RNR Express but also all of the people who played key roles in their career. EllBow Productions is trying with the help of you to preserve wrestling's history, without your help our efforts take longer and may never get accomplished. We hope that if you're a fan of wrestling and want your memories that you had as a child to live on forever we ask you to support this kickstarter project. Below are some examples of our past work and what you can expect from this project. Also for your help you will receive the Crockett Diaries a 5 series shoot interview set related to Jim Crockett Promotions which is one of the many rewards you can receive check the list of rewards for details.
Go checkout the Rock-N-Roll Express documentary and contribute today
http://www.kickstarter.com/projects/1244526869/rock-n-roll-never-dies