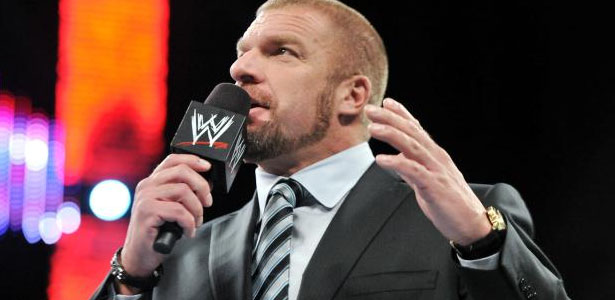 – As seen below, Triple H is back for another sitdown interview with Michael Cole. Below are some highlights:
* Regarding Daniel Bryan and the WWE World Heavyweight Title, Triple H says it remains to be seen if The Authority will strip him of the belt. Triple H says after Bryan has surgery with Dr. Joseph Maroon in Pittsburgh tomorrow, we'll know more and then they will make an announcement on RAW. Triple H says it's one thing to be an A+ player one night but it's another thing to be an A+ player all the time. He says Bryan has had the title for one month and it's already taking its toll on him.
* Cole asked if they will also address Kane being out of control and if they are going to do something about it. Triple H says this isn't ballet. They let the demon out of the box and now the whole world pays the price. He says Kane is who he is and does what he does. He said he's tired of everyone wanting to be an A+ player but bitching when they get hurt.
* He says The Shield asked for a rematch at Payback because they know they got lucky the first time and have something to prove. He says Evolution has grown tired of it. He says Evolution will make an example of The Shield at Payback.
* Cole brought up the Superstars attacking The Shield on RAW. Triple H says everyone is on his payroll but mentioned how everyone watched The Shield do 3-on-1 attacks for months and some guys just wanted retribution. He says The Shield were protected by him for two years and now they have no protection. Now the opportunity is there for anyone who wants to take a shot at The Shield. Triple H adds that this feud will be over at Payback.