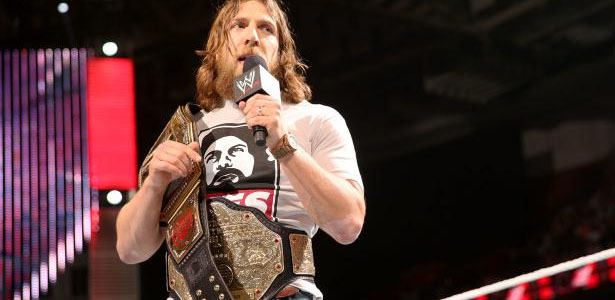 Daniel Bryan, the reigning WWE champion, has a broken neck.
How badly broken, we won't know until after his surgery on Thursday. Either way, that is not the news anybody wanted or expected to hear, least of all Bryan. WWE is promising an announcement on the status of the WWE World Heavyweight Championship next Monday on Raw, pending the outcome of his surgery. If the injury is minor, he could be back in a matter of weeks. Or it could be months before we see him inside the ring again. If we're talking sometime in the fall, then absolutely, stripping him of the title makes sense.
But if Bryan is on the shelf, let's say, until Summerslam, then he should remain WWE champion.
By any measure, Bryan's reign thus far has been underwhelming. After taking time off for his honeymoon, he returned to the awful news that his father had passed away, which necessitated an injury angle on Raw with Kane destroying him with three Tombstone piledrivers. Inexplicably, he was back on TV the very next week, albeit in a neck brace, when he could have just as easily cut a heated promo on the red demon via satellite from his living room. Instead, Kane played "drag me to hell" with Bryan and his wife, the first in a series of embarrassing segments that also saw Bryan — the WWE champion, mind you — running away from his adversary. Now it appears their expected rematch at Payback is off and he's questionable at best for Money in the Bank later next month.
All of that being said, I see no point in rushing back to the altar of the almighty god ABEYANCE, even if Bryan is gone for most of the summer. Instead, why not use it as an opportunity to build up a strong, credible, deserving challenger for the title in a big main event on the second biggest show of the year? Again, I'm just spitting that out as next-to-worst case scenario for Bryan's return. Hopefully, he'll make it back sooner and this can all be avoided, but if not, why not turn a negative into a positive?
The last "King of the Ring" tournament took place in 2010, resurrected as a TV gimmick to help put over Sheamus. Or put him under — as in six feet under, which is exactly where he ended up as a result. In fact, you'd have to go all the way back to 2006 when King Booker ascended to the throne to find a winner who actually benefited from wearing the crown. I wasn't always a fan of the way they structured the tournament in its later years, but I do still love the concept. I especially loved it during those rare years where the winner would advance to Summerslam for a shot at the WWE Title. Which brings me to my point, and it's quite simple really: WWE should use this as an opportunity to bring back the KOTR with a 16-man bracket (including qualifiers) as a way to crown a #1 contender worthy of challenging Bryan for the title.
I realize that "Battleground" is currently locked in as the July pay-per-view and that marketing materials and such have already been sent out for it. Still, it's not too late to make a change and rechristen it as KOTR. Even if they don't do that, there's nothing stopping them from marketing a KOTR tournament that culminates at the Battleground PPV. And this is coming from someone who absolutely HATED it when they abandoned the idea of doing the entire tournament in one night. But, I'm willing to make an exception here because it just wouldn't work any other way.
The WWE roster is littered with great talents, many of whom may never get to so much as sniff the World title, or are still years away from doing so. It would benefit men like Sheamus, Bad News Barrett, Dolph Ziggler, Cesaro, Big E, Rusev and even Kofi Kingston to be involved in the tournament, along with more established names like John Cena, Randy Orton, Kane, Rob Van Dam and The Shield. For example, I'm a big proponent of merging the IC and US titles and in doing so, perhaps building to a double turn with Sheamus and Barrett. Well, what if instead, Barrett picked up an upset win in the tournament over The Celtic Warrior, which resulted in him blowing his stack and launching a vicious attack after the match? There are dozens of different scenarios you could spin off from this tournament that could take WWE through the rest of the summer months.
Above all, building up KOTR matches week to week throughout the summer would bring a sense of purpose to what has felt largely like a listless series of shows ever since WrestleMania (Shield vs. Evolution feud aside). Even most of the crowds these past few weeks have been shockingly silent at key moments where you would expect them to react. You could call it the usual post-Mania hangover if you want, but there has to be more to it than that. Clearly, WWE has been dealt a bad hand with Bryan's injury, especially coming right before their big European tour. But if Bryan is out for a few months, they now have a chance to make these matches really mean something instead of just spitting out another random battle royal. By slapping the KOTR label on it, they might just be able to make that mean something again, too.
What do you think? Comment below with your thoughts, opinions, feedback and anything else that was raised.
About Jason Solomon: Jason Solomon has been host of the "Solomonster Sounds Off" wrestling podcast since 2007, which can be heard weekly on TheSolomonster.com, Stitcher Radio and iTunes! Follow him on Twitter @solomonster.