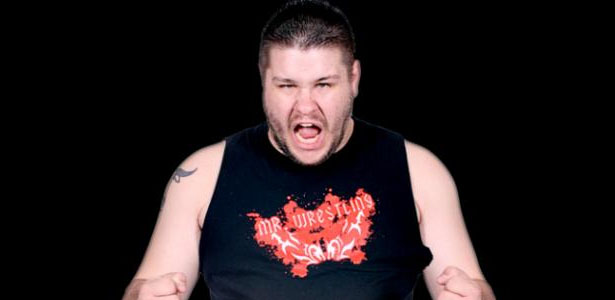 WWE has announced that indie star Kevin Steen has been signed to NXT. He did a Q&A with WWE's website. Below are a few highlights and a photo of Steen & Triple H: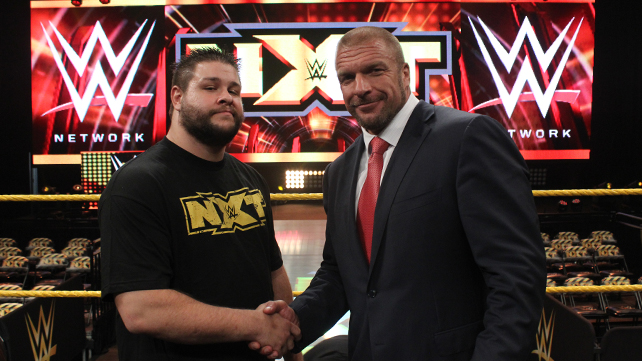 WWE.COM: Fans who know you love you, but many WWE fans might not be familiar with you. How would you describe your style?
STEEN: I think I'm pretty apt at every style. I can do highflying and that kind of surprises people, considering my size. I can do technical wrestling as well. I guess my specialty would be brawling, but I've been known to dip into whatever I need throughout my career, so I think I'm pretty versatile.
WWE.COM: You've probably been on the WWE radar for some time. What do you think ultimately led to your signing?
STEEN: William Regal came to a wrestling show I was taking part in in California almost a year ago exactly, I believe it was Aug. 31 of last year, and it was for PWG, Pro Wrestling Guerrilla. The match I had that night, I think did a lot. I had never met William Regal before; I didn't know him at all. I had great respect for him already; he's actually been one of my favorite wrestlers for quite some time. To have him watch my match and take the time to tell me what he thought and give me advice was already great, but then a couple days later, I was contacted to see if I wanted to be part of a tryout camp. Just to have somebody like William Regal have enough esteem for me to go as far as to actually recommend me for a tryout meant a lot. Then I went to the tryout camp and I got through it, and what made me stand out were the promos, where we basically had to sell ourselves verbally. That's always been one of my strong suits — the way I talk and what I say. I make it count, and I think that went pretty far in getting me to where I am now.