WWE held their 2013 Hall of Fame Induction Ceremony on Saturday, April 6, 2013 from Madison Square Garden. Below is a full recap of the evening:
– Things were buzzing backstage with an appearance by Rob Van Dam with Joey Styles, Paul Heyman and Tommy Dreamer.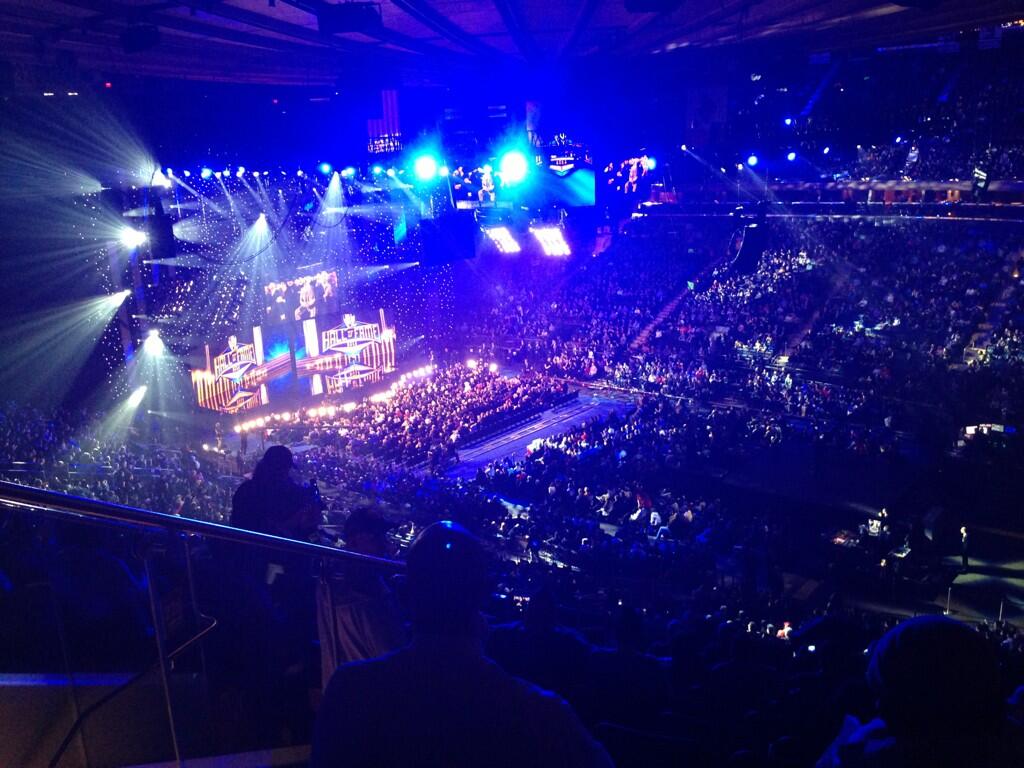 – Terry Funk is out first to induct Mick Foley. Funk says Foley is the reason he's a wrestling fan and he loves him like an ugly brother. Foley comes out a nice reaction from the crowd. "He's a wrestler who does his best not only for him, but for his opponent, and for you the fans…" Terry Funk said about Foley.
CM Punk was holding up a big "applause" sign in the front row when Foley came out. "I'm like Bill Murray in a 15-year episode of 'Groundhog Day'…" Mick Foley said on reliving his classic 1998 Hell In A Cell Match.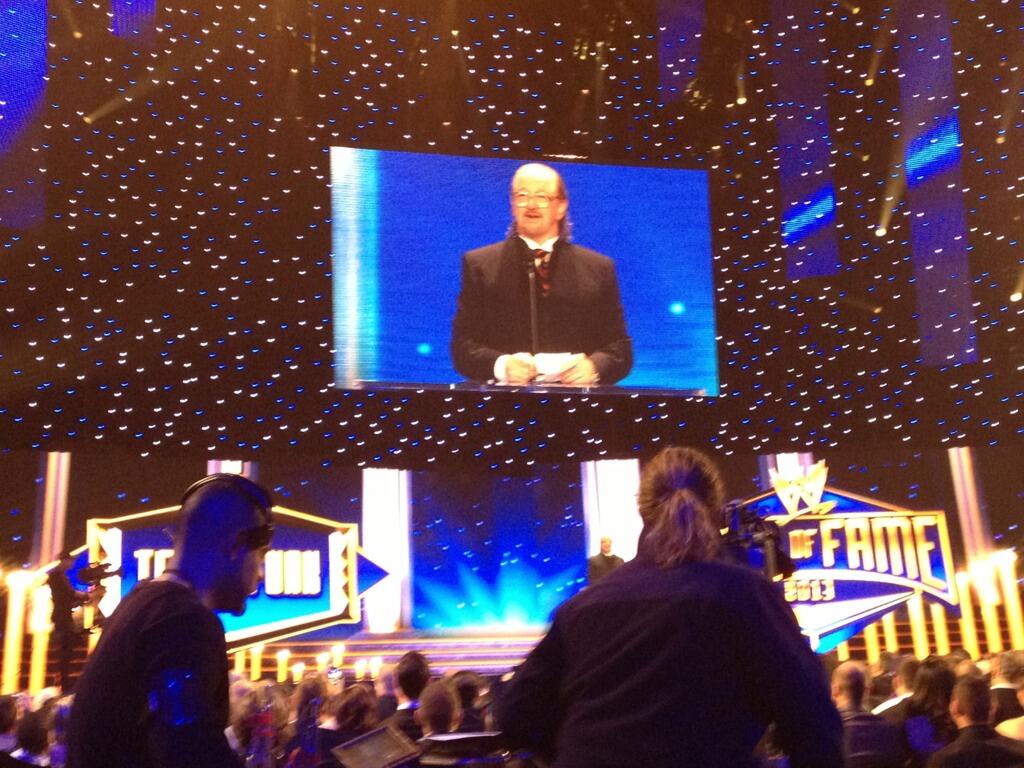 Funny moment where Foley uses a big word and admits he used it to "get the approval of Damien Sandow, who gives him a thumbs up. Foley says many wrestlers didn't care for his style but saw his passion and helped him along the way.
Foley singles out his trainer Domenic DeNucci, who is there. Last year, Foley drove 8 hours to see DeNucci inducted into the Pro Wrestling Hall of Fame. Foley spoke on memories when he couldn't afford the 100 a week fee for wrestling school, offered 50, DeNucci said "it's too much, you pay 25."
Foley thanks The Undertaker and says Taker put him on the map. He said often when facing Taker, he & "Uncle Paul" would show their goosebumps to each other at ringside. He jokes about hoping that Taker never uses Twitter. He also thanks Triple H, Shane Douglas and others. He said people backstage at WWE thought he looked "seedy" and Jim Ross went to bat for him to get him signed.
Foley said he never beat Chris Jericho. Camera goes to Jericho and he mouths "not once!" Jericho comes to the stage, Foley drops an elbow on him and CM Punk comes up to make the count and jokingly threw up the "X" after the elbow. This was described as an awesome moment and the crowd went nuts for it. You can watch a clip below:
Foley on RicFlair: "He helped drag one more moment of greatness out of this decrepit old body" at Backlash 2004." Foley says this is his greatest moment of all. Santa Clause made an appearance at the end of Foley's induction which lasted roughly 35-40 minutes.
– Trish Stratus is up next. Stephanie McMahon comes out to a new theme tune. Stephanie says Trish is the first diva to compete in five WrestleMania matches, and she may not be done yet.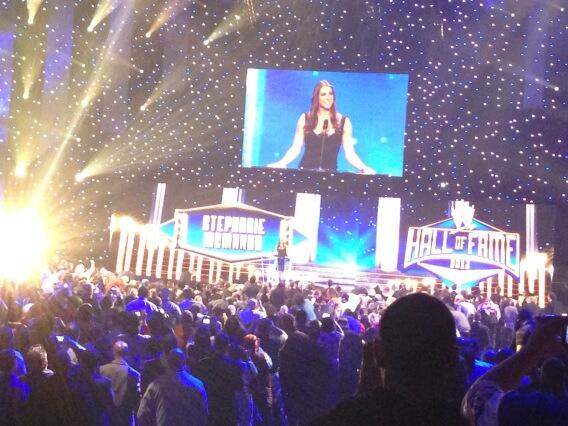 Stephanie talks about Trish's Raw main event with Lita and says Trish's segments with her were some of the McMahon family's favorites. Stephanie says Trish always made people feel how they wanted to feel. Trish is the youngest inductee into the WWE Hall of Fame. "After all we've been through – I only have one thing to say about Trish Stratus. Thank you." Stephanie McMahon said.
Trish thanks Carl DeMarco for being the first person to open the WWE door. Trish thanks Ron Hutchison, who also trained Edge, Christian, Beth Phoenix, Gail Kim. She pokes fun at how she wrestled early in her career and says she hopes everyone was Stratusfied with her career. She mentions Gail Kim, Beth Phoenix, Jazz, Lita, Mickie James, Tara and a bunch of other former Divas. She also gives props to Finlay for his work with the Divas. She pulls out a gift from Jim Ross, the pen she signed her WWF contract with, and said "Let me show you but take the F out… Don't wanna piss off the pandas!"
Trish thanks many divas from late 90s/early 2000s, especially her "bestie" Lita. There was a moment where Trish told Lita she loves her and Lita looked to get emotional. She thanked Vince McMahon for what she learned from him. Trish said, "I learned so much from Vince… I fire people all the time! So thanks!" Trish says that one of the big reasons she retired in 2006 was because she wanted to be with her mom who was diagnosed with cancer. Trish thanks her husband Ron, which draws boos from the (jealous) male MSG crowd. The crowd is booing every Ron comment. Trish said "you guys are mean!" and then they start to cheer for her husband.
Trish Stratus announces she is pregnant and having a baby in September .. Loud "Ron!" Chant breaks out for her husband.
– Booker T is up next. Harlem Heat tag partner Stevie Ray to induct the 6-time World Champion Booker T into the WWE Hall of Fame Class of 2013.
Stevie Ray says while Booker T was in prison, Stevie would visit him often and they would talk pro wrestling. "My brother has become a role model … because the deck was stacked against us, and he overcame it." Stevie Ray said on Booker T. A very good and emotional speech from Stevie.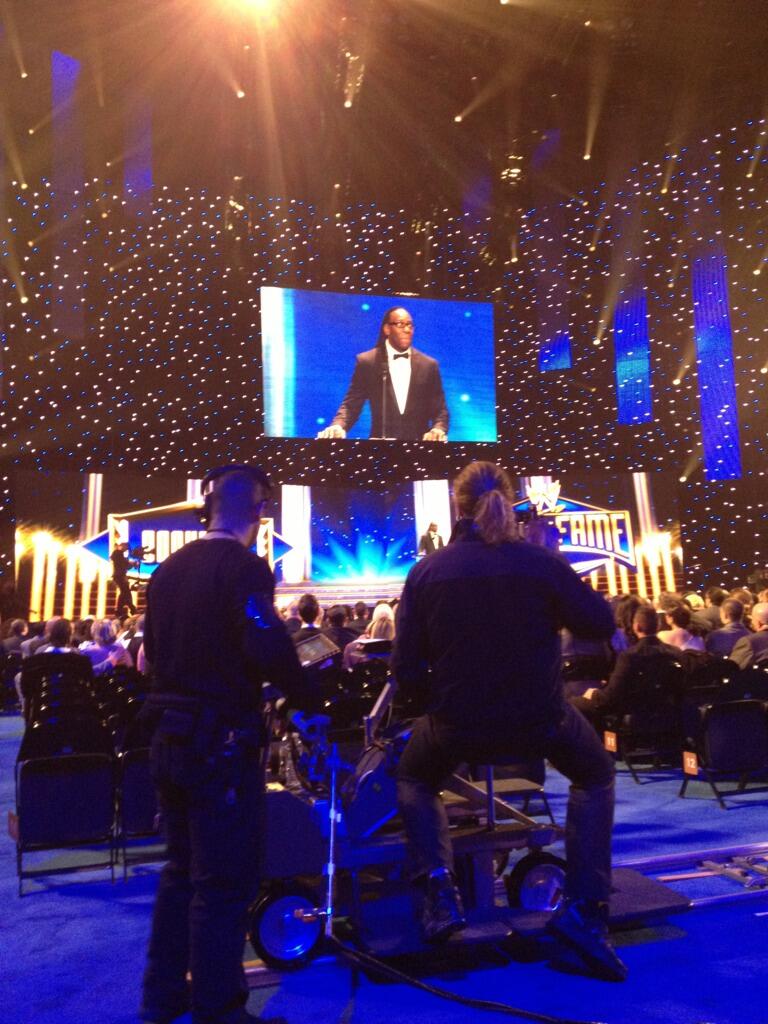 Loud "Thank You Booker" chant as Booker T begins his speech. "No no, thank you guys for letting me be part of your lives." he said.
Booker said Sid Vicious was the guy who gave him "the call" to go to WCW, Sid was trying to get an office job at the time. Booker says when Mick Foley was brought his severed ear, his response was, "Bang Bang!" Booker gives props to Sherri Martel, "The one who legitimized Harlem Heat." He reveals the night he first won the WCW TV title, Rick Martel was supposed to win but he forgot his boots and tights at home. Booker talks more about WCW and coming to WWE, Linda McMahon said to him "we finally got you" and Booker never forgets that. He tells a story about The Undertaker telling him to feel his first WrestleMania. Booker thanks Sting. Booker shouts out his wife Sharmell and says he would marry her a thousand times. He jokingly told the crowd they better not boo her like they did Trish Stratus' husband Ron. Booker T thanks Michael Cole … boos rain down from MGS crowd, with Cole laughing.
Booker T: "Tonight, I take my place into immortality in the WWE Class of 2013 Hall of Fame … Now CAN YOU DIG THAT, SUCKA?!!!"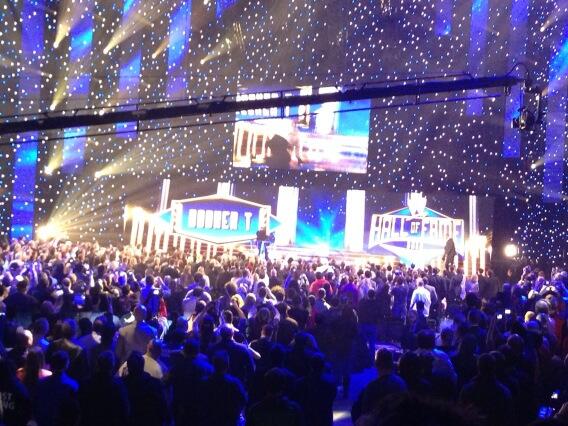 – EXTRA host and "undefeated" WrestleMania competitor Maria Menounos to induct former WWE Champion Bob Backlund. "I'm inducting someone who encapsulates the word 'Champion.'" Maria Menounus said about Bob Backlund. "I'm inducting someone who encapsulates the word 'Champion.'" Maria Menounos added.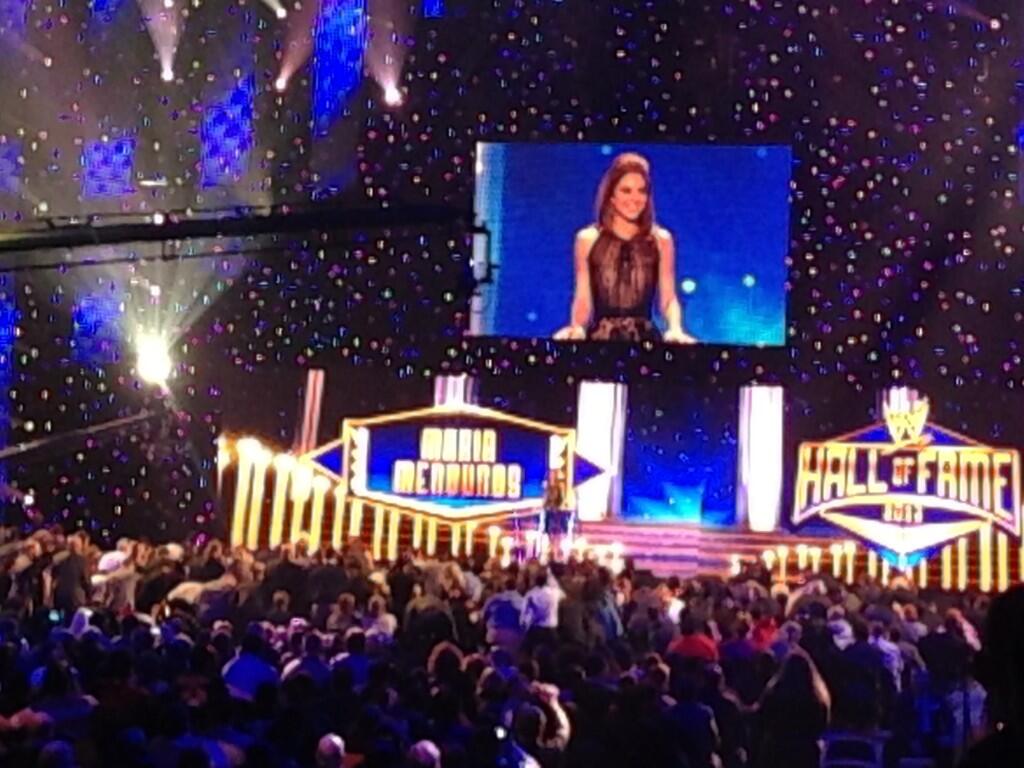 Menounos says Backlund once did the Harvard Step Test for 8 hours straight. Backlund refused to turn heel in 80s, saying it would hurt his standing with at risk youth. Left lot of money matches on table. Menounos said, "Bob Backlund has only been to the doctor twice since 1973." She continued, "Bob Backlund is in better health than 99% of men a third of his age."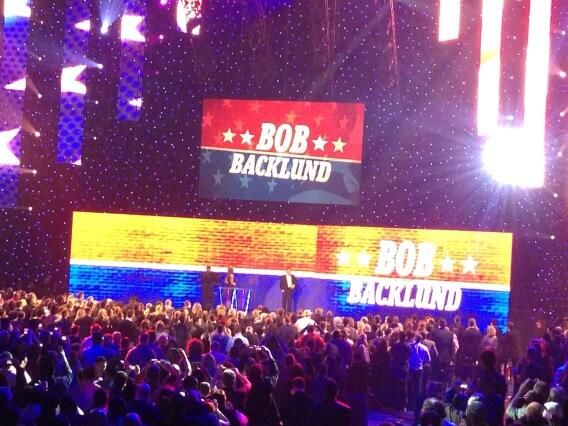 Backlund respects Bruno because he paved the way for him. Bob Backlund is unhinged and ranting like a crazy person, in half 1994 heelish form tonight. Backlund cut a promo on Sgt Slaughter, "YOU LEFT MARKS ON MY BODY IN OUR MATCHES MY WIFE WAS MAD!" he shouted. Backlund's speech included him telling Triple H to sign an amateur wrestler, Andrew Cabana.
– WWE Chairman and CEO Vince McMahon inducts Donald Trump into the WWE Hall of Fame's celebrity wing for the Class of 2013. Vince says "Donald Trump is a WrestleMania Institution." Vince: "Second only to me, Donald might make a great president of the United States"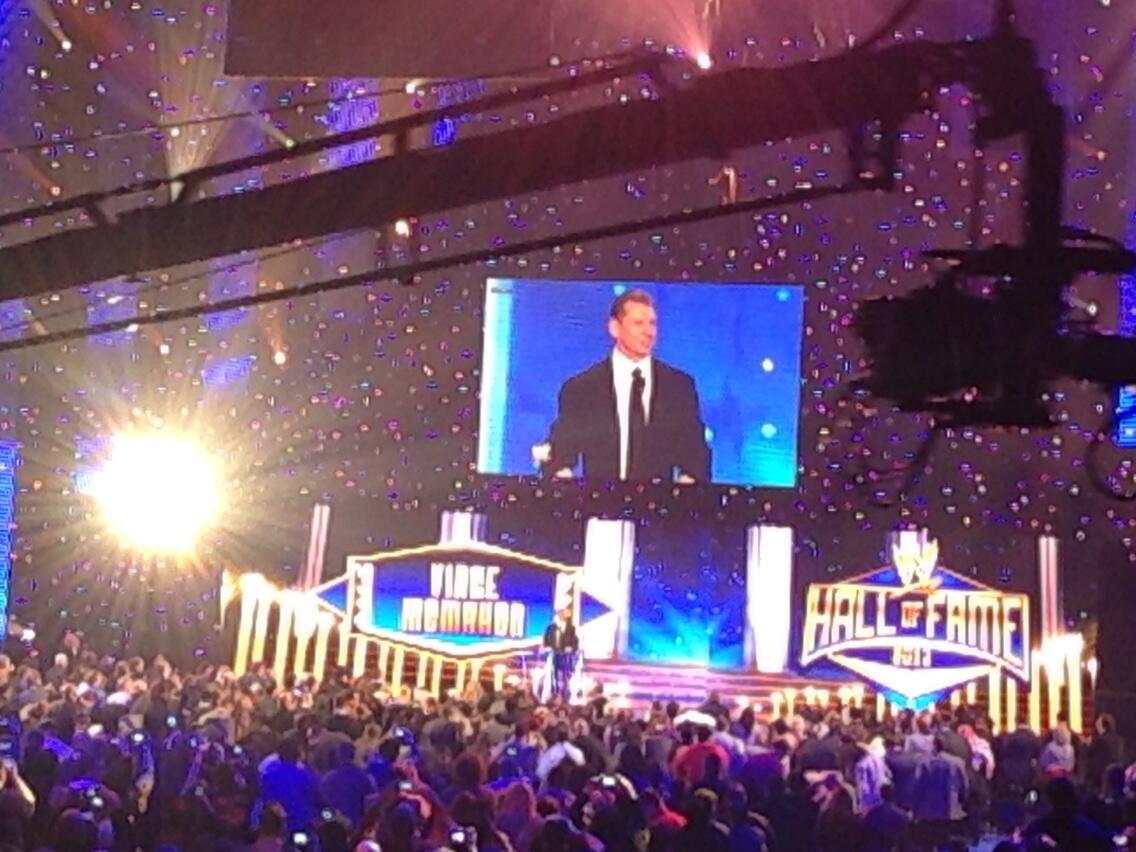 "I like to think of myself as a handsome elderly gentleman. But I'm one of the ugliest bald men in the world." Vince said. Fan: "Hogan?" Vince: "Hogan's name was mentioned, that's an unfortunate occurrence." Donald Trump makes his way and is getting booed pretty loudly. Donald Trump challenges Vince McMahon to a fight "next year" and wants to break PPV records. "I will challenge Vince McMahon to a fight next year and I will kick his ass… Kick. His. Ass."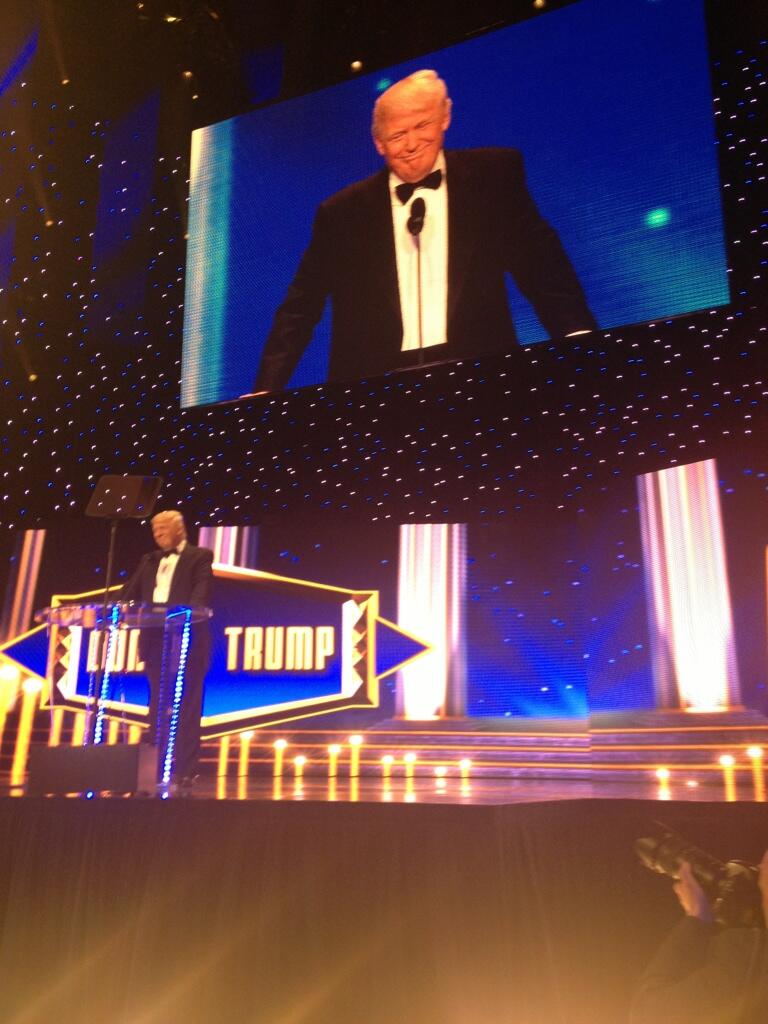 First Trump to get a pop is Ivanka. Donald's speech didn't last longer than the others.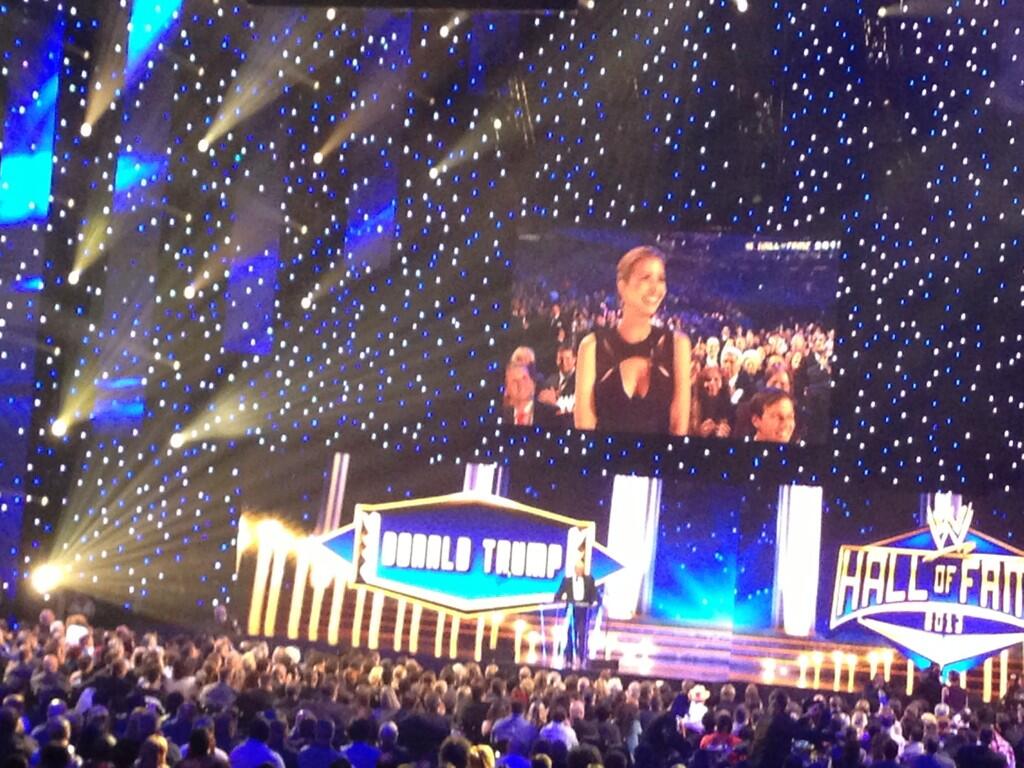 – MSG crowd boo a John Cena Make A Wish video promo.
– The man who sold out Madison Square Garden an astounding 187 times is next to be inducted into the WWE Hall of Fame, Bruno Sammartino. Arnold Schwarzenegger to induct Bruno into the Hall of Fame.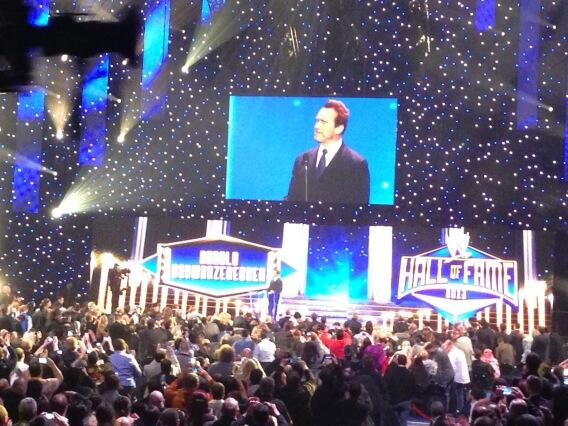 Arnold says, "Wow, this place is packed, where were all of you when my last movie came outlast January?" Arnold is proud he can still lift 400 pounds… "I lifted Chris Christie off his chair…."
Bruno chants rain down from MSG rafters, just like the good old days.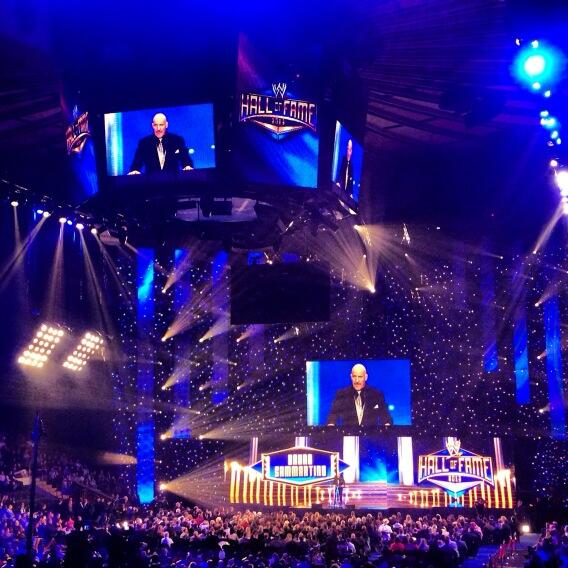 "Wow, you have all turned the clock back 50 years…I feel like I was coming out to fight!" Bruno said. Bruno is proud that he headlined at MSG more than anybody else in MSG history, wrestling or otherwise.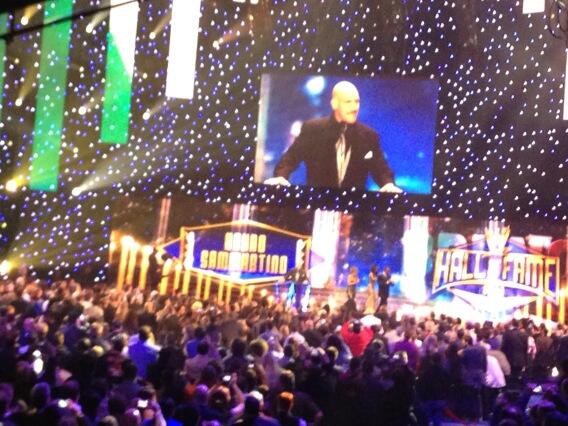 Bruno talks about his childhood, running from Nazis in Italy. He married his high school sweetheart and they are still married 54 years later. Bruno says he never took an aspirin or any pain killers during his career despite suffering a list of injuries.
Bruno will turn 78 in a couple of months and he still trains 6 days a week. Bruno says its the publicity of headlining MSG that gave him the ability to headline everywhere else. "Whatever success I've had, I owe it all to you…Thank you for all the support you've shown me all these years." Bruno said.
– A final pose by the 2013 WWE Hall of Fame class.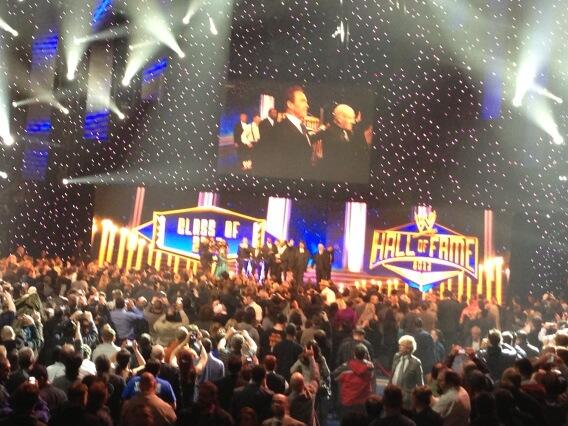 Nice moment as Vince McMahon and Bruno Sammartino hug on stage to end the WWE Hall of Fame.
2013 WWE Hall of Fame Ceremony Photo Gallery; Bruno Sammartino, Trish Stratus & More