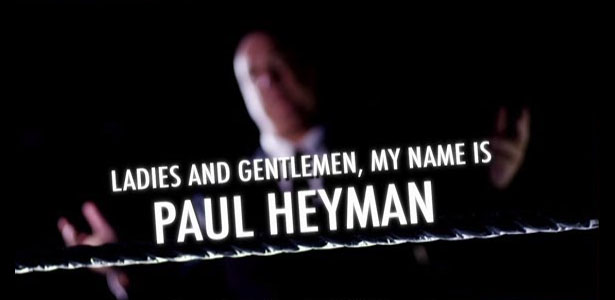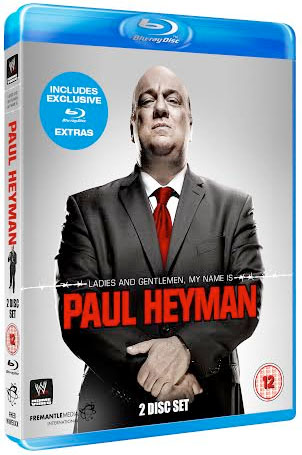 If you've listened to Paul Heyman's recent appearances on Steve Austin and Chris Jericho's podcasts, you'll know that the one behind the one in 21-1 is full of fascinating stories and anecdotes. As you might expect however, those few hours barely scratch the surface of his extraordinary life, and Ladies and Gentlemen, My Name is Paul Heyman is simply a must-buy for anyone who wants to know more about him, ECW or just about any other facet of the wrestling business.
All too often with these documentaries, it's hard to resist skipping through some of the childhood tales of the subject, but in this case, Paul Heyman's stories are as compelling as the behind-the-scenes stories we later hear about ECW for example. Documenting the highs and lows of his career, we spend plenty of time getting to know Paul and where he came from, and this is no bad thing. It's utterly fascinating to hear how he inserted himself into the business at such a young age, and how he created his own opportunities and then took full advantage of them. His adventures across a variety of territories are particularly amusing, especially as they often involve familiar names like Dusty Rhodes and Jerry Lawler.
The majority of the main feature is dedicated to the rise and fall of ECW though, and this feels fitting. Rather than retread a lot of old ground, the likes of Tommy Dreamer (who is arguably the highlight in terms of interview material), Joey Styles and even Raven are brought in to talk about their experiences there and the hectic day to day running of the company. This helps to offer up a variety of perspectives, and the love that Heyman and his faithful followers had for the company make it all the more tragic as we learn about what led to ECW's demise. There's lots of great behind-the-scene footage here, and we also get to see a very honest look at the manipulative side of Heyman's character as he did his utmost to save the company from bankruptcy…by any means necessary!
What Heyman has to say about his arrival in the WWE is very revealing, though the fact that the "Invasion" angle isn't even mentioned is pretty surprising, especially as that was a resurrection of sorts for ECW at the time. Of course, it was the WWE version of ECW a few years later marked its return to television, and no one holds back when it comes to talking about what a failed experiment that watered down version ended up being. All of this and his first stint in WWE are covered (as is his superb run as the writer of SmackDown), but Paul Heyman is a man full of so many stories, it's hard to not wish that we could spend two hours on each of these parts of his life!
The documentary then delves into his time away from WWE, and this is particularly interesting as it offers up a lot more details about Heyman Hustle and the huge number of responsibilities he has outside of the squared circle. That of course leads to another major part of Pauk's life; his children. As it turns out, the guy who so easily fills fans with hatred each and every week as he rubs in the fact that, "My Client Brock Lesnar Conquered the Streak!" is actually a pretty nice guy! It's just one of the many things that sets this Blu-ray apart from so many others, as a lot of time and care have clearly gone into making this release as real and as open as possible. Paul Heyman's failures aren't glossed over and his successes aren't made to look any more amazing than they were (which it wouldn't have been hard to do as so many are so extraordinary).
For those of you wondering, CM Punk is still a pretty big part of this documentary, and while his relationship with Heyman isn't explored quite as in-depth as in his own, the set would have felt incomplete without his contributions.
Brock Lesnar makes a rare appearance, but it's far too brief, as is the exploration of his relationship with Paul. Of course, the Conqueror of the Streak is notoriously private, so that could explain it in part, but even just a couple more minutes on this would have been nice. We also get to hear from Bray Wyatt which is both surprising and satisfying, while input from the likes of Renee Young and Beth Phoenix give this a fresher feel than many other Blu-ray's (where it occasionally feels like we're hearing from the same old faces). Perhaps the biggest omission is Vince McMahon, someone who clearly has played a huge role in Paul's life, and getting to actually hear his side of things would have made this an overall much better viewing experience in some respects.
Special Features
As if the documentary wasn't already enough, we get at least two hours of additional stories, all of which are as interesting as those in the main feature itself (Jim Ross' thoughts on his friendship with Heyman is a particular highlight). We also get a selection of his best promos, and regardless of whether you've been a fan from the start or just for his WWE days, there's something for everyone here. This includes promos from AWA, WCW, ECW and then everything from his "Next Big Thing" promo in WWE to the CM Punk pipebomb he dropped earlier this year on Raw. We also get a few matches that he's taken part in, all of which are mostly good fun.
In all honesty, this review does not do "Ladies and Gentlemen, My Name is Paul Heyman" justice. The sheer amount of ground covered in two hours is mind-blowing, and regardless of whether you're a longtime fan or only familiar with his work through WWE as an advocate for the likes of CM Punk, Brock Lesnar and Cesaro, you will be glued to the main documentary and the hours of special features from start to finish. This is as honest, compelling and brilliant as CM Punk: Best in the World, and sits nicely next to that as one of the WWE's best documentaries.
***** 5 Stars
Amazon.com have already slashed prices, currently offering discounts on the DVD/Blu-ray and eligible for free shipping. You can order "Ladies and Gentlemen, My Name is Paul Heyman" via Amazon.com by clicking here.
What do you think? Comment below with your thoughts, opinions, feedback and anything else that was raised.