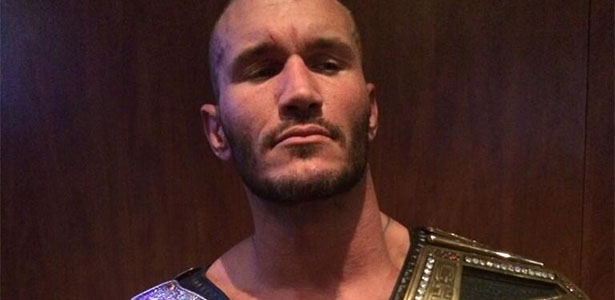 * Sin Cara beat Ryback with a sunset flip while Ryback was setting up the Shell Shock. Of note, there was no mood lighting and the crowd cheered Ryback a lot until about two-thirds through the match.
* Alexander Rusev beat Zack Ryder via Camel Clutch, which Wikipedia calls The Accolade. Rusev cut a promo in Russian (I think) before the match and had sufficient heat throughout. Ryder came to the ring with a kid from the area who won a radio contest.
* The Bellas beat Alicia Fox & Aksana when Brie hit Alicia with an X-Factor. This was a Fan's Choice between a dance-off and a tag match. Aksana's saxophone-heavy jam entrance music confused people and The Bellas came out to the biggest pop thus far. The Bellas were super over, especially with the females.
* The Great Khali beat Curtis Axel with a brain chop. There was a lot of Axel running around and taunting Khali to start the match. Axel went for his patented count-out about half-way through, but Khali "chased" him down. The crowd was into this more than I expected.
* Dolph Ziggler beat Alberto Del Rio via Zig-Zag. The crowd was pretty into the action, but many weren't sure whether to boo or cheer Del Rio.
* WWE tag champions Rhodes Brothers beat The Real Americans to retain the Tag Titles when Goldust pinned Cesaro with a reversal into a powerbomb. Of note, Zeb Colter was not ringside.
Tensai started walking to the ring and Brodus Clay attacked him from behind. After getting into the ring and beating Brodus, Kane's music hit and he came out to pummel Tensai. Kane cut a promo about how as the Director of Operations, he always does what's best for business and then told everybody to shut up, drawing boos. Kane then called out Big Show.
* Big Show beat Kane via WMD while Kane was trying to hit Show with a chair. Pretty plodding semi-main event.
Formal ring introductions took place for the main event, although Randy Orton demanded Justin Roberts introduce him first.
* John Cena beat Randy Orton via DQ due to low blow. Orton jumped Cena before the bell and the crowd was into this match from beginning to end. The ref got kicked by Orton and Cena made Orton tap via STF while the ref was down. Orton then hit Cena with the belt and pulled the ref over. Cena kicked out at two, which drew a massive pop. Orton then kicked out of an AA and they traded nearfalls for a bit before Orton hit the low blow.
After the match, Orton went for a punt, but Cena countered with an AA to send everybody home happy, except for the little boy near me crying.
Before the main event, Justin Roberts plugged the WWE app. I wish he would have told us how to download it, because I'm not sure. Also he gave a non-committal announcement that WWE would return in the near future. This event looked far from a sell-out, so that's understandable.
Biggest Pops:
(1) Cena
(2) Orton
(3) Big Show
(4) Bellas
Biggest Heat:
(1) Kane when he told everyone to sit down and shut up
(2) Orton
(3) Del Rio
(Report by Chris Davidson)