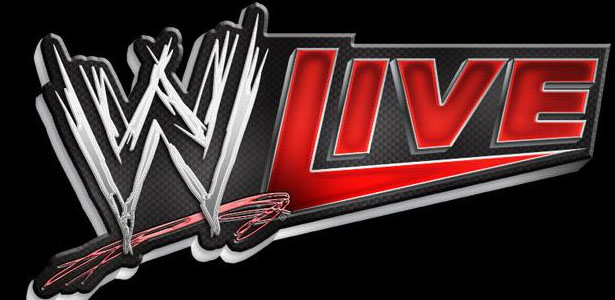 Thanks to PWMania.com reader Richard Hagen for sending in the following live report:
Joe Louis arena wasn't nearly as packed as it was for Night Of Champions in September, assuming because this was just a live event.
Doors opened at 6 and one thing I noticed was that the merchandise stand did not sell everyone's tshirts. I was looking forward to getting a new Daniel Bryan shirt but only had his older "respect the beard" shirt. No divas shirts, no shield, only John Cena, Batista, Hulk Hogan , The Wyatt's, Sheamus, and superstars necklaces and wristbands. Very limited.
Usos VS Erik Rowan and Luke Harper — WWE Tag Team Championship Match
Back and forth contest with everyone in the Joe chanting for the Usos. Seen some high spots from both teams, but of course The Usos came out on top.
R-Truth vs Russev w/Lana
R-Truth out first doing his "what's up!" Routine, Lana out next talking about she is not impressed with Detroit. And her love for Russia and Vladimr Putin.
Russev out with the Russian flag and squashed R-Truth.
Up next is the Divas Tag Team Action with the fans either voting for a dance off or a regular match. The vote for a match wins.
Nikki Bella and Eva Marie vs Aksana and Rosa Mendes.
Regular divas tag match, crowd really behind Eva and Nikki Bella, Nikki and Eva get the win.
Sheamus vs The Miz — United States Championship Match.
This was even advertised on Joe Louiss Arena Twitter the night before as Kane vs Sheamus but Miz must have replaced him last minute.
Match was long, I'd say 20-25 minutes. Surprising, not many people into this match. The Miz cut a promo about how he is a movie star and Sheanus needed to stay away from his money maker (face). Sheamus landed wrong on his leg toward the end of the match and spent the rest of it limping. I couldn't tell if he was just selling the injury of if he was really hurt.
Sheamus gets the win and left limping real bad.
Intermission
Six Man Tag Action is next.
Los Materdores and El Torito vs Jinder Mahal, Drew McIntyre and Hornswaggle.
Very gimmicky of a match, not much actual wrestling. Hornswaggle had a wig on that got ripped off by El Torito half way through the match.
Went a little long until Adam Rose and the rosebuds came out and danced around the ring right in the middle of the match. Crowd went nuts. As soon as Adam Rose and his posse left, El Torito rolled up Hornswaggle for the win.
Big E vs Bad News Barrett. — IC Title match.
Big E out first and Bad News Barrett came out and gave the city of Detroit some real Bad News about our sports teams (like we didn't know).
I would say this was the match of the night as it kept everyone on their feet. Bad News rolled up Big E after about 15 minutes for the victory.
Main Event
John Cena vs Bray Wyatt — No Holds Barred
HUGE pop for Cena, as you would expect and very good entrance for Bray Wyatt as well. Everyone had their flashlights on their phones out.
Match went about 30 minutes and included a couple chairs, two tables, steel steps and a guardrail. Cena went through the table once and Bray went through via the Attitude Adjustment for the finish . Bray cut a promo half way trough the match and had everyone singing "he's got the whole world, in his hands"
No announcement for a return to Detroit. Was hoping for a Live Raw.