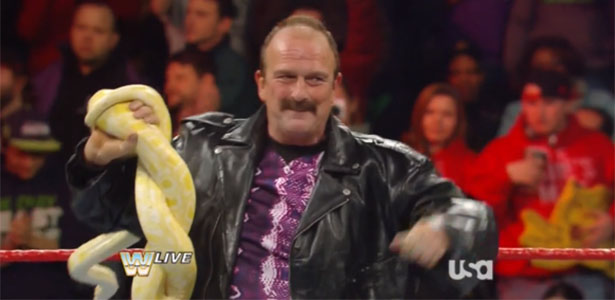 And so another gimmick-filled Monday Night Raw has come and gone, and with it, we are finally on our way to The Royal Rumble. But not before the WWE does everything in its power to steal viewers from the BCS National Championship Game and also re-hook some returning, long-lost fans who stopped by for a trip down memory lane.
Typically these gimmick shows don't offer a whole lot in the way of storyline development, but this time around WWE Creative did something a bit different: they tied some of the returning legends into several of the ongoing stories. Maybe they've done this in the past with the "old school' RAW broadcasts, I don't know. But what I do know is that this edition was a mixed bag, offering up some really missed opportunities while making some special moments out of others. Here are 5 things we learned following 2014's Old School RAW:
Jake "The Snake" Roberts Returns
To close out the show in the final moments of the main event segment, a beaten CM Punk lay in the ring, having taken a beating a the hands of a victorious Roman Reigns from The Shield. While the three Shield members prepped Punk for a group power bomb, some old music hit the PA system, and out came Jake Roberts.
Ever the master of in-ring psychology, Roberts hit the scene at just the right time, with mysterious bag in tow. His mere presence startled The Shield, freezing them in their tracks, and allowing for CM Punk and the New Age Outlaws to exact their revenge. Jake hit the ring and unleashed a python onto an unconscious Dean Ambrose, and the show closed with a legend returned and the faces triumphant.
Most of you know Jake Roberts has had more bad years than good in his personal life, and some particularly harrowing times as documented in the Beyond The Mat film that the WWE refuses to acknowledge from 1999. Having spent years squandering his earnings away on drugs and losing his family for much of his life, Jake has recently found refuge in old friend Dallas Page. DDP has taken him, and also recently Scott Hall, in and gotten him sober and strong over the past year or so. This was a defining moment for WWE and RAW, and they should be applauded for allowing a man to make amends through a second chance. As early as it is in 2014, this will be one of the best moments of the calendar year.
Brock Lesnar Meets His Match?
Again this week we got Brock Lesnar and Paul Heyman in the ring for a repeat of their "we are back, we will get the title" schtick, complete with another challenge to anyone in the back to try and stand up to them. And on cue we had Mark Henry come out again this week, though this time trying to save face from the mauling he took at Lesnar's hands last week on RAW.
After demolishing Henry again this week, Lesnar was returning to the back when he was confronted by a rather serious and unamused The Big Show. Usually a ho-hum entrance when it comes to Show, it actually made for an interesting twist on the usual Brock Lesnar scenario. And what followed was even more surprising: Show manhandling Lesnar with one swift throw from one side of the ring to the other. It was a segment that worked across the board, and I can't wait to see what next week brings for these two.
Daniel Bryan Debuts With The Wyatt Family
After giving himself over The Wyatt Family last week after months of trying to win over The Authority, Daniel Bryan made his debut as a member of the family last night on RAW. What we were treated to was a broken man, intensely angry and ready to unleash a beating on anyone he was faced with. Wearing only a drab, dark jumpsuit, Bryan did not play to the crowd who played to him, but instead channeled all his emotions into devastating, precise attacks on his opponents.
And next he will team with leader Bray Wyatt in another tag match. It will prove interesting to see how well Bryan listens to his patriarchal leader, especially in the early stages of this new role. We are a long way from the final play in this change of events, but you can expect that months from now when it's all said and done, Bryan will have a huge return to face status and be even bigger than he was before joining The Wyatt Family.
Piper's Pit Returns…And Advances The Shield's Demise
Always an interesting segment, Piper's Pit was featured on this Old School edition of RAW, and as expected it did not disappoint. Roddy Piper confronted The Shield as only Roddy Piper can: taking them to task as to who is the best in the group seeing as 2 of the 3 of them have lost to CM Punk.
Piper was great as the catalyst for the next chapter in The Shield saga: their inevitable breakup. Piper set the stage for the group to reconsider who was the best should Roman Reigns beat Punk in the main event tonight. And he did just that – cleanly pinning CM Punk after a distraction by Ambrose on the apron. And thanks to Piper, the seeds had already been planted for the group to question themselves and their current direction and leadership.
This was a fantastic way for the WWE to use the Legends to their fullest potential: instead of giving us so many corny segments with catchphrases and silliness, they instead gave us the same catchphrases as they fulfilled our expectations for our legends appearances while simultaneously pushing some storylines forward. Well done.
Old School Done Right
The Old School type of show is about more than just the returning faces; it's also about the feel of the broadcast and the look of yesterday. WWE has always done a fantastic job with these episodes in terms of recreating the era and the look and the vibe of the shows from the 90's. From the ring ropes to the on-screen graphics to the layout around the ring area, again this time it was all done to perfection and down to the last detail.
But the roster did suffer this time, and it was missing several key components to make it all work. Missing were any legendary divas: no Trish, no Lita, no Sunny, and so on. And also, no really big names: no Stone Cold, no Rock, no Hogan = no gravitas. To really put this Old School show over the top, at least one of the biggest names from the era's past are needed, not just a mish-mash of mid-card greats, i.e., Too Cool, Rikishi, IRS, and The Million Dollar Man.
Fans, did you enjoy the Old School show? Sounds off below in our COMMENTS section, and find me for discussion on Twitter: @davyshrader.