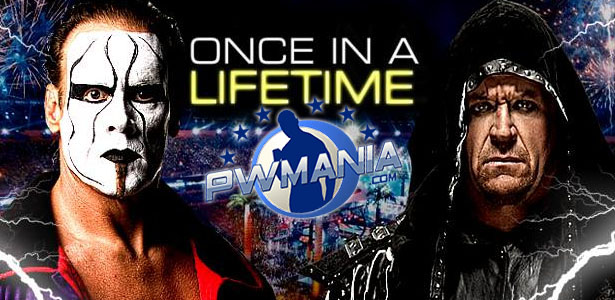 Hello fellow wrestling enthusiasts. This is the first of many "Once in a Lifetime" features exclusively on PWMania.com talking about match-ups and other wrestling topics we have never seen before.
The first "Once in a Lifetime" feature we're going to talk about is Sting vs. The Undertaker.
The road to WrestleMania has begun, and we all know Undertaker's return is upon us. It is also almost three years to the day since we had those return promos that depicted either the return of The Undertaker, or the arrival of Sting.
The most decorated, loyal, and biggest name in the days of WCW was Sting. Anytime someone asks you to name a star from WCW, his name is usually always the first to come up. The first quarter of his career or so he was the Sting from Venice Beach, California. Bleach blonde hair, dark tan, and colorful face paint. He was one of the biggest faces in the company because of his relationship with the fans and his charisma. Everything changed in 1996, when Sting started living in the rafters and donning the black and white face paint. Also about that time, is when the comparisons started between him, and the phenom that resides in the WWE. In 2001, when WWE purchased WCW, we thought the time was upon us when we would finally see that match-up between Undertaker and Sting. At that time, it didn't come to be though. Sting stayed away from the WWE, and eventually ended up in TNA.
Three years ago though, the interest sparked again. Dark promos started airing after The Royal Rumble, teasing the arrival of somebody, but we could never tell who it was. This was very careful planning by the WWE because they had something brewing. Talks had begun with Sting about joining the WWE, entering the Hall of Fame, and squaring off against Taker at WrestleMania. Everything was on track, and then it fell through at the last moment. So the promos ended up being about Undertaker's return, and he went on to have two great WrestleMania matches with Triple H. Lets play the what if game though, and see what could have happened if Sting would have arrived on RAW.
* The Arrival of the ICON – The stare down between Undertaker and Triple H was intense, but think about if it was between Sting and Undertaker. Something we have been waiting for, for so many years. Arguably the two biggest legends of their respected brands, in the same ring face to face. The atmosphere would be something that could never be matched. They wouldn't have to say a word. The anticipation and the moment would speak for itself. It would be a "mark out" moment for so many of us. And not just for the die hard wrestling fans, but the casual fan as well.
* The Build – The biggest question after "could it ever happen?" is "what direction would they go towards building their match?" There are a few directions they could go. First, the typical good guy vs. bad guy match. I'm gonna stay away from fantasy booking here, but I'm gonna throw a couple of ideas at you. Sting could go crazy, saying he is the true phenom not just in the WWE, but all of wrestling in general. Undertaker could then say that he built the company to what it is today, and nobody, even Sting, is gonna come in and take that away from him. It could also go the other way, with Taker being the heel, and not respecting the fact that sting is in "his company." The second way they could go, and this would be my way of doing it, is the face vs. face match. Just let the two guys go out there, promote the match as the biggest of their lives to see who is the best, and let them amaze us all. The third way they could go, and this one is a little different, is to team them up. Some say that might be a waste, but there are reasons that it could work. The main reason, is because they are both very seasoned veterans (or they are old for our younger readers) and would benefit more from not wrestling for 25-30 minutes straight. If you were to put them against a team like The Real Americans, or any other heel time for that matter, it would draw knowing that both of them are not only in the ring together, but allies.
So, what could have been if Sting decided to come to the WWE? We may never see him as an active competitor, but I think its safe to say we will see him in a WWE ring one day (and maybe one day soon if you read the rumors). We will also more than likely see a confrontation of some sort between him and Taker. They might not be able to have that epic WrestleMania moment that we all have looked forward to for so long, but just seeing them in the same ring, at the same time would definitely be worth the wait.
Thank you for reading. The next "Once in a Lifetime" article will be about Daniel Bryan vs. Kurt Angle. There aren't enough words to talk about two of the greatest technical wrestlers in the world. So be on the lookout for that one.
What do you think? Comment below with your thoughts, opinions, feedback and anything else that was raised.
You can follow me on Twitter and Facebook, where I usually make interesting comments about all of the up to date news going on. Make sure to also follow PWMania on Twitter and on Facebook.
Everyone take care, please leave me your feedback below, and thanks again for reading.