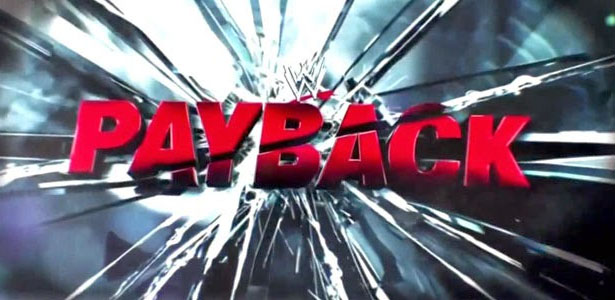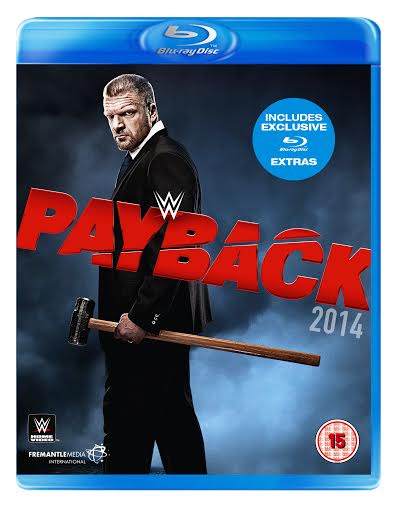 WWE Payback 2014 DVD and Blu-ray Review
United States Championship Match: Sheamus vs. Cesaro
Payback kicked off with a great match between Cesaro and Sheamus (though it would be Paul Heyman who killed both our and the Chicago crowds hopes for a CM Punk return before it even started), and the finish was an unexpected one, especially as so many of Sheamus' matches end with a predictable Brogue Kick out of nowhere. Reliving this slugfest will definitely make you excited for the feud which once again picked up between the two after the most recent episode of Raw as The King of Swing again sets his sights on the US Championship. This time, here's hoping the right man wins!
Cody Rhodes & Goldust vs. Ryback & Curtis Axel
Before there was Stardust, there was Cody Rhodes, and as entertaining as this face off between the Dust Brothers and Rybaxel was, it was better suited to an episode of Raw or SmackDown than a PPV. Even so, the near-falls at the end make it a fun match to revisit, even if it didn't lead to the Goldust vs. Cody feud many expected to see come to a head at this year's SummerSlam.
Big E. vs. Rusev
Big E was a good choice to become the latest victim of Rusev after a number of squash matches against the likes of Zack Ryder and Sin Cara. While not the best face-off between the two, it did show just how dominating and impressive the Bulgarian Brute could be even against an opponent as powerful as the former Intercontinental Champion.
Kofi Kingston vs. Bo Dallas
Despite being another match better suited to an episode of Raw or SmackDown, it's hard to complain too much when it means that we get to see Bo Dallas on a PPV. Unfortunately, we wouldn't actually get to see him in action as Kane would quickly stomp down to ringside to decimate Bo's opponent, Kofi Kingston. This never really went anywhere and felt like little more than filler, but we did at least get some great mic time from Bo as he comforted the fallen Kingston by reminding him that all he had to do…is Bolieve!
Intercontinental Championship Match: Bad News Barrett vs. Rob Van Dam
I'm afraid I've got some bad news for you…while this was a solid match, it WILL remind you that Bad News Barrett's hot reign as Intercontinental Champion was brought to an end far too soon due to an unfortunate injury. Despite the fact that Rob Van Dam's best days seem to be behind him, he was good here, but BNB would steal the show with a perfectly timed Bull Hammer Elbow.
Daniel Bryan's Decision
With Daniel Bryan unable to compete so early into his run as WWE World Heavyweight Champion, a decent chunk of Payback was devoted to a promo featuring Bryan, Stephanie McMahon and Brie Bella. McMahon deflecting the CM Punk chants with, "These people want you to quit, just like CM Punk did!" was brilliant, as was the beginning stages of a feud between her and Brie which would come to a head at SummerSlam. Ultimately though, this whole segment was a way of delaying the inevitable, and Brie quitting to save her husband did little for him. Had Bryan been able to bounce back from his injury, this would have been an unimportant footnote in his title reign, but it now somewhat sours it.
Last Man Standing Match: John Cena vs. Bray Wyatt
One thing which did very much come to an end at Payback was the feud between John Cena and Bray Wyatt with a brutal Last Man Standing match. While it wasn't quite as good as their showdown at WrestleMania 30, it certainly contained some very memorable spots. One of the best was undoubtedly the visual of Cena throwing the ring steps at Wyatt out of the ring and knocking him to the floor, while the interference from the Wyatt Family and the Usos would also result in some amazing moments. What spoils this bout was the slightly silly ending with Cena sending Wyatt through a crate and burying him under sound equipment. Wyatt deserved the win more in some ways, but his performance here made it clear that he's a main event talent.
Divas Championship Match: Paige vs. Alicia Fox
Alicia Fox seems to have been forgotten about as of late, and this match serves as a great example of why she deserves more TV time. Paige, a relative newcomer to WWE (for those that weren't familiar with her work on NXT anyway) looked great here and this was a solid palette cleanser before the main event that showed off two of the company's most talented female competitors.
No Holds Barred Elimination Match: The Shield vs. Evolution
The Shield's final match with Evolution would prove to be extremely worthy of taking Payback's main event spot, even if it didn't quite match their bout at Extreme Rules. However, the addition of the No Holds Barred and Elimination rules gave this a fresh feel, with The Shield proving their dominance by taking out each member of Evolution and saving Triple H for last. Seth Rollins would again steal the show with a dive from the Jumbotron, but both Ambrose and Reigns also had some great spots which make this a match fun to relive again and again. The sight of the trio standing tall over a fallen Triple H is easily one of the best moments of 2014, and it cemented their status as the future of the WWE. Believe in that!
Special Features
As well as a couple of interviews, the Payback Blu-ray includes the fun Mask vs. Hair Kickoff match between El Torito vs. Hornswoggle. Also in the set are a number of Raw and SmackDown matches, including the 20-Man Battle Royal in which Sheamus beat Dean Ambrose for the United States Championship and a Six-Man Tag Team Match featuring John Cena and The Usos vs. The Wyatt Family. Also here are some great promos, many of which feature both Wyatt's outstanding mic work and The Shield and Evolution's war of words leading up to this match. These are all well worth rewatching and a great overall addition to the set.
This year's Payback was a little hit and miss in places, but there were enough stellar matches to make reliving this PPV a must, and the overall presentation and extras included on the Blu-ray make it well worth buying.
4/5 ****
WWE Payback is out now and can be bought at Amazon.com and WWEDVD.co.uk.