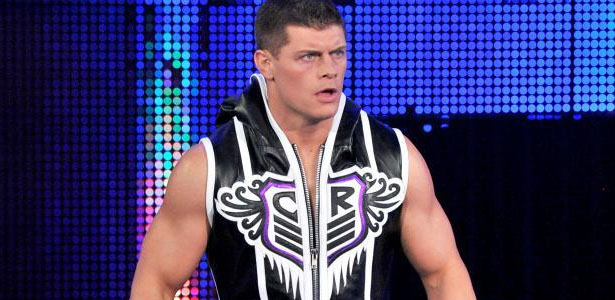 We're counting down to the Royal Rumble: a variation of the traditional Battle Royal match, with a total of 30 competitors. Two WWE Superstars start in the ring, every 90 seconds thereafter another Superstar enters. A Superstar is eliminated when they're thrown over the top rope and both feet touch the floor. The last remaining Superstar is guaranteed a championship opportunity at WrestleMania versus the current WWE World Heavyweight Champion.
WWE Superstar: Cody Rhodes
Height: 6′ 2"
Weight: 220 lbs.
From: Marietta, GA
Championships Reigns: Intercontinental Champion (x2), WWE Tag Team Champion (x2), World Tag Team Champion (x3)
The previous year was stacked with challenges for Cody Rhodes. Targeted by The Authority, Rhodes found himself fired after losing a career-threatening match to then WWE Champion Randy Orton. He watched his brother Goldust insulted and tormented. Worst of all, Cody witnessed his father "The American Dream" Dusty Rhodes punched unconscious at the hands of Big Show who was acting on Authority orders. No revenge against them would be sweeter than winning the Royal Rumble, going on to defeat Orton for the WWE World Heavyweight Championship at WrestleMania XXX.
Rhodes has evolved since clicking with Orton as part of faction Legacy. The two men know each other well in the squared circle. Yet with so much animosity fueling every move executed, Orton may find young Rhodes hard to defeat with the stakes so emotionally high.
What do you think?
Royal Rumble Winners: Jim Duggan (1988), Big John Studd ('89), Hulk Hogan ('90, '91), Ric Flair ('92), Yokozuna ('93), Bret Hart/Lex Luger ('94), Shawn Michaels ('95, '96), Steve Austin ('97, '98), Mr. McMahon ('99), The Rock (2000), Steve Austin ('01), Triple H ('02), Brock Lesnar ('03), Chris Benoit ('04), Batista ('05), Rey Mysterio ('06), The Undertaker ('07), John Cena ('08), Randy Orton ('09), Edge ('10), Alberto Del Rio ('11), Sheamus ('12), John Cena ('13)
About Joe Walker: Joe Walker is an award-winning columnist, celebrity entertainment and news journalist, editor, and artist biographer. Currently a senior writer for Soul Train and staff writer for Muskegon Tribune Newspaper, Walker's acclaimed work has been published thousands of times regionally, nationally, internationally, and online. Follow him on Twitter @mrjoewalker.