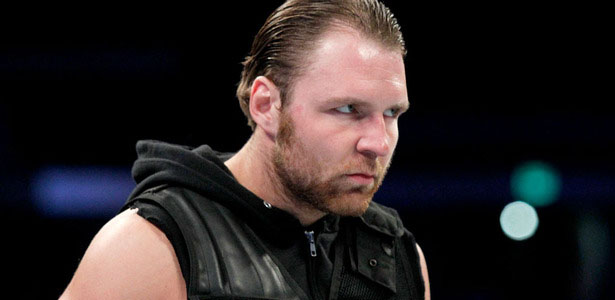 We're counting down to the Royal Rumble: a variation of the traditional Battle Royal match, with a total of 30 competitors. Two WWE Superstars start in the ring, every 90 seconds thereafter another Superstar enters. A Superstar is eliminated when they're thrown over the top rope and both feet touch the floor. The last remaining Superstar is guaranteed a championship opportunity at WrestleMania versus the current WWE World Heavyweight Champion.
WWE Superstar: Dean Ambrose
Height: 6′ 4"
Weight: 225 lbs.
From: Cincinnati, OH
Championships Reigns: United States Champion
Dean Ambrose is a slick-talking, calculating, dangerously confident Superstar. One third of rogue outfit The Shield, the Ohio native bad boy has been one of the most dominant champions in recent years. With no signs of relinquishing the United States Championship, adding the WWE World Heavyweight title would secure his claims as the best in WWE today.
What partly makes Ambrose such a threat is his Shield mates Seth Rollins and Roman Reigns. Walking into WrestleMania XXX with both men at his side, Ambrose would have to be considered a favorite against any Superstar to walk out the new WWE World Heavyweight Champion.
What do you think?
Royal Rumble Winners: Jim Duggan (1988), Big John Studd ('89), Hulk Hogan ('90, '91), Ric Flair ('92), Yokozuna ('93), Bret Hart/Lex Luger ('94), Shawn Michaels ('95, '96), Steve Austin ('97, '98), Mr. McMahon ('99), The Rock (2000), Steve Austin ('01), Triple H ('02), Brock Lesnar ('03), Chris Benoit ('04), Batista ('05), Rey Mysterio ('06), The Undertaker ('07), John Cena ('08), Randy Orton ('09), Edge ('10), Alberto Del Rio ('11), Sheamus ('12), John Cena ('13)
About Joe Walker: Joe Walker is an award-winning columnist, celebrity entertainment and news journalist, editor, and artist biographer. Currently a senior writer for Soul Train and staff writer for Muskegon Tribune Newspaper, Walker's acclaimed work has been published thousands of times regionally, nationally, internationally, and online. Follow him on Twitter @mrjoewalker.