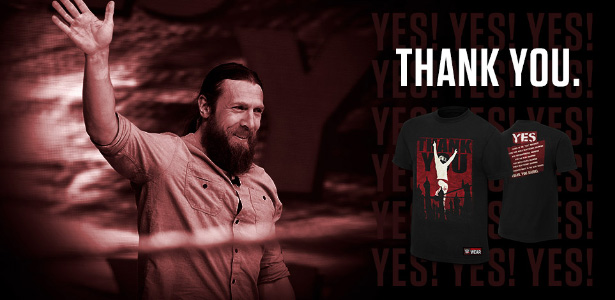 – It's with a heavy heart that the WWE and Daniel Bryan announce his retirement. It's the perfect time to Say Thank You, and Goodbye as Daniel Bryan retires with his celebratory "Thank You" T-Shirt
. This brand new tee celebrates Daniel Bryan's WWE Achievements and right now WWEShop.com shoppers can save 30% Off! Use code TSHIRT30 to Save 30% Off T-Shirts today only
! Stock up on T-Shirts from all your favorite Superstars before this sale is gone! Please note, code excludes Wrestlemania 32 T-Shirts. Sale ends 11:59pm EST 2/9.
Also, be sure to check out WWE's Brand New Wrestlemania 32 Gear just added to the site
! Shop T-Shirts, Hats, and more!
Here are links to the latest WWEShop.com deals:
Shop Brand New Wrestlemania 32 Gear
Thank You Daniel Bryan! Celebrate Daniel Bryan's WWE Achievements with the Brand New "Thank You" T-Shirt – YES!
Celebrate Mardi Gras with 30% Off T-Shirts at WWEShop.com! Use code TSHIRT30 – Sale Ends 11:59pm EST 2/9
Subscribe to WWE Network & get your First Month Free! Get instant access to Pay-Per-View Events & Exclusive Programming – No Commitment Required!
AJ Styles "I Am Phenomenal" Authentic T-Shirt