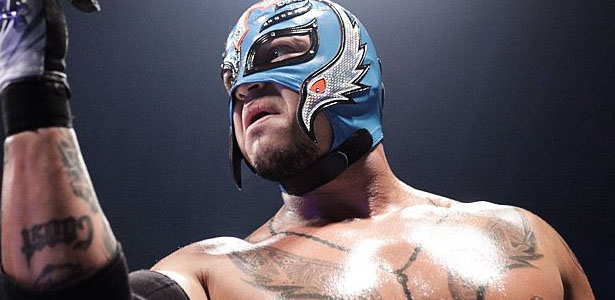 – Rey Mysterio, who is currently tied up with WWE in a contract dispute, revealed some new tattoo work he had done this week. He wrote the following on Instagram:
"99% finished! Next session right pec, can't wait! Thx to my homie @jsalinaz for the last 13 yrs of work! It's been a pleasure getting tatted by you! Thx my homie! #619ers#sickTat#azteca#brownpride#AvalonTattoo"
– Hulk Hogan noted on Twitter that his media day for WWE SummerSlam began at 5:30am local time this morning. He's still going at Club Nokia for the SummerSlam panel tonight and noted that there was a packed crowd there.
– It looks like Jack Swagger will be the next WWE Superstar to take the ALS Ice Bucket Challenge as he was challenged by his wife tonight.
– Below is video of Stephanie McMahon, Alicia Fox and Sin Cara hosting an anti-bullying rally at an East Los Angeles Boys & Girls Club on Thursday: