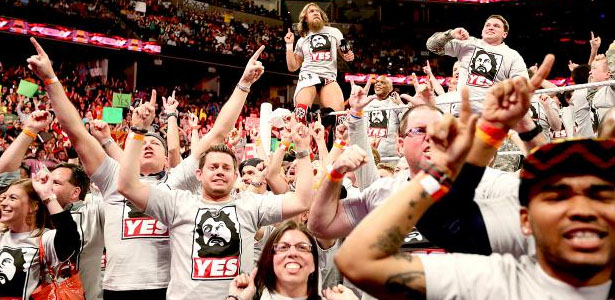 This week was a great one in WWE. It all started off on Monday Night with one of the best episodes of Raw so far this year. The show began with some good segments and matches, but it started to hit another notch when Daniel Bryan chose to occupy Raw. Bryan filled the ring with fans and by the time the show returned from commercial, fans had surrounded the ring as well. Bryan promised not to leave until he got what he wanted which caused Triple H to FINALLY give Bryan what he wanted as well as the WWE Universe.
That segment was one of the best ideas that WWE has come up with in a while. It took Raw to a whole nother level last Monday as everyone got what they have wanted for so long. After this segment, it was all good stuff as Sheamus and Christian had quite possibly their best match ever together. That match was followed up with a suprisingly good tag team match between Daniel Bryan & Big Show and Batista & Randy Orton.
On Tuesday night, Main Event broadcasted live on the WWE Network with two title matches headlining the event. Dean Ambrose defended his United States Championship against Mark Henry while AJ Lee defended her Divas Championship against Natalya. Both competitors were successful in retaining their titles.
Friday Night saw a decent episode of Smackdown that was highlighted by an incredible match between Dolph Ziggler and Alberto Del Rio. The two have great chemistry together and proved this once again. It had many near falls and alot of good action. Watching these two compete against each other is always a treat. WWE also continued building storylines well as The Shield continued having confrontations with Kane and The Real Americans seemingly still aren't getting along.
There were several really good matches this week. Which one's made the list? Let's find out.
Matches of the Week:
5) AJ Lee vs. Natalya – Divas Championship Match – Main Event
The two most talented women in the Divas division squared off this past Tuesday with championship gold on the line and they proved that they deserved to be battling for the title. These two had a good match at TLC and they had an even better match this week. Here's to hoping that we see more between these two women as they put on a quality match on Main Event.
4) Daniel Bryan & Big Show vs. Batista & Randy Orton – Raw
Going into this bout, there were doubts by many on how good it would be as Show and Batista aren't the fastest moving guys in the business, but it turned out to be great. This match was booked really well. Show and Batista came in at the perfect time and only then. Show superkicked Orton and Batista went to spear Bryan and hit Orton. Good stuff.
3) Cody Rhodes & Goldust vs. Seth Rollins & Roman Reigns – Raw
Kane decided to re-ignite a feud from last fall by making this match between The Shield and The Rhodes Bros. Needless to say, these two teams still have the same chemistry they did last year as they produced an outstanding tag match here. Numerous awesome spots and some great exchanges. All around great match.
2) Dolph Ziggler vs. Alberto Del Rio – Smackdown
Ziggler and Del Rio are often overlooked for their in-ring performances, but once again they showed how great they are. They produced another really good match here with a bunch of near falls. They told a good story and produced a very entertaining match. You can't ask for much more than that.
1) Sheamus vs. Christian – Raw
Here we have two guys that have faced off numerous times, but they still managed to top themselves on Monday Night. Christian and Sheamus went out and stole the show on Raw by giving it everything they had. From Christian's tornado DDT off the stage to Sheamus kicking a drum into Christina's face – this match was packed with action. It was definitely the best match in WWE this week.
Superstar of the Week: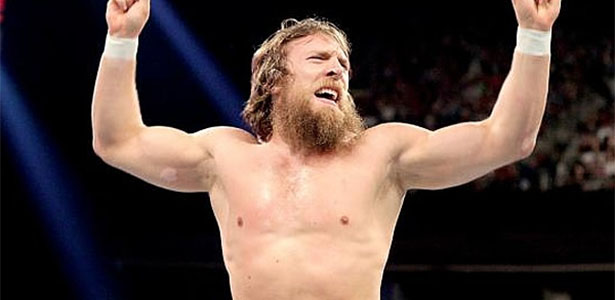 There's one clear choice for Superstar of the Week – Daniel Bryan. He's been trying to get a shot at the WWE Title for months now. On Monday Night, he along with the WWE Universe finally got what they wanted for so long. It looks as if Daniel Bryan will finally get what he rightly deserves – the WWE Championship. He has finally gotten his opportunity and he will most definitely take full advantage of it.
What do you think? Comment below with your thoughts, opinions, feedback and anything else that was raised.