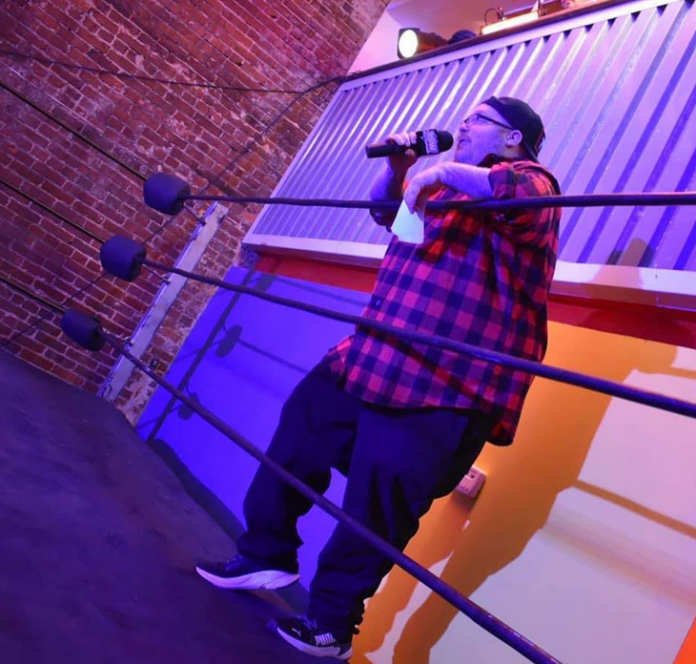 "Just when I thought I was out, they pull me back in" -Micheal Corleone, Godfather III, 1990
Professional wrestling, an entertainment spectacle that was shrouded in secrecy for years, is often compared to the mafia, both for its original code of silence and its often lifetime membership.
Ronnie Starks, the 11-year-old kid that was amazed when he first watched Shawn Micheals capture the WWF championship from Bret Hart on pay-per-view in 1996, eventually broke into the pro wrestling business just over a decade later because of the impact that the influential bout had on him. Not blessed with the genetics of height or athletic ability, he decided that a career as an in-ring wrestler wasn't the best path for him, despite the fact that he went through the rigorous training of in-ring activity. Front flips just weren't his strong suite. The passion of his fandom wouldn't let him settle for anything else than the best he could possibly give to the industry that thrilled him throughout his youth, and if that wasn't running the ropes or flying off the top rope then so be it.
After he got his start in 2007 as a referee and a manager, a role where he used his self-proclaimed "gift of gab" to rile up audiences as a villain, Ronnie zigzagged around the tri-state area nearly every weekend. It might've been a sparsely-attended show in a town nobody ever heard of in West Virginia, or a packed card in Pittsburgh, regardless of if it was in the stripes inside the ropes or in a vest at ringside, Starks couldn't pass up a chance to be a part of the industry that he fell in love with at such a young age.
After almost nine years, Ronnie quite literally grew up in the industry, and many of his real-life responsibilities began to take priority over the fictional world of professional wrestling. In 2016, Ronnie thought he closed a chapter of his career, competing in a bout that wrote him out of a West Virginia organization and he wanted to put sports entertainment behind him.
Ronnie thought he was out, but the allure of the ring pulled him back in.
About two years later, Starks resumed his role as a ringside manager, and by 2019, Ronnie was back in the full swing of things, losing a tremendous amount of weight through hard work and dedication. He was in the best shape of his life and doing the best work of his career on the Pittsburgh independent scene.

But as the COVID-19 pandemic shut down the entire world, tragedy struck for Ronnie, and his wrestling achievements suddenly seemed secondary by comparison.
"I'm not going blame the pandemic like most people because I still did 'outlaw' shows that were filmed on closed sets. What really drove me out of wrestling is when my father died in August of 2020. The man was so scared of the virus that a heart attack from stress is what did him in. My mother told me that I needed to continue working to keep my mind off it, but a month later my mentor and someone who I considered a father figure, Shawn Maudhuit died of a heart attack. I basically lost both my fathers in a four-week period of time, and I lost myself. I knew I needed a break to regroup and figure out what to do with myself, mentally and emotionally. But most importantly, be there for my mother. Somewhere along the line, I got COVID from wrestling and felt like it was time to bail," Starks said.
Heart broken, isolated, and frustrated, Ronnie shut the door on the sport he loved again. But it pulled him back in.
In more recent months, Ronnie was recruited by the great Mike Sorg, the premiere video production leader of the Pittsburgh scene, to join his camera crew. This allowed Starks back around the independent circuit where he had a chance to spend time and reconnect with many of the friends he made during his active career. Ronnie cites it as a new lease on a wrestling life.
"Two years into my break, the Sorgs asked me if I'd be interested in learning the behind the camera aspect of the business. I loved it so much that it gave me a new outlook on wrestling. Then I started to get that itch," Starks explained.

It wasn't long before Ronnie's work behind the camera led to him peeking his head back in front of it. Tim Cross, promoter of the West Virginia-based Real Shoot Wrestling group saw that Starks had too much left in the tank to stay on the sidelines. When the league expanded into Pennsylvania, landing in New Kensington, a town northeast of Pittsburgh, it was quite literally too close to Starks to ignore. He jumped in with both feet.

"I live around that area so it was convenient. I did some ring announcing and loved it. I actually reffed a few matches too. I love Real Shoot, we are one big family. Everyone is so laid back and caring. It's easily the best locker room I've ever been in. I think I knew in November I was coming back full time," Ronnie remarked.
But Starks doesn't see this as ego-driven or a self-serving venture. Instead he cites his years of knowledge and the opportunity to give back to the sport.
"My plans are to help. That's all I ever wanted to do, I want all these new people to have a veteran that they can come to for help and advice. I want to help mold the future of professional wrestling. I've been around long enough, I've worked for and with the best. I feel like my opinion has some importance, I just want to leave a mark on wrestling and make up for regrets of my past," Ronnie said.
So, after more than 15 years in the ring to count of the canvas, agitating the audience as a manager at ringside, or filming the action behind the camera, the 38-year-old Starks is rejuvenated for the next chapter of his extensive career.
"I just want to have fun with my wrestling friends and do good business with positive places. No negativity, just help as much as I can. Real Shoot and I have some big plans in the works, I'm excited to do something different," Starks concluded.
Just when he thought he was out, pro wrestling pulled Ronnie Starks back in.
For more information about Ronnie, Twitter @thatdamnstarks Facebook https://www.facebook.com/ronnie.starks.735
What do you think? Share your thoughts, opinions, feedback, and anything else that was raised on Twitter @PWMania and Facebook.com/PWMania.
Until next week
-Jim LaMotta
E mail drwrestlingallpro@yahoo.com | You can follow me on Instagram & Facebook @jimlamotta89