Bryan Clark is a wrestler that really stood out as a larger-than-life character in the 90's when portraying Adam Bomb in the WWE. He was part of a memorable Royal Rumble moment in 1994 when he helped Yokozuna throw The Undertaker into a casket and even participated in 2 Royal Rumbles himself, in 1993 and 1994 respectively.
As the Royal Rumble gets closer and the road to WrestleMania begins, Bryan is on his way to the UK to appear at a major PPV party held by the great guys at Hooked On Wrestling.
PWMania.com spoke to him about coming over to the UK, his Rumble memories, and his time as Kronik within WCW, WWE, and AJPW in an exclusive interview.
You're the host of the huge PPV party hosted by Hooked On Wrestling at BOXPARK Wembley as well as appearing at other Hooked On Events over Royal Rumble weekend. How are you feeling about coming over to the UK and meeting all these excited fans?
"Man, I'm absolutely excited. I haven't been in the UK in over a decade, and I'm itching to get back. The fans in the UK were always some of the best to perform in front of, and they've always given me a great reaction. So, I'm coming over to appear at the parties, be part of a Meet & Greet and bring over some merch for everyone to buy, including figures, the small Adam Bomb footballs and of course, the Adam Bomb goggles."
You were part of a very memorable Royal Rumble in 1994. What are your memories of being involved in both the match between The Undertaker and Yokozuna and the match itself?
"It was great. I remember it took like, 8 of us to throw Taker in the casket, although Yoko was a pretty strong guy, he could've probably done it himself. I really enjoyed being involved in it. I still think it is the match fans get most excited about all year and from my point of view, there was a great atmosphere behind the curtain on Royal Rumble days.
"There was also more of a relaxed vibe backstage those days, but it all depended on where you were on the draw and what you had mapped out for you."
How did you find your time as a whole in WWE? What was it like working with some of the biggest names in the history of the sport and great minds like Vince McMahon, Pat Patterson, and Bruce Prichard?
"At first, I really enjoyed it, but the schedule is brutal and I picked up a series of injuries which begun to take their toll. Then certain aspects weren't working out the way I hoped they would and I had an opportunity to go to work for WCW, which was a great opportunity as Wrath, and what was really good was the money. The money was really good and I couldn't pass that down.
"People in the WWE were great and I learned so much in terms of working a crowd and building a match. Getting experience from a great mind like Vince was great, going up and down the road was a real experience, it definitely helped me progress in my career but I still felt the WCW offer was too good to pass down."
So, when you got to WCW, how did you find your time there?
"I loved it, I thought it was great. I found it more enjoyable as far as working with a bunch of guys and a good locker room. For me, that was great as there was not so much stress and the schedule was lighter.
"I loved my singles run being Wrath and having a big feud with Meng. Performing at the MGM Grand during Halloween Havoc, performing my move on a 320 lb guy, it was great. I really enjoyed that period in my career.
"Then, later down the line, I worked with Brian Adams and we formed Kronik, which was the absolute best. We won the tag team championships on 2 occasions in WCW and once in AJPW and that means so much. The best of memories. Any time I was with him, it was fun, hard hitting but fun. That was our style and we loved it."
You also had a brief feud with The Undertaker and Kane during the Invasion era. How did you find that?
"To be honest, it wasn't great. We had been away for a while as our contracts for WCW were paying us out and then we were asked to go to have a feud with Taker and Kane. I felt we needed more time to get tuned up because there's being in shape and being ready for a big match, but Brian and Taker felt we could do this, so we went with it and didn't really have much time in between our debut and the match at the PPV.
"A huge issue was also the fact we were all carrying injuries. I had neck and back issues, I think Taker had the same while Kane was dealing with a staph infection on his elbow, which is quite evident if you look back. So the match didn't go to how we would've wanted and we didn't really hang around much after.
"I was hoping to go to Japan and when me and Brian went, I felt we were back to our best and I really enjoyed that, winning the titles and being handed them by one of my heroes, Stan Hansen. it meant everything and I felt we did a great job out there."
So, with the Royal Rumble days away, who do you think will win?
"I'm a big fan of Drew McIntyre, I would love to see him win again as I think he had much more to add as champion. He should have the belt back. I also like Braun Strowman, I spent a long time talking to him at WrestleMania in Dallas and I think he has everything to be a big hit, so you can never count him out.
"Cody is back, so I would be surprised if he is not in the final 4. Sheamus is another who I think can be great, Gunther also. Some really big guys that I think all have a shot. It's just great to watch it all now as a fan, I really like tuning in as a fan and seeing what happens, so I look forward to doing so in London on the night of the Rumble."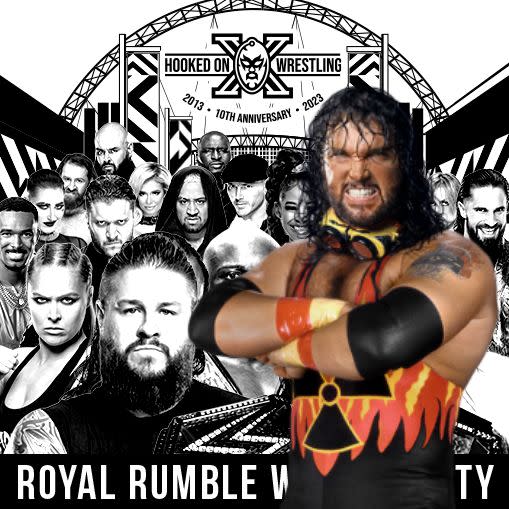 Bryan is now on his way to the UK to host Hooked On Wrestling's major Royal Rumble party on Sat January 28th. He will appear at BOXPARK Wembley and Old Street Sports Bar & Grill, as well as at a Meet & Greet on Sunday 29th at The Coach House near Leicester Square in London.
For fans hoping to watch the ppv with a massive group, Hooked On Wrestling have had the capacity at their BOXPARK extended and are also throwing parties in the following locations: Manchester, Glasgow, Leeds, Birmingham & Cardiff. Although close to sell out across the country, a small number of tickets are still available at hookedontickets.co.uk