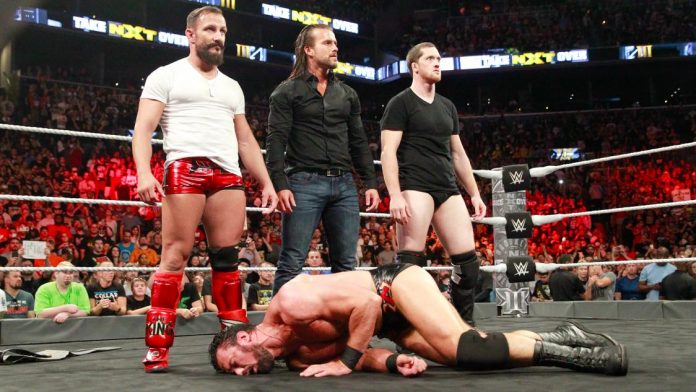 WWE NXT Superstars Adam Cole, Kyle O'Reilly and Bobby Fish of The Undisputed Era recently spoke with Byron Saxton for the WWE website at this link. Below are highlights:
How they came up with their group name:
COLE: When you say the word "undisputed," what do you think of? You think of something that is untouchable, undeniable. Myself, Bobby Fish and Kyle O'Reilly are all of those things. We've proven before we got here that we are one in a million, and we'll do it again here in NXT. Also, people talk about the different eras in wrestling — The Golden Era, The Attitude Era, The Reality Era. This is our era; it's our time to show the world who runs this sport.
O'REILLY: The Undisputed ERA isn't just a cute name that's meant to sell a bunch of T-shirts. It's our mantra. It's our way of life. Our success is a direct result of the effort and dominance that we put forth inside the squared circle. We are undisputed. This is our era.
If they're concerned with making too many enemies quickly, especially with NXT Champion Drew McIntyre and NXT Tag Team Champions SAnitY:
COLE: SAnitY prides itself on being unpredictable, right? Well, nothing turned the NXT Universe upside down like The Undisputed ERA's debut. I respect the fact that SAnitY marches to the beat of their own drum, but the problem is, they aren't on our level.
As far as Drew, he's an impressive athlete. Drew had been chasing that NXT Championship, and he finally achieved his dream. I almost feel bad for the guy. I feel bad that after all that hard work, all the sacrifice, it's going to be taken away by me. And there's not a damn thing he can do about it.
FISH: Being the best at what one does naturally creates enemies; it's the world we live in. Success is no accident, but one thing it breeds is contempt from those who aren't willing to put in the work required to achieve it. Success is all we know; it's in our DNA. Lions don't lose sleep over the opinion of sheep, and whether it's walking through that locker room or inside the ring, we know no fear. The insecurity of others is not our concern.
O'REILLY: Frankly, we aren't afraid of making enemies. There's a saying in this sport I've heard countless times: "You can make friends, or you can make money." Enough said. We are here to make money. The more enemies we have, the more big-money matches we make. I welcome anybody who claims they are offended by our actions to say so to our face. It just makes it easier to discern that you are, in fact, an enemy of the state to us. The only guys I care about are Bobby, Adam and myself.
What message they have for the rest of NXT:
FISH: You will never understand what drives The Undisputed ERA, so as hard as you might try, you simply can't relate to us. We are here to break the will of all those we come in contact with. I will quote the incomparable Conor McGregor when I tell you, The Undisputed ERA didn't come here to take part; we came here to take over!