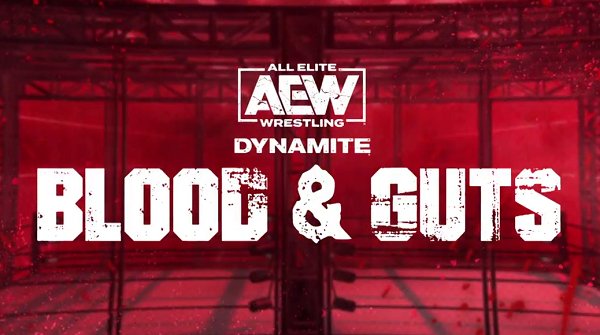 It's Wednesday night, and you know what that means …
All Elite Wrestling returns to the Little Caesars Arena in Detroit, Michigan for a special Blood & Guts edition of Dynamite.
On tap for tonight's post-Forbidden Door edition of the weekly two-hour AEW on TBS television program is another stacked lineup.
Scheduled for the show is the fallout from The Forbidden Door, Orange Cassidy vs. "All Ego" Ethan Page, Jade Cargill vs. Leila Grey for the TBS Women's Championship, as well as The Blackpool Combat Combat Club & Friends (Claudio Castagnoli, Wheeler Yuta, Jon Moxley, Eddie Kingston, Santana, Ortiz) vs. The Jericho Appreciation Society (Chris Jericho, Sammy Guevara, Jake Hager, Daniel Garcia, Matt Menard, Angelo Parker) in Blood & Guts match.
Featured below are complete AEW Dynamite: Blood & Guts results from Wednesday, June 29, 2022. The following report was written by Matt Boone (@MattBoone0709) of PWMania.com as the show aired live on TBS.
AEW DYNAMITE: BLOOD & GUTS RESULTS (6/29/2022)
The regular theme and opening video package airs to get this week's show off-and-running.
We then shoot inside the Little Caesers Arena in Detroit, MI. where the commentators welcome us to the show.
Orange Cassidy vs. Ethan Page
From there, Orange Cassidy makes his way out to new entrance music for the opening contest on this week's post-Forbidden Door edition of the show.
The AEW Dynamite: Blood & Guts opening match this week will feature "The Freshly Squeezed" one going up against "All Ego" Ethan Page of The Men of the Year.
On that note, Cassidy, accompanied by The Best Friends, await the ring entrance of the Dan Lambert-coached contender. Out comes "All Ego" accompanied by Dan Lambert.
The American Top Team founder then gets on the microphone as they head to the ring and he demands that The Best Friends be sent to the back, as they do not have the proper managers license to warrant a position at ringside for this match.
Lambert gets his way and the tye-dye wearing Best Friends are forced to head to the back as fans in the arena chant "Bullsh*t! Bullsh*t!"
Page enters the ring as Lambert settles at ringside. He and Cassidy stare each other down as the fans break out in loud chants and cheers waiting for this one to get started.
We see some back-and-forth action and then "All Ego" starts to pull ahead. He takes it to the fan-favorite for a couple of minutes and then the "Freshly Squeezed" one fires up for his big offensive comeback.
Cassidy takes it to "All Ego" with relative ease as he fires up, and then stops Dan Lambert on the ring apron. He steals a bottle of Orange Juice from him and hits his Orange Punch finisher for the pin fall victory.
Winner: Orange Cassidy
Luchasaurus vs. Serpentico
Now Christian Cage makes his way out for his advertised promo segment. This week he doesn't talk as much, or nearly as long, but takes the same shots as Jungle Boy regarding his dead father, Luke Perry, and his mother's fondness of "Captain Charisma."
Christian Cage then brings out his monster, to which Luchasaurus comes out to his own demonic-sounding theme song. He looks more evil and his presentation is much more heel-like.
Cage settles at ringside as Luchasaurus gets ready for an impromptu one-on-one showdown against Serpentico.
The bell sounds and we're off-and-running with this singles bout between two masked competitors. Luchasaurus dominates with ease in what amounted to nothing more than a basic squash match / showcase bout. Luchasaurus gets the win and looks like a scary beast — controlled by Christian Cage — in the process.
Winner: Luchasaurus
Wardlow & Scorpio Sky Street Fight Set For TNT Title
We shoot backstage where Tony Schiavone is standing by with Wardlow and TNT Champion Scorpio Sky.
The two trade some barbs back-and-forth before ultimately setting up a Street Fight against each other with Sky's TNT Championship on-the-line.
AEW Trios Match
Max Caster & The Gunn Club vs. Danhausen & FTR
We head back inside the arena where Max Caster makes his way out to The Acclaimed hip-hop theme song.
Caster freestyle raps his way to the ring as he is accompanied by "The Ass Boys" from The Gunn Club — Austin and Colten Gunn.
Anthony Bowens in a wheelchair and Billy Gunn settle at ringside as Caster, Colten and Austin settle inside the ring.
Danhausen's theme hits and out comes the charismatic babyface performer. He settles at the top of the entrance ramp and reveals his two partners for this AEW Trios bout.
FTR's theme hits and out comes the unified ROH and IWGP Tag-Team Champions to join Danhausen.
The bell sounds and we're off-and-running with this AEW Trios contest here on the post-Forbidden Door edition of AEW Dynamite: Blood & Guts. It will be Austin Gunn and Cash Wheeler starting things off for their respective teams.
We see Austin eat a back body drop and an atomic drop. Dax in now with a suplex and tag to Danhausen. Austin corners Danhausen and in comes Colten. Colten tosses Danhausen into the buckle and beats on him in the corner.
Now we see a hurricanrana off the second rope by Danhausen and he's hip-tossing any-and-everyone in sight until Colten destroys him with a clothesline. The heels take over for a bit from here. Axe handle off the top by Caster. Danhausen with a reverse Northern Light's suplex to Caster and a tag to Dax.
Harwood hits the ring and lights up Austin and now Cash is in too. Stereo German suplexes on the Ass Boys from The Gunn Club. We see six or so in a row of these. Cash hits a plancha over the top to take out Colten. Austin reverses a hip toss into a version of the Quickdraw.
Danhausen is in now, pump kick to Austin. This leads to Danhausen looking for the GTS. Anthony Bowens gets out of his wheel chair and hits the ring. The heel commentators act shocked that he can walk. Bowens ends up taking out Austin Gunn with his crutches on accident. Danhausen follows in for the cover and gets the pin fall victory.
Once the match wraps up, we see The Gunn Club and The Acclaimed arguing over what just transpired with Anthony Bowens. Billy Gunn ends up shoving Austin to the mat. His sons end up walking away leaving him and heading to the back.
Winners: Danhausen & FTR
Jay Lethal With ROH Death Before Dishonor Challenge To Samoa Joe
We shoot backstage where Jay Lethal, Sonjay Dutt and Satnam Singh are shown standing together.
Lethal goes on to issue a challenge to Samoa Joe for a match for the ROH Television Championship at the upcoming ROH Death Before Dishonor pay-per-view.
TBS Women's Championship
Jade Cargill (C) vs. Leila Grey
We head back to the ring where TBS Women's Champion Jade Cargill is introduced. She makes her way to the ring accompanied by Stokely Hathaway and The Baddies.
Already in the ring is her opponent for this advertised title defense, Leila Grey. The bell sounds and we're off-and-running with this one.
We see Cargill immediately start to ragdoll and manhandle Grey. She beats her in what was nothing more than a squash match to retain her TBS Women's Championship.
Winner and STILL TBS Women's Champion: Jade Cargill
Interesting Actions After TBS Women's Title Bout
Jade Cargill in cocky fashion gets on the mic after the win and says next time she wants a challenge.
The TBS Women's Champion with a perfect 34-0 win/loss record tells Stokely Hathaway to find her some real competition.
Stokely claims to know why she's fired up, as she gave the opportunity to the locker room, and only someone who doesn't work here took the chance.
Hathaway tells Kris Statlander and Athena that they're not overlooked, they're lazy.
That leads to both women appearing and they attack Kiera Hogan and Jade Cargill, getting the best of the situation.
Leila Grey then ends up helping them, which allows them to come out on top. Grey then tries to shake Stokely's hand, but Cargill pushes it away. Interesting.
Young Bucks To Give Yoshi-Hashi An Opportunity At ..Another Potential Opportunity
We shoot backstage and see The Young Bucks standing by. The AEW World Tag-Team Champions point out that everyone is injured and no one is cleared to wrestle. They claim it's not even Brandon Cutler behind the usual "Cutler Cam" camera this evening.
Nick and Matt Jackson then go on to announce that they don't have any friends left except for the AEW Tag-Team Championships.
The duo mentions hearing that Yoshi Hashi and Goto want a shot at the AEW Tag-Team Championships after their respective performances at AEW & NJPW: The Forbidden Door this past Sunday night.
They announce that this Friday at AEW Rampage, they will compete against the team and if they somehow pull off the victory, they will then consider a title opportunity for them at some point in the future.
Blood & Guts
Jericho Appreciation Society vs. Blackpool Combat Club
We switch gears now and prepare for our advertised Blood & Guts match main event of the evening.
With that said, the ring announcer runs down the rules and then the massive steel cage is lowered down around the double rings.
The theme for the Jericho Appreciation Society hits and out comes Chris Jericho and his goons for tonight's scheduled headline bout.
J.A.S. settles inside the squared circle(s) and then their opponents start making their way out.
First, we hear the theme for Eddie Kingston and out comes "The Mad King" accompanied by Santana & Ortiz. The trio are then joined by AEW newcomer, fan-favorite Claudio Castagnoli.
One member from each team will start things off in this Blood & Guts main event and then one team will get a second competitor to enter for a temporary two-on-one advantage. The other team then gets their second to even things up. Then 3-to-2, 3-to-3, etc. until all members of the bout have entered.
Jim Ross is out to join the commentators for this main event. Also joining the commentary crew at the desk is the special guest commentator from the Blackpool Combat Club — William Regal.
Starting things off for their respective teams is Sammy Guevara for the J.A.S. team and Claudio Castagnoli for the Blackpool Combat Club. The fans are nuclear-level behind Castagnoli in Detroit.
Claudio sends Sammy into the corner and blasts the hell out of him with elbows and European uppercuts as Regal sings his praises on guest commentary.
We see Guevara try to climb and escape, but Castagnoli puts a stop to that and continues to beat him down. He goes for an elevator uppercut after launching Sammy, however "The Spanish God" counters in mid-air with a cutter.
Guevara is now joined by Daniel Garcia, as the J.A.S. member enters the mix for the heel team, giving them the two-to-one person advantage for the next couple of minutes.
We see Claudio try and fire up but the double-team disadvantage is too much for him. Guevara and Garcia beat down Claudio as the fans in Detroit try and rally him back into competitive form.
In next for the Blackpool Combat Club-and-friends team is Wheeler Yuta. He immediately hits his multiple-suplex series spot to the delight of the fans in the Little Caesers Arena.
Next in for the J.A.S. team is Jake Hager. The MMA and pro wrestling hybrid athlete shows his veteran savvy and dominance as he immediately makes a big impact on the match, shifting things back into the J.A.S. control.
The countdown clock appears again and now we get the addition of Jon Moxley — who brings a steel chair with him into the ring(s).
The Interim AEW Champion heads in and starts helping out the Blackpool Combat Club crew, taking it to J.A.S. and helping to shift the offensive momentum back in their favor.
We see Garcia get busted wide open and now each of the Blackpool Combat Club team members are hitting their finishing / trademark moves one after the other.
In next is Angelo Parker for the J.A.S. team. The action continues and we see all three members of the Blackpool Combat Club try and chase him around the ring. Castagnoli finally gets his hands on him and connects with a gut-wrench.
Shortly after this we see the J.A.S. utilize their one-man advantage and start to take over on offense. This doesn't last for long, however, as the countdown clock appears again and in comes Ortiz for the Blackpool Combat Club team.
We see Ortiz fight his way into the match despite Garcia trying like hell to stop him. Mox ends up entering the picture with a large broken shard of glass — which he, of course, uses as a weapon to up the violence level, Blackpool Combat Club-style.
We see Mox connect with a piledriver to Parker on the aforementioned shard of glass. Now he grabs another shard of glass and attacks Jake Hager with it, busting him open and turning his face into a red crimson mask in the process.
Matt Menard is in now, and he brings with him a steel chair, which he tries to immediately use to his advantage. Mox ends up as the next member of the match to have his face turn into a bloody mess.
Santana is down with a leg issue. Chris Jericho gets a hold of "Floyd" the baseball bat and is swinging and walloping any-and-everyone who gets within arms-reach of him.
We see thumbtacks enter the mix, and competitors literally start throwing handfuls of them into the faces and eyes of their opposition.
Tay Conti gets involved, but ends up getting taken out by Ruby Soho, who charges down to ringside from the back to keep her from playing too much of a factor.
Kingston and Jericho end up escaping out of the cage and climbing to the top. Sammy Guevara does the same.
We see some brawling between the three on top of the cage and then "The Mad King" ends up launching "The Spanish God" off the roof of the cage, where he crashes and burns going through the timekeepers table outside of the ring way down below.
Kingston and Jericho continue duking it out on top of the cage. Jericho goes for the Walls of Jericho, which he applies on Kingston, however Castagnoli ends up making it up there to provide the save for Kingston.
Now wesee Menard come to help out Jericho, as Claudio began a giant swing of the J.A.S. leader on top of the cage roof. Kingston locks a submission on Jericho while Castagnoli secures one on Menard. Menard taps out to give the Blackpool Combat Club team the victory in a very bloody, violent, and ultimately entertaining Blood & Guts Pt. 2 main event.
Winners: Blackpool Combat Club & Friends
It's time for #AEWBloodAndGuts main event here on the special post-#ForbiddenDoor edition of #AEW #Dynamite: #BloodAndGuts (#AEWDynamite) from @LCArena_Detroit live on @TBSNetwork (#WrestlingCommunity)

LIVE RESULTS & IMAGES: https://t.co/Vj2iBETtfQ pic.twitter.com/ZVQx04ak4t

— Matt Boone (@MattBoone0709) June 30, 2022
Damn … #StokelyHathaway already making waves in #AEW with #TheBaddies and #JadeCargill post-match angle after TBS Women's Title bout at #AEW #Dynamite #BloodAndGuts this evening! Full #AEWDynamite results & #PHOTOS at the link below!

LINK: https://t.co/Vj2iBESVqi pic.twitter.com/eb3Ktkw7IL

— Matt Boone (@MattBoone0709) June 30, 2022
In case you're unable to watch #AEWDynamite as it airs on @TBSNetwork tonight from @LCArena_Detroit, follow my results coverage of the #AEW #BloodAndGuts special post-#ForbiddenDoor edition of the show @Rajah_News and/or @PWMania all-show-long! #OrangeCassidy gets NEW theme song! pic.twitter.com/sfHcTEmImE

— Matt Boone (@MattBoone0709) June 30, 2022
Special #FirstLook at the set inside the @LCArena_Detroit in Detroit, MI. for tonight's post-#ForbiddenDoor edition of #AEW #Dynamite — the #AEWDynamite #BloodAndGuts special~!! (#PHOTOS)

MORE PICS AT LINK: https://t.co/aNARDGXuBP pic.twitter.com/Yv6Ho9LYCV

— Matt Boone (@MattBoone0709) June 29, 2022
See the fallout from #ForbiddenDoor on the #BloodAndGuts edition of #AEWDynamite TONIGHT LIVE at 8pm ET/7pm CT/8pm PT on @TBSNetwork!
–#JerichoAppreciationSociety v #BlackpoolCombatClub
-We hear from @Christian4Peeps! pic.twitter.com/oUAuypiWXz

— All Elite Wrestling (@AEW) June 29, 2022