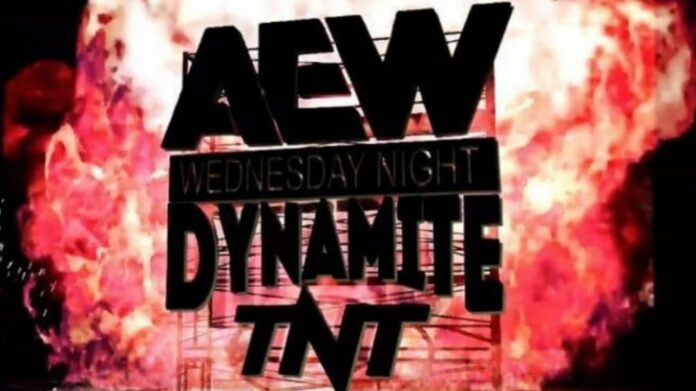 AEW Dynamite Results – January 15, 2020
Tonight is All Elite Wrestling Bash at the Beach celebrating a new TV deal, on TNT from Miami, Florida at the Watsco Center at the University of Miami. Our announcers are Jim Ross, Excalibur, and Tony Schiavone and we start off with a title card for Rocky Johnson, who passed away.
The start is a four way tag team match with all four teams in the ring.
The Young Bucks vs Page and Omega vs Santana and Ortiz, vs The Best Friends with Orange Cassidy. The winner gets a shot at the Tag Team Titles, held by SCU
Trent and Nick start us out, and I will not be giving play by play, but instead will bullet point the big parts of the match.
Trent has a power advantage, but Nick fights back with speed.
Nick tags in Page and Beretta tags in Chuck and they run the ropes.
Chuck tags in Omega and Page tags in Matt
As they tie up, Santana and Ortiz rush the ring and take over.
Santana gets a tag from Matt as Ortiz grabs Matt's hand and forces the tag. He starts beating on Omega, and Kenny is hit with a blind tag by Nick. Omega gets a pin, but Nick lets him know that he is not the legal man.
Santana tags in Ortiz who takes out both Omega and Nick while they are talking, which leads to a three man attack by the Bucks and Omega attack Ortiz.
Trent tags in and Matt tags in for some Young Bucks moves on Trent. Matt hits a series of cool suplexes until Trent is able to reverse a move.
Trent tags in Chuck, and Chuck gets moves on both of the Bucks until he gets a two count on Matt until Ortiz breaks it up.
Santana and Ortiz break up the Best Friends hug and knock Page and mega off the apron.
Now we have Santana and Ortiz double team Matt as the heels of the match. They then each leap onto the wrestlers outside the ring on different sides. Santana works over Matt afterwards trading off the stalling vertical suplex.
Matt is close to a hope tag, but Ortiz pulls Nick off the apron. Matt is able to crawl to tag in Omega.
Omega is able to take control by taking on Santana and Ortiz separately and we get snap dragon suplexes. Trent tags in and gets one as well. Omega gets the You Can't Escape, and he and Omega hit him with moonsaults, and the Page hits another moonsault on the people outside the ring.
Santana gets an Escalera on Page and Omega outside the ring. Then we get all kinds of leaps onto people outside the ring. BODIES FLYING EVERYWHERE!!
Back in the ring, it's Omega and Trent and they slug it out. Eventually we set up for a multi-man suplex and the ref takes a bump. This brings in Orange Cassidy who helps his side hits the suplex. This is followed up by the Best Friends hug, and the Best Friends hitting pile drivers on Omega and Page.
Best Friends hit Omega with Zero Hour and the pin is broken up by the Young Bucks. The crowd is loving this as they chant for it.
The Best Friends dominate all comers until Santana and Ortiz come in and take them out, Then everyone gets a spot to shine and it ends with the Bucks in control. Page steals a tag in, and he and Omega win with the combination V-Trigger Buckshot lariat on Chuck of the Best Friends for a three count.
Your Winners, Kenny Omega and Adam Page
The announcers put over the Omega and Page stole the win after the Bucks did the heavy lifting. We got commercial and the teams go to the back during the ads,
When we get back, we get a rundown of the upcoming matches and they run down how it affects matches next week. But there's no time to chat as it's time for Cody to come to the ring to answer MJF dressed in his finest Miami Vice suit.
Cody says that he asked MJF what it would take for a match. Cody shows the stipulations on his power point presentation. He starts from the bottom up, a steel cage match with Wardlow. Cody says he thinks the crowd will think that when they see Wardlow, they will think MJF should be carrying Wardlow's bags. The crowd calls MJF BagBoy. Cody then talks about having to take 10 lashes on live TV. Cody says MJF is mistaken if he thinks that will break Cody. The last stipulations, is that he can't touch MJF.
Cody says he has no problem with it, and MJF and stalling. Cody says that he is desperate to be famous and his parents paraded him on TV when he was a child. Cody then runs down MJF and accepts all of the stipulations and he will teach MJF that he is just a chapter in Cody's story and at Revolution, he will give MJF his own score.
It's commercial time and Chili's has the same jingle as they did 20 years ago, Doritos don't need to name the chip in the ads, and Terminator bombed so badly it's available digitally right now.
We come back to a video from Joey Janella, and he's not happy he was attacked by Penelope Ford. He dares Kip Sabian to fight him. Last year, Joey's record wasn't great, but he's ready to prove himself against Ray Fenix next week.
Back at the arena, the Nightmare Collective is on its way to the ring. Brandi and Mel with Luthor on their way to the ring. Then, Kris Statlander comes in and gets in the face of Brandi, and Mel steps between them. Hikaru Shida comes to the ring and is the number one contender for the title.
Brandi and Mel vs Statlander and Shida
Brandi and Mel attack Kris in the ring, and Shida pulls out a Kendo stick and attacks Luthor as she comes to the ring to help Kris. Shida runs them off and when the Kendo stick is dropped, Mel attacks Shida. She tosses Shida around the ring until Shida is able to hit a Rana on Mel. Statlander does a moonsault (that misses completely). Shida brings over a chair and uses it to get a leaping, running knee strike.
Mel is tossed back into the ring, and Statlander and Shida do a double drop kick to get a two count on Mel. Shida gets distracted by Brandi, and Mel hits her with a kick and leg drop before tagging in Brandi. Brandi gets a two count, and follows it up with a series of heel-ish attacks. While the ref is distracted, Mel comes in and takes over the match.
We get commercials without picture in picture, which is kind of weird.
When we get back, Mel is still in control and gets a two count on Shida. Mel locks in a headlock and Shida struggles to fight out. Shida is able to break away and hit a knee strike. Statlander is tagged in at the same time as Brandi, and Brandi drops to her knees and begs not toe be attacked. Statlander has none of it and hits kicks and clotheslines on Brandi. She pins Brandi and Mel breaks it up at the two count. Shida comes in with a drop kick and Mel and Shida fight outside the ring. Inside the ring, Brandi gets a spear on Statlander and a two count. Brandi tags in Mel, who hits a swinging slam and a two count.
Mel climbs to the top and Shida comes in, and hits an avalanche suplex, followed by a knee strike by Statlander for a one count. Statlander hits and standing moonsault, and while Shida tries to keep Brandi out of the ring, Brandi makes it in the break up the pin at a two count. Mel is able to fight her way out and get a double clothesline on Shida and Statlander. Statlander reverses a pickup by Mel and hits a pile drive on Mel for the three count.
Your Winners: Statlander and Shida
It's time for a video on who are the Dark Order. We are shown that Michael Nakazawa is being recruited, Omega is harder to get to, Brandon Cutler is also a target but has an allegiance to the Elite. Page is growing distant from the Elite.
As that finishes, Sammy Guevara is on his way to the ring to compete for a chance to be in the number one contender's match next week. As he enters the ring, we get more commercials.
We come back to the ring and the crowd is chanting for Moxley. Mox shows up in his car, now worth $750,000. As he comes to the ring, we see his attack on Jericho last week.
Mox vs Sammy Guevara
Sammy starts by attacking Mox. Mox is able to turn the tables and it's a chop fest. Sammy is tossed to the turnbuckle, flips out of it, struts only to be clotheslined by Mox. Mox gets a quick cover for a one count. Sammy nails a few hits and hits a cutter and then flips onto Mox outside the ring. Mox is tossed back into the ring, and Sammy teases a top rope move, but instead just drops down and struts again.
Mox ends the strut with a slap. Mox then hits a running knee strike and tosses him to the mat and gets a two count. They battle to the apron, and Sammy is able to get the upper hand with a leaping double knee strike to Mox. They battle outside the ring, ending with Mox being tossed into the ring steps. Sammy comes back out and tosses Mox into the ring, hits Mox with a knee strike and a two count as it's time for commercials. Sammy keeps control in the small screen and Chili's has another ad. Geez, they want AEW fans to buy those baby back ribs.
We get back as Mox was able to hit a superplex at the end of the commercial break. Mox attempts a back suplex, but Sammy is able to land on his feet, hit Mox with a standing shooting star press and a two count on Mox. Sammy is able to roll up Mox for another two count. When Mox escapes, he reverses and is able to hit Sammy with a NASTY looking DDT for a two count.
Mox pulls Sammy to the corner. Sammy escapes and hits a Suplex off of the top rope. They trade hold and Sammy is able to hit a jumping knee to Mox and gets a two count. Sammy goes for the Moonsault press, and Mox is able to grab him in a rear choke, and Sammy taps out.
Your winner: Mox
Jericho comes out and the lights go dark. When the lights come up, it's Santana, Ortiz, Jericho and Hager in the ring to attack Mox. As Hager holds Mox, Jericho whips Mox with the title belt. They then hold Mox as Hager does a running knee to the crotch. Santana and Ortiz hold Mox and Sammy starts beating Mox and Jericho takes a spike off of his jacket. Jericho hits Mox in the eye and JR yells for the trainers.
Officials come to the ring to break it up and we go to commercial.
When we come back, Mox is being helped to the back. Backstage, Jericho finds Jen Decker. Jericho says it was all Mox's fault. Jericho keeps making eye references and whoever wins the next match will get an easy ride to the number one contender. He lets us know they will beat Jurassic Express next week. Sammy then tells Jen to look him up.
Coming to the ring is Butcher, the Blade with the Bunny. They are followed by MJF with Wardlow. They are followed by Dustin Rhodes who is tougher than a two dollar steak. QT Marshal is with him, but doesn't rate an introduction. I wonder who will be taking the pin…
Coming to the ring next is DDP as we see MJF has a "I Banged DDP's Daughter" shirt. Probably not available at Pro Wrestling Tees.
Diamond Dallas Page & Dustin Rhodes & QT Marshall vs. The Butcher & The Blade & MJF
Page starts with MJF, but MJF tags in Butcher. Page responds by tagging in QT, which leads MJF to tag himself back in. They run the ropes with no one getting an advantage. QT starts to get offense but MJF okes him in the eye. He brings QT to his corner and tags in Blade who works QT over. QT gets a cross body to tag in Dustin. Dustin is able to maintain control with strikes until MJF hits him with the Dynamite Diamond.
Blade gets a two count and then tosses Dustin to the floor. Dustin gets nailed by Wardlow and tossed into the ring as we go picture in picture.
We get back to MJF beating down Dustin. Dustin starts fighting his way out of a chinlock. Dustin is able to escape, is tossed to the corner, where he takes out Butcher and Blade and then backdrops MJF out of the ring. Dustin falls to the mat, exhausted and starts crawling to his corner. Outside the ring, Butcher takes out QT, inside the ring, Dustin gets a power slam on Blade and he gets the tag to DDP. MJF is in the ring and Page is able to do the ten head slams into the turn buckle.
DDP is able to take out Butcher and Blade. DDP hits a Diamond Cutter on Butcher, and grabs MJF, but MJF escapes with a low blow. Dustin tags himself in and its a destroyer on MJF. DDP gets a Diamond cutter on MJF, and Dustin covers MJF for a two count, broken up by Blade. Dustin tags in QT and it's time for each of the baby faces to dive onto the heels. Including DDP!!!
As everyone is recovering, MJF rolls up QT for the three count.
Your winners, Butcher, Blade and MJF
In the back, Jen Decker starts to interview SCU and Adam Page shows up to interfere. They all start shoving until Kenny shows up to send Page away. Kenny says next week, it will be a gentleman's contest. They hype the cage match in Atlanta between Cody and Wardlow. It's commercial time as we prep for the main event.
Back to the show, Pac is on his way to the ring and the graphic asks if his Kenny Omega obsession will affect his concentration tonight. He is followed by Darby Allen skateboarding to the ring with a HUGE chant from the crowd.
Pac vs. Darby Allin.
Darby stalks Pac and they circle each other before the lock up. Pac takes down Darby and they follow by running the ropes. It ends with Darby hitting a drop kick. As Darby goes for another move, Pac hits a tilt a while back breaker. They trade a few blows until Darby hits a shotgun drop kick and a tope suicida through the second rope twice. Darby tries to follow with a rana, and Pac grabs him and swings him into the ring steps as we go to commercial. Pac keeps beating him down outside the ring as we get our last batch of commercialism.
When we get back, Pac has Darby on the mat and we see Darby take a power bomb onto the steel steps. Pac hits strikes outside the ring, rolls him in and hits a missile drop kick into a two count. Darby struggles to get up and Pac helps him by pulling him up by the head and takes him to the top rope. Darby starts fighting back and hits a crucifix on Pac. As Pac goes out of the ring to recover, Darby hits the coffin drop from the top rope. Pac struggles to get up to beat the ten count. When Pac gets in, Darby goes over the top of Pac for a stunner, and follows it with a Destroyer and a two count.
They both struggle to get to their feet. Pac goes outside and ring and when Darby tries to get a baseball slide, Pac traps him the ring skirt and nails him with a kick. Pac rolls Darby in, hits a clothesline and pins Darby for a two count. Pac take too long for his next move, Darby punches him, and they start exchanging roll up pins. Darby tries another coffin drop and Pac turns it into a German suplex. Pac power slams Darby for another two count. They get up to the turn buckle, and they battle until Pac hits a head butt. Pac hits a black arrow on Darby and rolls him over for a three count.
Your winner and the other person in the Number One contender's match is Pac.
Tony Schiavone goes to the ring to speak with Pac. Pac says that he needs to congratulate him. Pac also says that Mox won't be able to compete, so it's a forfeit. Pac says that Jericho better look out, but we have to go to the back where Mox is getting out of the ambulance as people try to stop him. Mox says it isn't going down like that, and Mox will fight if he's blind, half dead and the title shot belongs to him. The officials tell Mox go stay on the ramp as we go to credits.
Credit: PWInsider.com