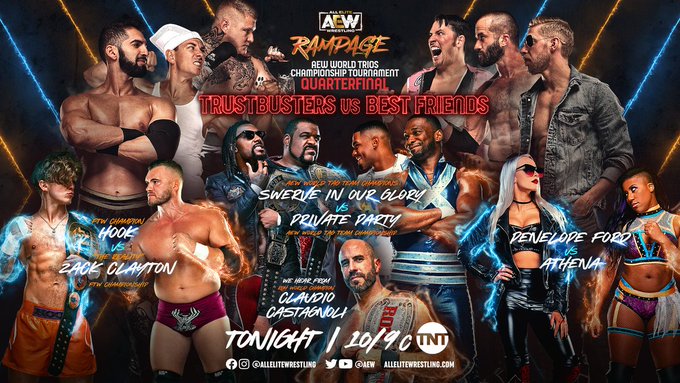 It's Friday night, and you know what that means …
All Elite Wrestling returns from Charleston, West Virginia with the latest installment of their weekly one-hour AEW on TNT television program.
On tap for tonight's episode of AEW Rampage is Swerve In Our Glory vs. Private Party for the AEW Tag-Team Titles, The Truthbusters vs. Best Friends & Orange Cassidy in the AEW Trios Tournament, Athena vs. Penelope Ford, as well as comments from ROH Champion Claudio Castagnoli.
Featured below are complete AEW Rampage on TNT results from Friday, August 19, 2022.
AEW RAMPAGE RESULTS (8/19/2022)
This week's show kicks off with the usual, "This is Rampage, baby!" theme song and opening video package and then we shoot inside the arena in Charleston, W.V.
We hear the commentators welcome us to the show and then they send things down to the ring as we get ready for our first bout of the evening.
Claudio Castagnoli Kicks Off The Show
Kicking off this week's show is a segment featuring ROH World Champion Claudio Castagnoli. He starts off the show by pointing out that he is in front of one of his idols and a man who helped train him — Ricky "The Dragon" Steamboat.
As he continues to talk he brings up wanting to be in his ring gear fighting tonight. He goes on to issue an open challenge for next week and accepting is the man who comes out now, Dustin Rhodes.
Rhodes brings up their similarities and how they both have had hard fought battles and each dreamed of being a world champion. He says Claudio finally captured that goal and he vows to bring the best "Natural" Dustin Rhodes you have ever seen in your life when they meet in the ring next week.
Lexy Nair With Ruby Soho & Ortiz
We shoot backstage with Lexy Nair who is standing by with Ruby Soho and Ortiz. They issue a challenge for next week, last night, tomorrow, five years, twenty seconds — whenever it can be arranged.
AEW Tag-Team Championship
Private Party vs. Swerve In Our Glory (C)
We head back to the ring where Private Party's theme hits and out comes Marq Quen and Isiah Kassidy for their shot at AEW gold.
They head to the ring and settle inside and their music dies down. Now the theme for Shane "Swerve" Strickland hits and he comes out. He stops and Keith Lee's music hits and the duo known as Swerve In Our Glory head to the ring for their defense of the AEW tag-team titles.
The bell sounds and this one gets off-and-running. We see some great, fast-paced back-and-forth action in the early goings and then after Private Party hits a big splash to the floor spot, we head to a mid-match, picture-in-picture commercial break as the action continues.
As we settle back in from the break, we see the champs nearly finish off Private Party three or four times in a row, only for the challengers to continue to find a way to hang on and keep this match alive. Finally we see them hit their finisher for the win.
Winners and STILL AEW Tag-Team Champions: Swerve In Our Glory
Powerhouse Hobbs Confronts The Factory About Ricky Starks
We shoot backstage at Powerhouse Hobbs confronts QT Marshall and The Factory about not shutting up the whiney ass b*tch, Ricky Starks. They vow to do exactly that and Hobbs walks off.
FTW Championship
Zack Clayton vs. Hook (C)
Zack Clayton's theme hits and out he comes. He gets on the mic and trashes West Virginia before vowing to take the FTR title to New Jersey.
The theme for the FTW Champion hits and out comes Hook to the sounds of Action Bronson. The new title-holder heads to the ring to a nice pop as the commentators sing his praises.
We hear the bell and literally Hook slaps the Red Rum on and within seconds forces the tap from the challenger for an easy, successful title defense.
Winner and STILL FTW Champion: Hook
What If FTW Title Were Held By A Sports Entertainer?
We shoot backstage where members of J.A.S. talk in their over-the-top fashion about being offended that Hook thinks he's a tough guy. They ask what if the FTW title were held by a sports entertainer? What if?
Billy Gunn & The Acclaimed Coming For The Gunn Club
We shoot to Lexy Nair backstage and she is standing by with Billy Gunn. He is asked about his sons beating him up on Dynamite. He says they finally put their big boy pants on, but with the wrong people and at the wrong time. He says he's bringing some friends to spank their asses next week.
Buddy Matthews vs. Serpentico
The House of Black are introduced and out comes Buddy Matthews and Julia Hart. They settle in the ring where Matthews' opponent, Serpentico, is waiting for him.
The bell sounds and we're off-and-running with this one. We see Matthews dominate the action from the word go and within a minute or two he hits his pump-handle finisher and scores the easy win.
Winner: Buddy Matthews
Miro Attacks Buddy Matthews & House Of Black
Once the match wraps up, the theme for Miro hits and out he comes. He throws the mask of Malakai Black in the aisle and out-stretches his arms in defiance. He ends up hitting the ring and beating down Buddy Matthews. He yells and asks where the peagans are. He blasts Matthews and knocks a tooth out as he sends him to the floor.
Britt Baker, Rebel & Jamie Hayter Backstage Segment
Britt Baker is backstage with Rebel and Jamie Hayter and after some insults to Toxic Attraction via clever word-play, they make some comments aimed at Toni Storm and then wrap up the quick segment
Penelope Ford vs. Athena
Penelope Ford's music hits inside the arena and out comes the women's wrestling star to the ring for our next match of the show.
She settles inside and then the lights go down and the theme for Athena hits. "The Fallen Goddess" emerges and heads to the ring for this one-on-one showdown.
As the action gets underway we see a shot of Kip Sabian, Penelope's husband, in the crowd still doing his box-head "over it" routine. As Ford jumps into the offensive lead we head to a mid-match commercial break.
We return from the break just as Athena is connecting with a running dropkick to Ford, who is leaning up against the steel barricade. She immediately follows up with her top-rope finisher and gets the pin fall victory.
Winner: Athena
Jade Cargill & The Baddies Attack Athena
Once the match wraps up, The Baddies attack Athena from behind. Jade Cargill comes out with a sledgehammer. She bashes it on the goddess wings that Athena wears for her entrance. She then hits the ring and blasts Athena in the gut with a sledgehammer shot.
AEW Trios Tag-Team Title Tournament
Trustbusters vs. Orange Cassidy & The Best Friends
We hear Excalibur run down some announced action for next week's Dynamite and Rampage, as well as the upcoming AEW ALL OUT pay-per-view and then we are sent into another commercial break.
Upon returning from the commercial, we are sent to Mark Henry who is ready for his weekly pre-main event interview segment.
Briefly, we hear comments from the Trustbusters and the trio of Orange Cassidy and The Best Friends. The six men hype up their upcoming showdown in our tourney main event.
"The World's Strongest Man" wraps up the segment with his usual, "it's been enough talk" catchphrase and sends us back inside the arena, where we head back to the ring and our commentary team set the stage for our final match of tonight's show.
Ariya Daivari, Parker Boudreaux and Slick Jay are ready on one side of the ring, and the team of Orange Cassidy, Chuck Taylor and Trent Baretta are ready on the other.
The bell sounds and we're off-and-running with this one. We see Slick Jay getting rag-dolled around the ring but he eventually gets in some offense. He tags in Daivari, but he too finds himself falling victim to Cassidy and Best Friends.
Boudreaux ends up tagging in and he leads the first offensive run for his trio. The action spills out to the floor and he continues to dominate out there, throwing bodies all over the place at ringside.
We return from the break to Jay mocking Cassidy to his face with the hands-in-the-pockets dramatic gesture routine. This leads to him getting dumped on his head with his hands still in his pockets from behind by Best Friends.
Cassidy tags in and goes on a run, hitting some "dynamic offense," as the "Wizard" Chris Jericho puts it, doing his "sweet shin music" style routine. We see Cassidy tossed off the top by an interfering Sonny Kiss and other situations where the "Freshly Squeezed" one has to hang on tight to survive and keep this match going. Danhausen puts a curse on Slim Jay that leads to the finish, which sees the team of Cassidy and Best Friends pick up the win to advance in the ongoing AEW Trios Tag-Team Title Tournament.
#AEWRampage TONIGHT @ 10/9c on TNT
–#AEW World Tag Titles Swerve In Our Glory v Private Party
-FTW Open Challenge HOOK v Zack Clayton
–#AEW Trios Tournament QF: Trustbusters v Best Friends & Orange Cassidy
-Athena v PenelopeFord
-We hear from ROH World Champion Claudio Castagnoli pic.twitter.com/BuCjXAlEFg

— All Elite Wrestling (@AEW) August 20, 2022