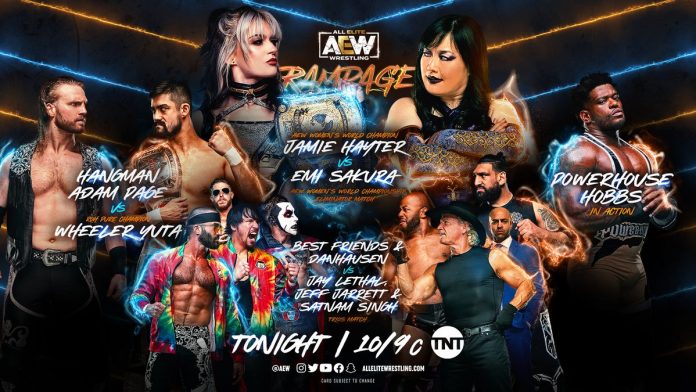 It's Friday night, and you know what that means …
All Elite Wrestling returns this evening with the latest installment of their AEW Rampage series.
On tap for tonight's one-hour AEW on TNT program from Rupp Arena in Lexington, KY. is "Hangman" Adam Page vs. Wheeler Yuta, Powerhouse Hobbs will be in action and Emi Sakura takes on AEW Women's Champion Jamie Hayter in a Women's Title Eliminator.
Also scheduled is a six-man tag-team match pitting Danhausen & The Best Friends against the trio of Jay Lethal, Jeff Jarrett and Satnam Singh.
Featured below are complete AEW Rampage results from Friday, January 27, 2023. The following report was written by PWMania.com reporter Matt Boone (@MattBoone0709) as the show aired live from 10-11pm EST. on TNT.
AEW RAMPAGE RESULTS (1/27/2023)
And the "This is Rampage, baby!" theme and video package airs to get this week's show off-and-running. We then shoot inside the Rupp Arena in Lexington, KY. where the commentators welcome us to the show.
"Hangman" Adam Page vs. Wheeler Yuta
The commentary team of Excalibur, Jim Ross, Tony Schiavone and Chris Jericho set the stage for our opening contest, with both competitors involved already in the ring and ready to roll.
With that said, the bell sounds and we're off-and-running with "Hangman" Adam Page going one-on-one against Blackpool Combat Club's own Wheeler Yuta. We see these two get after it straight out of the gate.
"Hangman" starts to settle into the offensive driver's seat, taking it to the BCC member and ROH titlist. He knocks him out to the floor and flies over the top-rope with a big splash on Wheeler. The fans react with a loud "Cowboy sh*t!" chant.
With page firmly in control of the action, we head to a mid-match commercial break. As we return from the break, we see the former AEW Champion still in the offensive driver's seat, but not for long, as Yuta starts to put together some fast-paced offense and connects with some big high-risk spots that pays off.
Yuta rides the offensive lead for a bit but "Hangman" ends up shifting the momentum back in his favor after slugging it out with him in the corner. He brings him to the top-rope and soars off with an avalanche death valley driver for a super close near fall.
The two trade some back-and-forth spots and then Yuta hits a huge one on the floor that looks to get this one in the bag for him. He brings Page back into the ring and heads to the top-rope. He comes soaring off but onto the waiting knees of Page. Page rolls him up but Yuta kicks out.
Page hits a big lariat that decks Yuta. He heads out to the ring apron and sling-shots himself in for the Buckshot Lariat, however Yuta sees it coming and counters it. He knocks Page down and heads back to the top, soaring off and connecting with a frog-splash for a super close near fall.
"Hangman" fights his way back into the offensive lead again. He hits a rolling elbow to the point of the jaw on Yuta. Yuta tries biting at the head of Page, The two reverse each other on the ring apron and "Hangman" sling-shots himself in and connects with his Buckshot Lariat.
It looks like Page has this one finished but he decides instead to pick Yuta up. He hits him with the Paradigm Shift to send a message to Jon Moxley. He then covers him and scores the pin fall victory. He gets into the camera and asks if Mox saw that and then tells him he'll see him next week.
Winner: "Hangman" Adam Page
Action Andretti, Ricky Starks With Words For Le Sex Gods
We send things to a special message from Action Andretti and Ricky Starks, who are shown backstage immediately after their match with Sammy Guevara and Chris Jericho at AEW Dynamite this past Wednesday night.
The two point out how they didn't lose to Le Sex Gods, rather, they lost to the two after interference and use of a baseball bat. They each make it clear that they want the two in the ring again. After this airs, we head to another commercial break.
Eddie Kingston With A Message For Ortiz, The House Of Black
Now we return from the break and we see Eddie Kingston backstage. "The Mad King" is fired up, asking if this is what everyone wanted. Kingston tells Ortiz if he's got a problem, come see him. He tells The House of Black, "I feel you. I'm ready to come home."
Jay Lethal, Jeff Jarrett & Satnam Singh vs. Danhausen & The Best Friends
We head back inside Rupp Arena in Lexington, KY. where Jay Lethal, Jeff Jarrett and Satnam Singh make their way to the ring accompanied by Sonjay Dutt. They settle inside the ring for this scheduled trios contest.
The theme for The Best Friends hits and out comes Danhausen, Trent Beretta and Chuck Taylor. Orange Cassidy is in their corner with them.
As both teams of three settle in the ring, we see Danhausen has a ukulele to Jarrett's guitar. Singh ends up getting it and breaking it. Lethal and Taylor kick things off for their respective teams.
Taylor gets the better of Lethal and then tags in Trent. He and Trent hit double elbows on Lethal and then Trent settles in where Chuck left off, taking it to Lethal. Lethal fights back and tags in Jarrett, who goes to work on Trent with chops.
Danhausen tags in and the fans go wild as he gets in a few shots. The commentators talk about him selling a lot of merchandise. The three clean house together, including knocking the massive Satnam Singh off the ring apron.
The trio go to give the people what they want, like they've got to do, of course, when they are stopped and the heels take over. Singh ends up in the ring and he beats down Trent and launches him to the floor. Jarrett tags back in and the heels are in the offensive driver's seats as we head to a mid-match commercial break.
When we return from the break, we see Lethal working over Trent, who is starting to make a comeback. He makes the much-needed tag to Chuck Taylor. Taylor takes the hot tag and comes in cleaning house of any-and-everything that moves.
Taylor gets Jarrett in the figure-four leg lock. Lethal comes off the top with an elbow to try and break it up, but Taylor does a sit-up and Lethal misses him. The crowd pops but then Satnam Singh comes into the ring and breaks it up.
Danhausen comes into the ring and goes nose-to-belly-button with the massive man. The crowd explodes. Danhausen then starts pounding away with body shots. He hits the ropes and comes off with a clothesline to the stomach but after that, Singh has had enough of the goofing around, as he manhandles Danhausen.
Singh ends up getting dropped to one knee from The Best Friends. Danhausen drops him over the middle rope throat-first. The Best Friends follow-up and do the same. Orange Cassidy hits Sonjay Dutt on the floor with the Orange Punch. In the confusion, Jarrett uses the Golden Globe award from Paul Walter Hauser and hits The Best Friends with it to score the cheap victory.
Winners: Jay Lethal, Jeff Jarrett & Satnam Singh
Dr. Britt Baker Approaches Ruby Soho After Dynamite Interference
We are reminded that Ruby Soho defeated Toni Storm after a distraction assist from Dr. Britt Baker, D.M.D. at Dynamite. With that said, we head to a special message from Renee Paquette with Soho when Baker confronts her.
The two make it clear that they don't like each other, but when Baker breaks it down and tells Soho she needs to pick a side, she tells her it'd be wise to pick hers. She walks off.
Powerhouse Hobbs vs. Tony Mudd
Now we head back inside Rupp Arena and out comes Powerhouse Hobbs to the ring for our co-main event of the evening here on Rampage. Already in the ring is his opponent, Tony Mudd.
The bell sounds and we're off-and-running with this one. J.R. calls Hobbs a blue-chipper and points out that he only uses that phrase for a select few great talents. Hobbs runs across the ring and nearly be-heads Mudd with a huge clothesline coming out of the gate.
After a couple more power-display-friendly moves and praise from the commentators, we see Hobbs finish off Mudd with ease in this squash match victory.
Winner: Powerhouse Hobbs
Dante & Darius Martin Extend Challenge To The Elite
We shoot to a special message from the Martin brothers when Darius and Dante Martin talk about winning the 300k match and then their victory over The Young Bucks recently. They mention getting AR Fox to join them and extend a challenge to AEW Trios Champions The Elite.
Dustin Rhodes Confronted By Mogul Affiliates
We shoot to Renee Paquette conducting an interview with Dustin Rhodes when in walks The Mogul Affiliates. Shane "Swerve" Strickland goes too far when talking about Dustin's family, bringing up himself and his brother, but pushing the right button when he mentions "The Natural's" father.
The two go face-to-face and have to be separated. After this, we head to another commercial break.
Jade Cargill Confronted By Red Velvet
We shoot backstage when we return from the break and we see Jade Cargill and Kiera Hogan standing by when up walks former members of The Baddies.
Red Velvet says she was always one of The Baddies from day one but now that they aren't on the same page, she wants to extend a challenge to "That B*tch" and vows to make her record 49-1 when they meet next week. She walks off to end the quick backstage segment.
AEW Women's Title Eliminator
Jamie Hayter (C) vs. Emi Sakura
Now we return inside Rupp Arena where the women's wrestling legend from Japan, Emi Sakura, makes her way down to the ring for our scheduled main event of the evening.
As she settles inside the ring, her music dies down. Now the theme for the reigning AEW Women's Champion hits and out comes Jamie Hayter as fireworks explode and the fans in Lexington give her a huge pop.
The two women are settled in the ring now and the bell sounds to get this AEW Women's Championship Eliminator main event of this week's AEW Rampage off-and-running.
We see Hayter taking it to Sakura early on as the fans chant the name of the reigning women's title-holder. The action spills out to the floor where Sakura starts to fight her way into the offensive lead.
Sakura is shown bickering back-and-forth with Dr. Britt Baker, D.M.D. at ringside as she continues to dominate Hayter. The action resumes inside the squared circle, where the Japanese star continues to punish the AEW Women's Champion.
With Sakura in a firm offensive lead in the match, we head to another commercial break with the bout still in progress. When we return from the break, we see Sakura still controlling Hayter, but not for long.
The AEW Women's Champion starts to fight from underneath back into competitive form, and eventually, into the offensive lead as the fans rally behind her inside the Rupp Arena. She hits a big near-finisher for a close pin fall attempt, but Sakura keeps this one alive by kicking out.
As Sakura is in the sitting position on the mat, Hayter hits the ropes with authority and comes off them with a sliding lariat for a close near fall. Sakura kicks out again and this one continues. Hayter hits a crazy spot on Sakura coming out of the corner and then plays to the crowd as she heads to the top-rope backwards.
She goes for a moonsault but Sakura moves and then rolls her up for a close near fall, which Hayter kicks out of. She hits a Tiger Driver on Hayter for another close pin attempt.
Now Sakura heads to the top rope looking for a moonsault with Hayter laid out on the mat. She connects and goes for the pin fall cover, but again Hayter refuses to be put away, kicking out after the referee reaches a count of two-and-a-half.
Sakura picks Hayter up and slaps her across the face. Hayter reacts with a huge lariat that turns Sakura inside-out. She picks Sakura up looking for the Rip-Cord Hayter-Aid, but Sakura avoids it.
Hayter ends up connecting with a huge counter-lariat as Sakura goes for a move. She then follows it up with the Rip-Cord Hayter-Aid and gets the pin fall victory in a great main event here on Rampage.
Winner: Jamie Hayter
We're ONE HOUR AWAY from #AEWRampage on @tntdrama; tune in right now! pic.twitter.com/RY8QLOdGnw

— All Elite Wrestling (@AEW) January 28, 2023