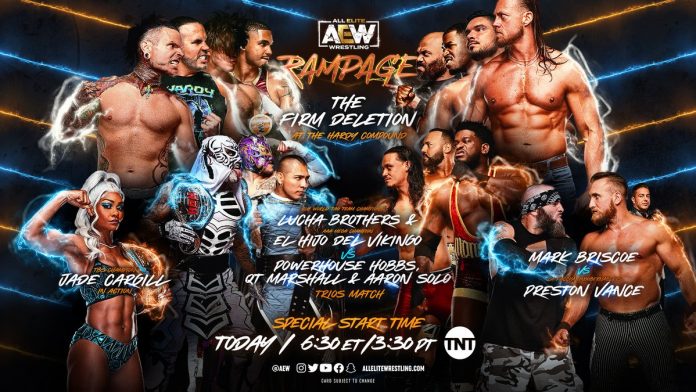 It's Friday, and you know what that means …
.
All Elite Wrestling returns from the CFG Bank Arena in Baltimore, Maryland with this week's episode of AEW Rampage.
On tap for tonight's one-hour AEW on TNT program is The Firm Deletion at The Hardy Compound, The Lucha Bros & El Hijo del Vikingo vs. Powerhouse Hobbs, QT Marshall & Aaron Solo, Mark Briscoe vs. Preston Vance, as well as Jade Cargill in one-on-one action.
Featured below are complete AEW Rampage results from Friday, May 5, 2023. The following report was written by PWMania.com reporter Matt Boone (@MattBoone0709) as the show aired live from 6:30-7:30pm EST. on TNT.
AEW RAMPAGE RESULTS (5/5/2023)
The regular "This is Rampage, baby!" theme hits to get us off-and-running at the special start-time of 6:30pm EST. on TNT with this week's episode of AEW Rampage.
The Lucha Bros & El Hijo del Vikingo vs. Powerhouse Hobbs, QT Marshall & Aaron Solo
From there, Jim Ross welcomes us to this week's show and then he is joined by Excalibur and Tony Schiavone on commentary for this one. We shoot to the ring and we see QT Marshall, Aaron Solo and Powerhouse Hobbs as well as The Lucha Bros and El Hijo del Vikingo in the ring.
The bell sounds and we're officially off-and-running with the first match of the evening, which will be Trios action. Del Vikingo and Marshall kick things off for their respective teams and it is the Lucha Libre star who jumps into the early offensive lead.
Fenix and Solo tag in for each team after a couple of minutes and we see The Lucha Bros member continue the offensive lead for the baby face trio. He rolls for a knee-bar but Solo escapes and tags in the big man.
Powerhouse Hobbs tags in and Fenix tags in Pentagon, who comes off the top and splashes on Hobbs. The two then go face to face and Penta out-smarts him early on, but the former TNT Champion runs over him with a big clothesline. He takes out Fenix and Del Vikingo when they try and come in as well.
As the heels continue to control the action, we head to a mid-match commercial break as the opening contest continues. When we return, we see Solo working over Penta and then tagging in Hobbs, who picks up where he left off, taking it to one-half of The Lucha Bros.
El Hijo del Vikingo, Rey Fenix and Pentagon all end up in the ring and they all hit the ropes at the same time, run across the ring and dive through the ropes for a triple tope suicida on Hobbs, Marshall and Solo on the floor.
Back in the ring, we see all three hit back-to-back-to-back high spots onto Solo for a close pin attempt, which Hobbs hits the ring to break up just in time. We see another series of spots, including an awesome Canadian Destroyer by Penta and a wild Cutter by Fenix.
We see bodies laying everyone as the camera focuses on Alex Abrahantes trying to rally his men on to victory from ringside. Hobbs and Marshall hit a double-team spot that is followed up by a double stomp off the top from Solo for a close near fall attempt.
Things pick up again and we see El Hijo del Vikingo hit a wild Canadian Destroyer on Marshall on the hard part of the ring apron. He then hits a unique german suplex and moments later they pick up the pin fall victory. After this, we see brief bonus footage of MJF throwing a fit backstage at Dynamite earlier this week. We then head to another commercial break.
Winners: The Lucha Bros & El Hijo del Vikingo
"The Ocho" Is Shook After Wednesday Night
We shoot backstage upon returning and we see Lexy Nair backstage at the locker room door of Chris Jericho. Jericho talks through the door at first due to being overly nervous after being attacked by Adam Cole and Britt Baker on Dynamite.
He tells Nair that he demands not being in the same room as Cole from now on. He thanks Nair for "believing in him" and nervously heads back into his room, where we hear him with a muffled voice yelling, "Lock the door!"
Jade Cargill vs. Gia Scott
Now we head back inside the CFG Bank Arena in B-More where out comes the undefeated TBS Women's Champion Jade Cargill. "That B*tch" will be in one-on-one action in our next match of the evening here on Rampage.
Already in the ring is her opponent, Gia Scott, a local wrestler from Baltimore. The hometown opponent of Cargill gets a decent reaction from the crowd after being introduced by "The Dapper Yapper" Justin Roberts.
The bell sounds and we're officially off-and-running with this one. Within seconds, Cargill hits her pump kick and follows up with her Jaded finisher for the easy squash match victory. J.R. says she has 24 singles wins in under five minutes. 57-0 overall in AEW.
Winner: Jade Cargill
Lexy Nair Interviews Mark Briscoe … Sort Of
We shoot backstage where Lexy Nair is standing by with Mark Briscoe. Before he can say anything, up walks Jeff Jarrett, Jay Lethal, Sonjay Dutt and Satnam Singh trying to use his friendship with FTR to convince them to give Jarrett and Lethal the tag title match.
Lethal tells the boys that Briscoe is a longtime friend of his and will do the right thing. They all celebrate. Dutt wraps up the celebration with a goofy-ass voice.
Mark Briscoe vs. Preston Vance
Now we return back inside the CFG Bank Arena where we hear the familiar sounds of Mark Briscoe's entrance theme music and out he comes to the ring for our next match of the evening.
He settles in the ring where his opponent for tonight, Preston Vance of LFI, is already waiting for him. The bell sounds and we're officially off-and-running with this one. We see Vance jump off to an early offensive lead.
The action spills out to the floor and we see Briscoe start to take over. He rams Vance face-first into the steel ring post and then reaches under the ring and pulls out a steel chair. He sits Vance down on the chair and heads back onto the ring apron.
Briscoe climbs up to the top-rope backwards and leaps off for a flipping splash but Vance moves and Briscoe smashes onto the unfolded chair. Ouch. Vance rams Briscoe into the barricade and then again three more times.
On that note, we head to a mid-match commercial break as the action continues. When we return, we see Briscoe fighting from underneath. He takes over control of the offense and looks to try and finish off Preston, but isn't able to do so.
Preston takes over again as the action hits the floor. Back in the ring, he looks to finish him off, but can't. He gets some distraction from his manager on the ring apron and then hits Briscoe with a blatant low blow. Briscoe ends up surviving and taking over again.
Briscoe hits his dive onto a seated Vance on the chair on the floor and he takes out the manager. Back in the ring he hits his butterfly under-hook pile driver finisher for the pin fall victory. Very fun match. We see Mark's kids hop the rail to celebrate with pops after the win.
Winner: Mark Briscoe
The Mogul Embassy Attacks Dustin Rhodes Backstage
We shoot backstage to Lexy Nair again, who is this time standing by with Dustin Rhodes. She mentions AEW coming to Austin, TX. for the first time ever soon. Dustin asks to hear that again. She repeats it and he soaks it in.
As Dustin continues talking, up comes "The Machine" Brian Cage and The Mogul Embassy. Shane "Swerve" Strickland leans down and taunts him before telling him he'll see him in two weeks. Keith Lee finally shows up as they're leaving and tells them to "run" as we head into another commercial break.
The Firm Deletion At The Hardy Compound
It's main event time!
When we return from the break, we hear Excalibur speed-read through a ton of matches and segments added to next week's AEW Dynamite show in Detroit, Michigan and then we shoot to The Firm Deletion at The Hardy Compound.
As we settle over there, we see The Firm trio of "All Ego" Ethan Page, Big Bill and Lee Moriarty arrive in a car looking for Matt Hardy, Jeff Hardy and Isiah Kassidy. We finally hear Matt Hardy talking in jibberish on a speaker somewhere.
Finally, The Firm meets up with the gang and the fight is on in the front yard. We see Stokely Hathaway looking afraid after the lengthy brawl between the six guys wraps up with the Hardys choking out Big Bill and beating down Ethan Page and Moriarty.
Big Bill ends up coming to life as the Hardy's were driving towards Stokely in some type of vehicle. As he does, we head to a mid-match commercial break as the bizarre action continues in our Firm Deletion at the Hardy Compound main event.
When we return from the break, we see Page beating down Hardy in a ring somewhere in a barn or shed somewhere. Page goes for a cover and a referee in the ring makes the count, but Hardy kicks out after two.
Page talks trash as he heads to the top-rope, but lands to a boot to the gut from Hardy and a DDT for a close near fall of his own, which Big Bill breaks up with a chair to the back. We shoot back to the Hardy house where Stokely enters looking for Gothic baby.
He sees Gothic baby but Hardy's wife comes up speaking Spanish. He takes it as a sign of disrespect but is tasered from behind by someone. We shoot back to the outside of the barn or shed where the wrestlers were fighting.
We see all the guys fighting outside the barn and then we hear some sex moans from the roof and we see Isiah Kassidy, who leaps and splashes onto the pile of bodies. Hardy says he always knew he'd come. He lets out some more sex moans and then the guys fight back into the ring.
Reby Hardy hits a Twist of Fate and then Hardy's daughter hits a top-rope spot onto Stokely. She starts doing the "Delete! Delete!" chant but Reby tells her it's time for bed. We shoot outside again and we see Isiah set up a table and then beat up Big Bill.
We shoot over to HOOK and Lee Moriarty duking it out. HOOK puts him through a table. Big Bill is put through a table. Now we shoot back to the ring where Hardy is talking trash to Page as he beats him down. He tells the rest of his team to get into the ring and give Page the beating he deserves.
Each guy takes a turn hitting their finisher on him. Hardy tells Page under different circumstances they could have been friends. Hardy then pins him for the win in a, well, unique main event. Hardy yells "It's Ova!" after the win. Jeff leaves and Matt keeps yelling "Brother Nero!"
Now we shoot outside to a ring of fire and see Jeff looking up to the heavens and praying. He lights his symbol on fire and is joined by the rest of his teammates. Jeff says it's good to be back. Matt does his "DELETE! DELETE!" chant as Jeff yells "Thank you God!" That's how this week's show goes off the air. Thanks for joining us!
Winners: Matt Hardy, Jeff Hardy, Isiah Kassidy & HOOK
⏰ Just ONE HOUR until #AEWRampage starts on @tntdrama! pic.twitter.com/Q6XBpo05cS

— All Elite Wrestling (@AEW) May 5, 2023