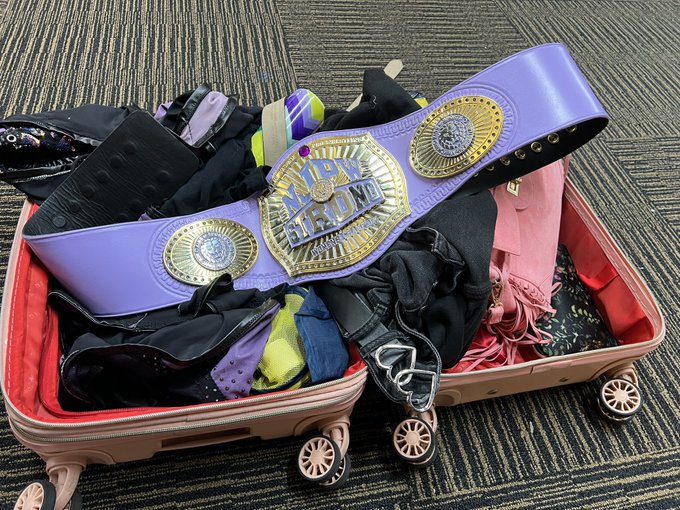 Willow Nightingale is your NJPW Strong Women's Champion.
The AEW women's contender defeated Mercedes Mone (f.k.a. Sasha Banks) at the NJPW Resurgence 2023 special event this weekend.
Nightingale picked up the win over Mone in a match that garnered a ton of buzz on social media. As noted, the match also resulted in Mercedes Mone suffering a serious injury.
After the title-claiming victory, Nightingale took to social media to share a photo of the new championship in her suitcase.
"Would you look at that," she wrote. "Ya girl's debuting for New Japan and I'm looking to go home a much heavier suitcase🏆🎉⚡️."
Check out photos of Willow Nightingale's NJPW Strong Women's Championship victory celebration after defeating Mercedes Mone at NJPW Resurgence via the tweets embedded below.
https://t.co/iMp7ncqFM1 pic.twitter.com/tZcAsRCoea

— Willow Nightingale (@willowwrestles) May 22, 2023
@willowwrestles sends us all home happy #njresurgence pic.twitter.com/oNUksbf6Ts

— Eric Denton (@JabronieRamone) May 22, 2023
@willowwrestles wins! OMG! pic.twitter.com/TUxLDdMfnq

— Eric Denton (@JabronieRamone) May 22, 2023
Willow Nightingale has done it. She has defeated Mercedes Mone to become the 1st NJPW Women's Strong Champion at tonight's NJPW Resurgence (05.21.2023)pic.twitter.com/NJsyKZmcTa

— Dark Puroresu Flowsion (@PuroresuFlow) May 22, 2023