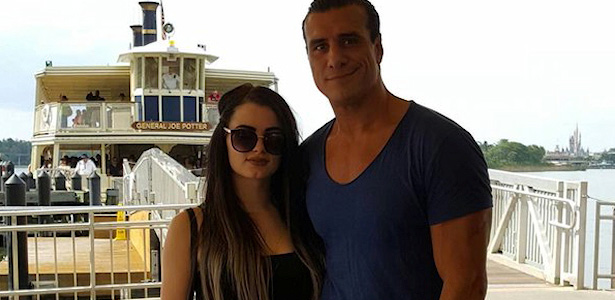 Rumors were running rampant on Monday that Paige was arrested in Las Vegas for some reason. This rumor was based on tweets showing photos of the Total Divas star in handcuffs and being led to an ambulance. The folks at MLW Radio spoke to Alberto Del Rio, who is dating Paige, and he offered his side of the story.
Court Bauer, Mister Saint Laurent and Konnan dropped a podcast Tuesday night and relayed the following account from Del Rio.
After Money in the Bank, Paige and Del Rio went to see a live entertainment show at Caesars Palace called Absinthe show. Whilst there, a drunk couple started heckling them. Del Rio approached security and got the couple ejected from the venue.
The couple approached Paige and Del Rio after the show and an argument ensued. Police were called to the scene and they went through a standard procedure of placing people in handcuffs to calm everything down. Police then took Paige to an ambulance to ensure that she hadn't been attacked or anything; she wasn't. Shortly thereafter, Del Rio and Paige were free to go.
At Monday's Raw in Phoenix, the couple filled in management on what happened. The powers that be told them that they did the right thing and everything was fine.
Video has since surfaced of Paige being detained by police.