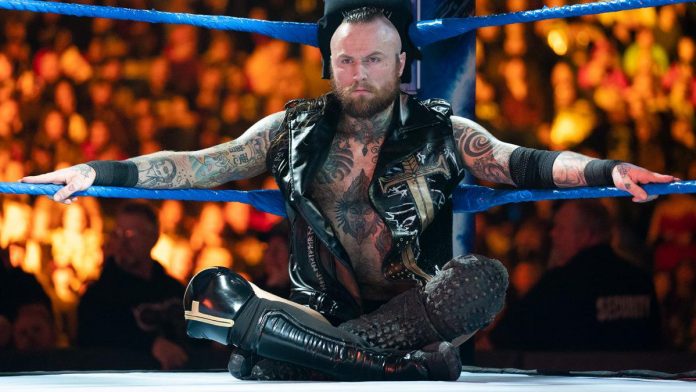 After weeks of asking someone to pick a fight with him, Aleister Black finally has an opponent. This Sunday at WWE Extreme Rules, "The Dutch Destroyer" will take on Cesaro.
The storyline of Black challenging someone to pick a fight with him led to him getting a knock on his door two weeks ago on SmackDown LIVE. Black then said last week that he will be at Extreme Rules to see if the person who knocked on his door will dare to pick a fight with him.
Over the weekend, WWE.com said that Black's Extreme Rules opponent would be revealed on Tuesday night's episode of SmackDown LIVE. However, before Black's dark room promo, Michael Cole said his opponent was choosing not to reveal his identity. Then while Black was cutting his promo, Cesaro revealed himself as the mystery man.
According to Brad Shepard of Pro Sports Extra, WWE also considered having either Bray Wyatt or Randy Orton face Black at Extreme Rules. WWE didn't decide on Cesaro facing Black until Tuesday.
Either Cesaro or Randy Orton are expected to face Aleister Black on Sunday at Extreme Rules. I'm told that decision was still being discussed as of this morning. #WWE

— Brad Shepard (@TheBradShepard) July 8, 2019
According to the same source, Bray Wyatt's name was thrown into the hat as a possibility this morning, to face Aleister Black at Extreme Rules. #WWE https://t.co/HiXQcgkKWa

— Brad Shepard (@TheBradShepard) July 9, 2019
Extreme Rules takes place at the Wells Fargo Center in Philadelphia, Pennsylvania.